NASHVILLE CHRISTIAN SONGWRITERS' SONG REVOLUTION WITH JOHN CHISUM LAUNCHES ON NEW ACCESSMORE PODCAST PLATFORM
Christian Music Radio Giant Educational Media Foundation (EMF), Parent Company of the Nation's Largest Contemporary Christian Radio Networks, K-LOVE and Air1, as Well as Faith-Based Publishing and Film Leader WTA Media, Adds Exciting New Internet Platform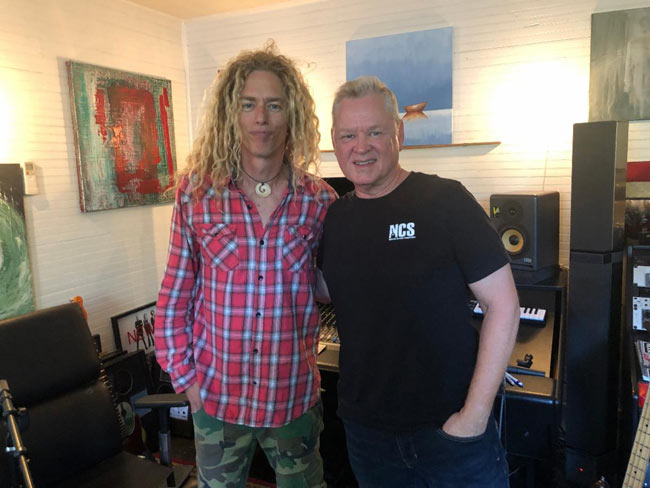 Nashville Christian Songwriters events, interviews and and podcasts offer insight and inspiration from industry veterans, including (L to R): Grammy nominee and multiple Dove Award winner Phil Joel of Newsboys with NCS President John Chisum. (NCS photo)

NEWS SOURCE: McCain & Co. PR
May 18, 2020
NASHVILLE, Tenn. (May 18, 2020) - Nashville Christian Songwriters (NCS), a coaching and resource company dedicated to empowering Christian songwriters worldwide, is thrilled to announce the launch of its Song Revolution with John Chisum podcast as one of the debut programs on Educational Media Foundation's (EMF) exciting new podcast platform, AccessMore.
Partnering with AccessMore exponentially expands Song Revolution with John Chisum's potential audience by leveraging the new podcast platform's reach. As a part of contemporary Christian music radio giant Educational Media Foundation (EMF), the parent company of the nation's largest contemporary Christian radio networks, K-LOVE and Air1, as well as WTA Media, a leader in faith-based publishing and film, Song Revolution with John Chisum gains greater access to the 104 million Americans who listen to podcasts. Song Revolution with John Chisum is in good company, joining nationally known speakers, recording artists, authors, and teachers, including Grammy-nominated and Dove Award winning singer Natalie Grant, author and international speaker Christine Caine (founder of Propel Women), renowned filmmaker Jon Erwin (I Still Believe, I Can Only Imagine), Grammy and Dove Award winner Rebecca St. James, and a plethora of others providing faith-infused content designed to inform and inspire.
"AccessMore is launching with the highest quality of podcasts and show hosts," said John Chisum, Founder and President of Nashville Christian Songwriters and originator of the Song Revolution with John Chisum podcast. "It's such an honor to be among them and partnering for the Gospel in faith-based programming."
"We are very excited to reach and serve more people with Song Revolution with John Chisum on the powerful new podcast platform, AccessMore," said Nashville Christian Songwriters Vice President Robert Till. "This has already become a dynamic partnership to bring our show and other incredible faith-based programming to our audience."
Get a preview now of the entire
AccessMore
platform at
accessmore.com
, and look for the downloadable app coming soon to Apple and Android.
About Nashville Christian Songwriters:
Veteran Christian songwriter and music publisher John Chisum launched Nashville Christian Songwriters (NCS) in late 2015 as a coaching and resource company dedicated to empowering Christian songwriters worldwide. In a short time, NCS has grown to include its first 12-hour instructional video series, a roster of NCS Coaching clients across America, Canada, the UK, Europe, Australia, and New Zealand, a burgeoning Facebook presence with a highly active group called Successful Christian Songwriters (with over 5,500 members to date), and over 17,000 fans so far on the NCS Facebook fan page.
Chisum and his team also launched NCS MEMBERSHIP in June 2017 as a high quality, members-only Christian songwriters community offering exclusive monthly content, song critiques, frequent master classes, and live events geared to fulfill their imperative to equip and inspire Christian songwriters worldwide to fulfill their calling to write world-changing Gospel-centered songs.
NCS has hosted eight Song Revolution Workshops in the Nashville area, attracting songwriters from around the world for three inspiring days of coaching and connecting with music industry professionals, such as Mike Harland (Lifeway Worship), John Mays and Chad Segura (Centricity Music), Kenna Turner West (Curb|Word Entertainment), and CCM artists such as Jason Gray, Cindy Morgan, and Ginny Owens.
The popular NCS podcast,
Song Revolution with John Chisum
, has released 143 episodes to date and has garnered over 125k downloads. Now hosted on
accessmore.com
, the bi-weekly interview format features songwriters, artists, and a blend of motivation and creativity designed to encourage every listener. "It's about more than songs," says Chisum. "It's about a better life."
"John Chisum is one of the best there is," says multi-talented, Dove Award-winning worship leader, industry executive, songwriter, and producer Don Moen. "He's drawing from years of experience as a successful music executive to develop Christian songwriters by providing practical tips and training through his organization, Nashville Christian Songwriters. I highly recommend NCS to anyone wanting to develop their skills as a Christian songwriter."
About John Chisum:
John Chisum is a veteran Christian music industry executive, internationally acclaimed worship leader and prolific songwriter.

The writer of numerous Top Ten and Number 1 songs, with more than 400 of his own songs appearing on records and in print, Chisum is widely known for his songs recorded by Christian artists including Don Moen, Ron Kenoly, Steve Green, Larnelle Harris, The Gaither Vocal Band, Truth, First Call, Dino Kartsonakis, Bob Fitts, The Cathedrals and on many of Integrity's Hosanna! Music recordings.

A long-time music industry professional in music publishing and artist development, he has served as Director of Song Development and Copyright for Integrity Media, and Vice President of Publishing at Star Song Media, helping to oversee over 200 recording projects.
With a heart to encourage believers, Chisum has traveled more than 1 million miles domestically and internationally, leading worship and instructing others in the skills of worship leading and songwriting.
A popular clinician in the area of worship for many years, Chisum has taught in a multitude of church settings across major denominational lines, in addition to many premier non-denominational venues such as The Gospel Music Association's Academy of Christian Music Arts, Christian Artists Seminar in the Rockies, Music California, Music Texas, Music Colorado, the Southern Baptist conventions of various states, and many more.
He is currently a regular contributor to Christian Copyright Licensing International's website Worshipfuel.com and the creator and host of
Song Revolution with John Chisum
, a podcast centering on songwriting and a creative lifestyle with over 140 episodes and over 125,000 downloads, now hosted at
accessmore.com
.
He has toured with Integrity's Seminars4Worship and served as a core instructor for Integrity's Worship Institute at The University of Mobile in Mobile, Alabama, and at Regent University in Virginia Beach, Virginia. He has also been a regular guest speaker at Liberty University for their Center for Worship.
As a recording artist, Chisum has released eight worship recordings distributed through Warner Brothers, Integrity Music, Pamplin Music, Martingale Music, and Firm Foundation Worship Ministries. He studied classical voice at the University of Memphis and holds a B.A. in Interdisciplinary Studies from The University of South Alabama (Mobile) and a Master of Arts in Worship Studies from Liberty University in Lynchburg, Virginia.
Chisum currently serves as President of Nashville Christian Songwriters, a coaching and resource company that exists to empower Christian songwriters worldwide. He lives in the Nashville, Tennessee, area with Donna, his wife of 39+ years. To learn more about Chisum and Nashville Christian Songwriters, visit
nashvillechristiansongwriters.com
.
About Educational Media Foundation and AccessMore:
Our goal is to create compelling media that inspires and encourages you to have a meaningful relationship with Christ! We've created an ever-growing space to host all of your favorite faith-based content. We wanted you to be able to dive even deeper into subjects that interest you and meet you where you are, giving you the ability to
AccessMore
for your faith,
AccessMore
for your family, and
AccessMore
for everything that matters most to you. With faith based on-demand audio, and streams of some of your favorite encouraging radio stations together in one place, this is
AccessMore
! To learn more about Educational Media Foundation and
AccessMore
, visit
accessmore.com
.
###