COLTON DIXON'S "MIRACLES" HITS NO. 1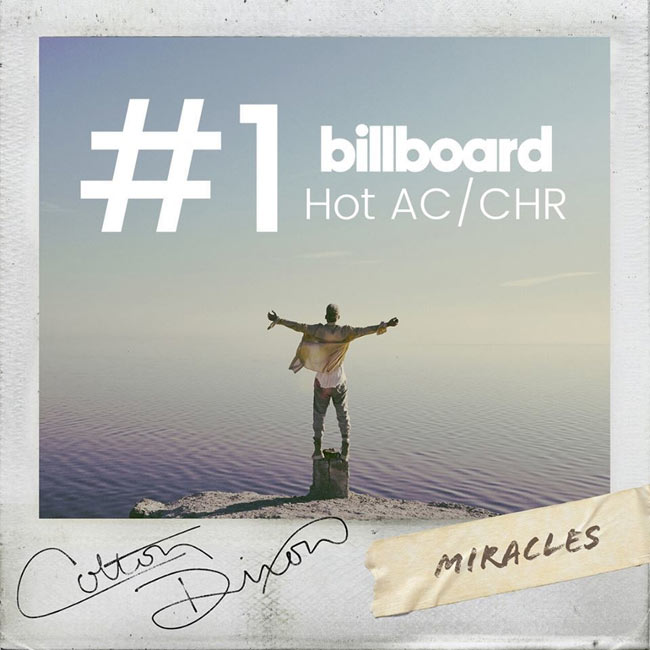 NEWS SOURCE: The Media Collective
May 28, 2020
Nashville, TN.... May 28, 2020 - Just as his self-titled EP nears the close of it's first week of release after hitting
top 3 on iTunes Pop Albums Chart
, American Idol alum
Colton Dixon's "Miracles"
has hit
No. 1
on
Billboard
's Christian Hot AC/CHR chart. The first single from the EP has been widely praised and noted as "
a bombastic, uplifting, humongous pop tune
of the kind we're desperately in need of right now."
"I'm so grateful to all the stations and listeners for getting this song to number one," Dixon commented. "What an incredible journey the past few months with this song have been so far. I feel like our country, our world, is in a place where we need hope maybe more than ever. The stories I've heard from fans all over about how during this time they've been able to see the little things, the little daily miracles God does in a bigger way now, is really why I wrote this song. Each day, even in the midst of hard times, there is always something we can be grateful for."
Dixon and his wife Annie are expecting their first children in just a few months, twin girls. Also included on
COLTON DIXON
is the first love song he's ever written, dedicated to Annie.
Atwood Magazine
exclusively premiered
what they described as an "achingly honest outpouring," and "a vivid display of love and connection" music video for the song. Referring to the track, Dixon told the outlet, "it feels fitting that this song anchors my new EP release as it shows the journey I've not only been on in life, but in music too," adding "I'm so glad we were able to give everyone a bird's-eye view of my wife, Annie and I's journey in the new video. Relationships are a gift. No matter the challenges that life brings, one thing that's certain for us is that we will never stop choosing to love one another."
ABOUT COLTON DIXON:
Colton Dixon quickly became a household name in 2012 when he was voted a fan favorite and made it to the top seven on Season 11 of Fox's hit show AMERICAN IDOL. His career has been on the fast track ever since, now boasting over 100 million streams across all platforms. Dixon's 2013 debut, A Messenger, set the record for biggest first-week sales by a new solo Christian act, becoming the No. 1 selling album by a new Christian artist. Dixon is also a Steinway & Sons artist, following in the footsteps of legendary artists such as Harry Connick, Jr. and Billy Joel. Dixon's sophomore effort Anchor included the most played Hot AC single of 2014, "More Of You," which spent three weeks at No. 1, as well as "Through All of It," his fourth consecutive No. 1 at Hot AC Radio. In 2013, Dixon won a Dove Award for Best Rock/Contemporary Album Of The Year, along with two additional nominations. In 2015, Anchor was honored with the Dove Award for Rock/Contemporary Album of the Year. Dixon received back-to-back K-LOVE Fan Award nominations for Male Artist of the Year in 2014 and 2015, followed by the release of his third studio album Identity, which included the top 5 single "All That Matters," whose video was premiered by PEOPLE magazine.


###
For more info on Colton Dixon, visit the JFH Artists Database.