PLANETSHAKERS RELEASES NEW DEMOS SONG SERIES
Band Offers New Music Faster Than Ever Before, Shares Same Resources They Use To Learn New Songs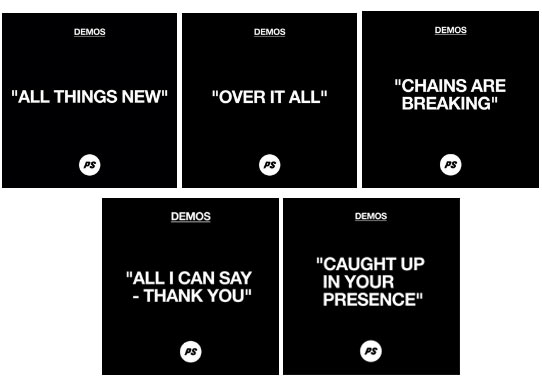 NEWS SOURCE: Hoganson Media
June 15, 2020
Internationally recognized praise band Planetshakers releases a new song series, Demos, which consists of high-quality recordings produced in Planetshakers' studio in Melbourne, Australia. The series enables the band to offer new music quicker than ever before while also providing the same resources to churches that Planetshakers uses to learn new songs before they are led in services and recorded live.
Releasing one song in the series each week beginning with "All Things New" (5/22/20), "Over It All" (5/29/20), "Chains Are Breaking" (6/5/20) and "All I Can Say-Thank You" (6/12/20), Planetshakers releases "Caught Up In Your Presence" this week (6/19/20). Each song is, or will be, available at Apple Music, iTunes, Spotify, Pandora, Google Play and more digital and streaming outlets globally from Venture3Media (V3M).
Chord charts, lyric videos, backing tracks and more resources for the songs are also available at www.planetshakers.com/demos/.
"Normally produced purely for our own team, you now have a front row seat to brand new music before it gets released on an album," shares Planetshakers' worship leaders Sam Evans and Joth Hunt on Facebook.
"Being thankful is so important. It puts us in a position to acknowledge that it's not about us or what we have done, but it's about Him and what He's done," says Hunt regarding the song "All I Can Say-Thank You." "The Bible says, 'Enter his gates with thanksgiving' in our hearts. Every time we come to him, we should come with a thankful heart. This new worship song is about thanking Him for everything He's done, what He's going to do, and who He is."
Hunt, who records and produces all the music for each of the new Demos songs, adds that for the song "Chains Are Breaking," "We wanted to write a song that had a drastic tempo change because we thought it would be fun, and because praising God should be fun. So we came up with a groove in the verse that was almost a bit funky before speeding up to a fast dance song. We have never done this before, but it's really great live and keeps it interesting for the listener too."
The new music follows the release of Planetshakers' new studio recording and radio single, "I Remember (Studio Version)." The live version of this single is featured on the acclaimed Glory Part One digital EP recorded in Melbourne at Planetshakers Church and released Jan. 10. The band's Glory Part Two EP released April 3 and features the voices of 30,000 people during a "Praise Party" at SMART Araneta Coliseum in Manila, Philippines.
Each of the new, live-in-concert songs released this year from Planetshakers have been captured via multi-cameras for a compelling visual experience. Featuring Planetshakers' Sam Evans, Joth Hunt, Aimee Evans, BJ Pridham, Joshua Brown, Rudy Nikkerud, Chelsi Nikkerud and more, these songs include: "So Good," "All," "Encounter Song" and "Living Louder" from Glory Part Two and "How I Praise," "Walls," "I Remember" and "Can't Take My Eyes off You" from Glory Part One. Together, the videos have already generated well over three million streams to date.
All the latest Planetshakers music, tour and more news can be found at Planetshakers.com, YouTube (1.04 million subscribers), Instagram (595,000 followers), Spotify (707,000 monthly listeners), Twitter (175,900 followers) and Facebook (over 1.5 million followers).
About Planetshakers:
Since its inaugural gathering in 1997, Planetshakers has gone on to become a global movement through its annual conferences, international church campuses and numerous live recordings, including multiple Dove Award-nominated projects. The Australia-based collective, led by Senior Pastors Russell and Sam Evans, has hosted gatherings in cities around the world while also launching Planetshakers Church in 2004. With over 17,000 members in Melbourne, Planetshakers Church is one of the fastest growing churches in that nation's history, stretching across five campuses in Melbourne with additional locations in Singapore; Cape Town, South Africa; and Geneva, Switzerland.
Celebrating over 20 years of ministry, Planetshakers honors the countless ways God has used its ministry and music to raise up a generation of Christ followers with a clear vision of taking the Gospel to the nations… "empowering generations to win generations."
About Venture3Media:
Venture3Media is a global music label and song publisher with sales, marketing, promotional, radio, television and movie expertise. V3M provides distribution platforms across all digital channels, including but not limited to Spotify, Apple Music, iTunes, Amazon, Deezer, Tencent, 7Digital, Google Music, Facebook, Pandora, Tidal, Sirius and Rhapsody. Physical distribution includes online retailers such as Amazon, national retail chains, sub-distributors and internationally through well-established licensee's and distributors. V3M is excited to build a global ecosystem that serves the vision and heart of Planetshakers.
###
For more info on Planetshakers, visit the JFH Artists Database.