THE BIGGEST BLACK-OWNED GOSPEL LABELS IN THE WORLD BLACKSMOKE & TYSCOT COME TOGETHER FOR HISTORIC YOUTUBE EVENT SUNDAY, JULY 12 @ 7 PM ET/ 6 PM CT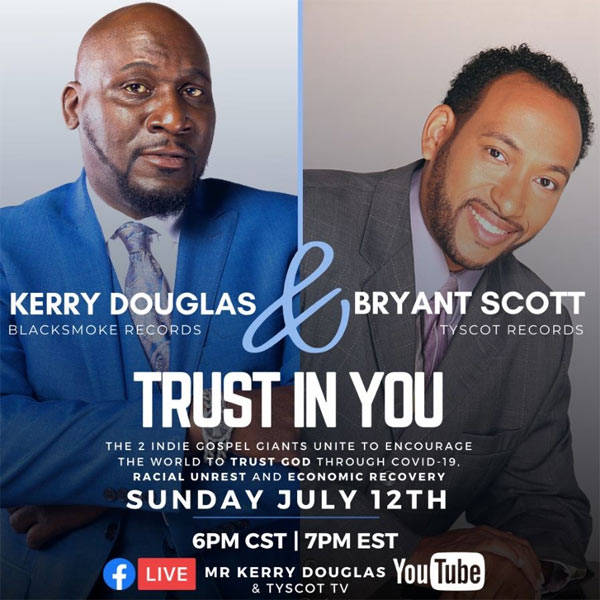 NEWS SOURCE: Carpenter PR
July 7, 2020
The two biggest independent gospel recording labels in the world - Blacksmoke Music Worldwide and Tyscot Records - with over 75 years of shared history - are coming together for the first time on Sunday, July 12 @ 7 PM ET/ 6 PM CT for a special YouTube live event of candid conversation about the ups and many downs of being an indie, classic music, and dynamic performances entitled, Trust in You.
Instead of a Versus battle, this will be a celebration of the labels' rich music catalogues. There will be tracks like Blacksmoke's "I Trust You" by the Grammy® Award nominated group, James Fortune & FIYA, which spent 29 weeks at No. 1 on Billboard's Gospel Airplay chart. Or like Tyscot's "Trust in You" by Grammy® Award nominated act, Anthony Brown & group therAPy, which peaked at No. 3 and spent 53 weeks – an entire year and a week - on the Billboard Gospel Airplay chart.
Blacksmoke CEO Kerry Douglas is the charismatic former car salesman who pushed unknown artists such as James Fortune, Earnest Pugh, Pastor Mike, Keith Wonderboy Johnson and Zacardi Cortez to the top of various Billboard charts. Tyscot's CEO Bryant Scott is the suited and seasoned executive who supervised the ascent of John P. Kee, Anthony Brown & group therAPy, VaShawn Mitchell, Casey J, Bri Babineaux and Deitrick Haddon to the top of their respective gospel genres.
"This is a history making event," says Douglas. "#BlackMusicMatters. It really does. Historically, Gospel is the foundation for so much music. We're going to share music past and present. The 2 largest black-owned gospel record labels in the world are coming together as one to share the secrets to our mutual successes. We're going to show everybody how we did it. How we went from independents in the cassette era to making major moves in the music industry in the digital era."
Between the two companies, there are hundreds of millions of streams, a score of number one hits, a dozen A-List gospel stars and they are still grinding. "We didn't want to do a battle," says Scott. "There's so much unrest in the country because of racial tensions and the coronavirus, so we didn't want to create another thing to create division. We wanted to show unity in the gospel music industry." Link:
The event takes place Sunday, July 12th @ 7 PM ET/ 6 PM CT on YouTube:
https://www.youtube.com/user/MrKerryDouglas / https://www.youtube.com/user/Tyscottv
ABOUT BLACKSMOKE – When Kerry Douglas was working as a car salesman, he began staging Hip-Hop concerts in the parking lot to draw customers and his sales doubled. He eventually went into concert promotions fulltime. Then, after a near-death situation, he became a Christian and decided to use his marketing skills to help aspiring gospel artists. He launched Black Smoke Music Worldwide from his garage circa 1995. One of his first acts His first act was Keith "Wonderboy" Johnson. Douglas gave him a string of hits such as "Hide Behind the Mountain" and "Send A Revival." Then, he dusted off Evelyn Turrentine-Agee's 20-year old tune "God Did It," remixed it and sent it out to radio. Broadcast Music, Inc. (BMI) cited it as the most played gospel song of 2000. Later came Jimmy Hicks with the monster smash, "Born Blessed" and Damon Little with "Straddle the Fence." The rest is history. Douglas gave now legendary gospel acts such as James Fortune, Earnest Pugh, Greg O`Quinn, and Zacardi Cortez their big breaks. Now, Douglas is taking other fresh talents such as Demetrius West, Edwrin Sutton and Pastor Mike to the top. Mike's debut single "Big" spent ten weeks at No. 1 on Billboard this past spring.
ABOUT TYSCOT – Founded in 1976 by dentist, Dr. Leonard Scott, and his organ-playing nephew, Craig Tyson; Tyscot Records has been making encouraging and life-changing music for over four decades. In their early days, they broke now iconic gospel artists such as John P. Kee, VaShawn Mitchell and Deitrick Haddon early in their careers. Under the leadership of Scott's son, Bryant Scott, they resurrected the Rance Allen Group's career with a string of hits such as "Something About the Name of Jesus" and "You That I Trust." After a long recording hiatus, Tyscot brought the legendary Tommies Reunion back to the gospel music airwaves with their Top 20 smash, "He Worked It Out." They have also continued to find new talents such as the gold-selling Anthony Brown & group therAPy; psalmist Casey J; vocal wonder, Kelontae Gavin; traditional vocalist Adriann Lewis-Freeman and Rizen; and worship leaders such as Bri Babineaux and Benita Jones.
###