Switchfoot Announces New Online "The Fantastic NOT Traveling Music Show" Performances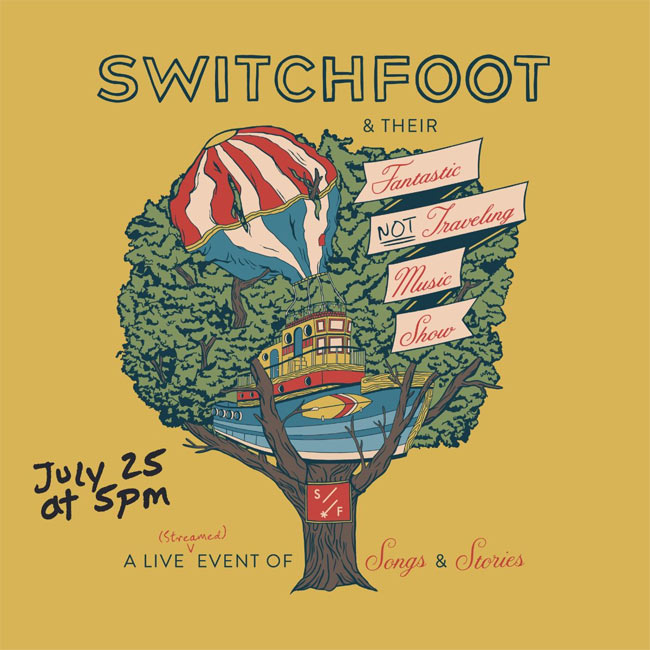 NEWS SOURCE: Switchfoot / JFH
July 16, 2020
Switchfoot is making the best of the current lockdown and is launching a new online concert series, "The Fantastic NOT Traveling Music Show." Check out their announcement below for more details:
"The form of live music may have (temporarily) changed, but the purpose remains: to sing songs of hope. Together, as one voice. What a wild world we're living in these days, eh? When the year began, we were looking forward to another summer out on the road— making new friends, seeing old ones and singing along with all of you every night. Those plans have been postponed, but the reason we sing has never been clearer: we sing these songs because hope deserves an anthem. And so a new journey begins!
The Fantastic NOT Traveling Music Show sets sail next week!

Since we can't tour in the traditional (or literal) sense, we'll be doing a series of live streams over the next few months and they're going to be EPIC!

We'll never be able to replace the feeling of all being in the same room singing at the top of our lungs, but we sure can try!

If you tuned in to the BRO-AM stream last month, you know that these ain't just any old "set your phone up on a tripod in the living room" live streams. No... no, no, no, we're GOING BIG. We've got our trusty old boat and hot air balloon, lights, lasers, smoke machines, the whole deal!

Plus! If you buy the season pass, not only do you get every FNTMS show but you'll also get that sweet sweet BONUS CONTENT! For example, this month's bonus is a solo show with Jon next Wednesday (7/22)! What's not to love?!?!

Grab your ticket or season pass and climb aboard for this one of a kind digital voyage!

Jon, Tim, Chad, Drew & Jerome
###
For more info on Switchfoot, visit the JFH Artists Database.