BLOOD RELATED ENTERTAINMENT PRESENTS MR. MARSHALL, 'CROSSROADS'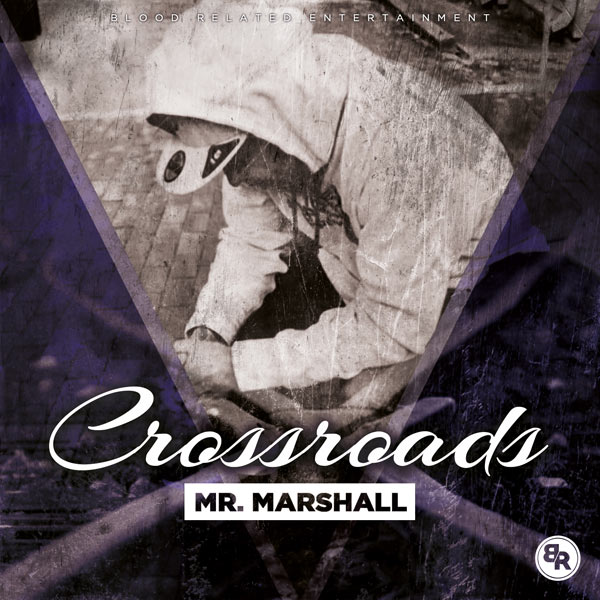 NEWS SOURCE: FiveTwenty Collective
July 22, 2020
Woodbridge, VA - Blood Related Entertainment has been hard at work bringing the message of the Gospel of Jesus Christ to those willing to hear since 2014. With the label's discography available for free via their Bandcamp page, it is easy to see the heart and the mission God has given to not only the artists, but Blood Related's CEO - Mr. Marshall.
Mr. Marshall is set to release his newest project, titled 'Crossroads', on July 21, 2020.
'Crossroads' is a 15-track album that is representative of a time of choice and trusting in the promises that God has given us. "There comes a time in every man's life that they have to make some tough decisions that will further shape their future," Mr. Marshall describes. "In a season of transition, following a path that goes way beyond music, the Lord has given what may be the final full length Mr. Marshall project. 'Crossroads' is a thorough reminder to follow where the Lord is leading you, not to look back, but to keep your eyes on the prize which is Christ Jesus."
The album features production by Anno Domini Nation, John Murdock, and Project Pluto. It also includes lyrical contributions from TheNewOne, Anwah, Big J, and Da General.
To support Mr. Marshall, Blood Related Entertainment, and the 'Crossroads' album:
Website | Bandcamp | Facebook | Twitter
Project Details
Title: Crossroads
Artist: Mr. Marshall
Label: Blood Related Entertainment
Release Date: July 21, 2020
Availability: Digital Outlets
Track Listing
Count Down
It Was You
In Jesus Name ft. TheNewOne
PTI - Get Your Faith Up
Through the Fire
Yo
KindomBizAsU ft. Anwah
PTI - Attitude Adjustment
Two Sides ft. Big J
Bars Open
Hallelujah
PTI - Slow Pressure
Lord I'm Calling On You ft. Da General & Big J
Get Away (Bonus Track)
Bars Open (Project Pluto Mix)
All tracks produced by Anno Domini Nation, except for "KingdomBizAsU" & "Bars Open (Project Pluto Mix)" produced by Project Pluto and "Get Away" produced by John Murdock. Mixing & Mastering by Project Pluto. Artwork by Anthony "Pacaso" Ramirez.
About Mr. Marshall
Blood Related Entertainment was founded by Marlon Marshall, Sr. and Lisa Diane Marshall Spring of 2014. Blood Related Entertainment was birthed from Marlon's strong love for all types of music. As he matured, his desire was to combine both music and ministry, thus Blood Related Entertainment was formed. Blood Related Entertainment's mission is providing inspiration through the three M's, music, movies, and media. Its vision is building up artist creativity and consistently supplying motivation worldwide. As a musician and media entrepreneur himself, Marlon realized the desire to develop an entertainment company that would embrace music, movies, and media that provides a positive and inspirational aspect.
Marlon Marshall is a native of Washington, DC, his family relocated to the Alexandria, VA area; later graduating from the Fairfax County Public School system. With a passion for film, in September 2011, Marlon enrolled in the University of Boston majoring in Film/Digital Programming, and graduated June 2013 with a degree in his major. In his spare time, he enjoys mentoring the youth by giving back in volunteering/coaching for Fairfax County Basketball Youth Leagues, as well as, High School Basketball for both Varsity and Junior Varsity Boys teams, in both Fairfax and Prince William Counties. Marlon has over 16 years in Telecommunications. Marlon is now employed with Prince William County School system. Marlon is also a co-founder of a community outreach organization BRAVE458, which focuses on bringing global awareness to "homelessness", assisting single parents, and building up today's "youth" to be equipped spiritually and physically in life. He currently resides in Woodbridge, VA with his wife Lisa and their children - Brierra, Marlon, Jr, McKenzye.
###