AUSTIN FRENCH, JJ WEEKS LAUNCH "WAKE UP SLEEPER DRIVE-IN TOUR"
Tour Presented By Holt International, Produced By Ignite Outreach, Inc. Begins Aug. 23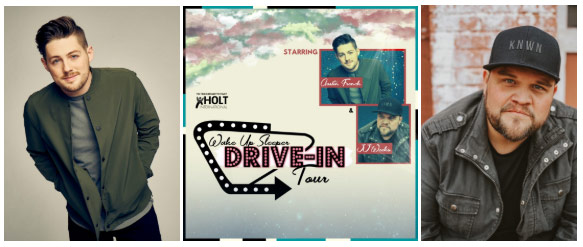 NEWS SOURCE: Hoganson Media
July 30, 2020
Singer-songwriter and Dove Award-nominated Awaken Records/Fair Trade Services artist Austin French and renowned, Macon, GA-based Radiate Music singer-songwriter JJ Weeks join forces for the "Wake Up Sleeper Drive-In Tour." Presented by Holt International and produced by Ignite Outreach, Inc., the tour will feature a full band production with a hydraulic stage setup that will travel to drive-in theaters, church parking lots, an outdoor downtown center and more.
Named in part after French's current hit single "Wake Up Sleeper," the tour launches Aug. 23 at a ticketed Wabash, IN-based drive-in theater and continues across several states, including free, radio listener appreciation concerts along the way with one indoor event as well at the Delta Lake Conference Center in Rome, NY.
"I can't wait to head out on the 'Wake Up Sleeper Drive-In Tour' with JJ Weeks!" exclaims French. "In a season where it feels hope is scarce and truth is hard to find, I pray these nights are more than just music but a moment for revival to start in our communities! Let's bring back hope, let's bring back joy, and let's share the good news that wakes sleepers from their slumber! See ya there!"
"During this time of uncertainty in our country, we are certain that we have a God who holds all of the answers," adds Weeks. "I am so excited to be able to declare the hope and provision of God during this incredible drive-in tour with Austin French!"
With as many as 12 events currently being planned, the tour announces the first six cities confirmed for the "Wake Up Sleeper Drive-In Tour" as follows:
8-23 Wabash, IN Drive-In Theater, Ticket Link
8-29 Rhine, GA Downtown Rhine FREE
8-30 Pineville, LA 104.3 The Bridge Radio show FREE
9-06 Ambrose, GA DeBarry Baptist Church FREE
9-11 Rome, NY Delta Lake Conference Center Ticket Link tba
9-12 Jaffrey, NH Hope Fellowship Church Ticket Link
"Virtually any church can hold a drive-in event in their parking lot, and if other churches want to get in on this tour with JJ Weeks and Austin French, they should contact me at chris@igniteoutreach.org," says tour producer Dr. Chris Leader, President & CEO, Ignite Outreach, Inc.
Along with playing their hits and fan favorites, Weeks and French will give audiences the opportunity to offer one-time gifts via a "text to give number" with funds designated for feeding children through Holt International.
"My heart broke for the children of Mongolia that I was able to visit last year with Holt International," says Weeks. "It's an incredible privilege to be able to speak on behalf of these amazing kids, as well as the other children Holt International serves around the globe!"
"The Coronavirus is being felt around the world, particularly for children and most vulnerable families, now at even greater risk than before. Around the world our life saving programs that serve these children are threatened as the social and economic impact continues to grow," said Eric Mason, Chief Marketing and Development Officer at Holt International. "JJ's been to Mongolia with Holt and knows first-hand the struggles of kids in need, and the impact a small gift can make on the life of a child. We're blessed to be partnering with JJ and Austin on this tour and know it's going to bless not just those who tune in for their music, but kids in Mongolia and around the world too."
For the latest information on Austin French, go to www.austinfrenchmusic.com, Facebook, Twitter, YouTube, Bandsintown, Instagram and Spotify.
For all the latest JJ Weeks tour and music news, visit jjweeks.org, Facebook, Instagram, Spotify, Apple Music and YouTube.
About Austin French:
Georgia-born singer/songwriter Austin French's debut album, Wide Open, released in 2018 to wide critical acclaim, has gathered more than 80 million streams and features the Billboard Christian Airplay Top 10 hit singles "Freedom Hymn" and "Born Again." Named Fox Sports Channel's Sept. 2018 "Artist of the Month," and receiving song placements in ABC's "Dancing With The Starts," "Good Morning America" and NBC's "The Voice," French has also been honored with a "New Artist of the Year" Dove Award nomination. Featured on the massive Winter Jam 2020 Tour, he has also toured with Casting Crowns, Tauren Wells, Tenth Avenue North, Hillsong Worship, Unspoken, Ryan Stevenson, Mandisa, The Afters, We Are Messengers and more.
About JJ Weeks:
Labeled a powerhouse voice intent on "making a difference in people's lives," singer-songwriter JJ Weeks formed the JJ Weeks Band in 2001. The band went on to release seven acclaimed, full-length albums that sparked the Billboard Top 10 radio hits "What Kind Of Love" and "Let Them See You," as well as songs that have been featured on the official soundtracks for both the high-profile films God's Not Dead ("Save Us," 2014) and Four Blood Moons ("Is It Ever," 2015). Continuing his journey as a solo artist from his home base in Macon, GA, Weeks released his acclaimed The Sound Of Freedom this year. The new EP features the current radio single and CCM Magazine-premiered title track along with "Choices" and the hopeful anthem, "Days Like These."
About Holt International:
Founded in 1956, Holt International Children's Services is an organization dedicated to finding and supporting permanent, loving families for children who are orphaned, abandoned or separated from their families, or at serious risk of separation. Today, Holt is recognized as a leader in child welfare and permanency planning, providing services and advocating for the best interest of the child while upholding the highest ethical practices. Learn more about Holt International at holtinternational.org.
About Radiate Music:
Founded by Ian Eskelin, Radiate Music launched summer 2015. Eskelin's 20-plus-year resume in the music business, ranging from being a recording artist to a record executive, gives him a unique perspective in partnering with artists who are passionate about impacting culture with music. Eskelin, who has recorded more than 50 Top 10 singles in the United States alone, including 20 No. 1 songs, and whose songs have been licensed for use by ABC, NBC, CBS, ESPN and many feature films, is looking to break additional ground with Radiate. In addition to Weeks, Radiate's artist roster includes John Waller, Natasha Owens, About A Mile, Attaboy, Inspiration Worship and Pearl City Worship.
###
For more info on Austin French, visit the JFH Artists Database.
For more info on JJ Weeks, visit the JFH Artists Database.