Hip Hop Artist Mitch Darrell Announces Self-Titled Project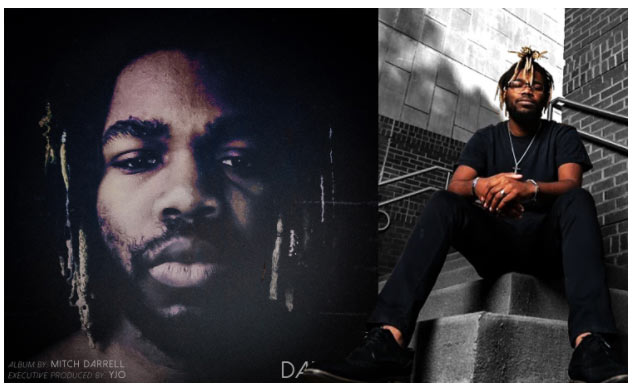 NEWS SOURCE: FiveTwenty Collective
August 24, 2020
Raleigh, North Carolina - One of Christian Hip Hop's brightest young artists says that "Dreadhead Lando" is no more and introduces listeners to his true self on 'Darrell'. Mitch Darrell is more than a Star Wars loving, rap challenge winning, bars enthusiast and his new album, releasing August 28, 2020, provides the clearest look at who he truly is.
"Darrell', on its surface, is a project about what my middle name means to me" explains Mitch. "Deeper than that, it is an autobiographical project about how God has helped me get through many trials in my life that include self-doubt, anxiety/depression, racism, and more."
The album was executively produced by YJO (of Enoch Flow Records), who Darrell has developed a rapport with. It also includes guest features from several of independent CHH's most recognizable names, including Kris Noel, Thomas Iannucci, James Gardin, Joe Ayinde, Dondi, Kody Free, Weez the Satellite Kiid, Alcott, and MontyTheHokage.
'Darrell' is arguably one of the best releases, in the genre, of 2020.
To support 'Darrell' and to get the latest from Mitch, connect with him across social media:
Twitter | Instagram | Facebook | YouTube | Spotify | Pre-Save
Album Details
Title: Darrell
Artist: Mitch Darrell
Release Date: August 28, 2020
Production: YJO
Engineering: Connor Ahlstrom
Features: Alcott, Dondi, James Gardin, Joey Ayinde, Kody Free, Kris Noel, MontyTheHokage, Thomas Iannucci, Weez the Satellite Kiid
Artwork: Eric Boston
About Mitch Darrell
Mitch Darrell is an up and coming CHH Artist out of Raleigh, North Carolina. He raps with a myriad of flows and conscious lyricism with the goal of informing his listeners and broadening their perspectives on race, God and many other topics.
###