JONAS MYRIN'S NEW ORIGINAL SONG AND MUSIC VIDEO "FOR THE ONES WE LOVE" TO REMIND PEOPLE THAT NO MATTER WHAT WE'RE FACING, LOVE IS GREATER; AVAILABLE ON MARCH 26th VIA CAPITOL CMG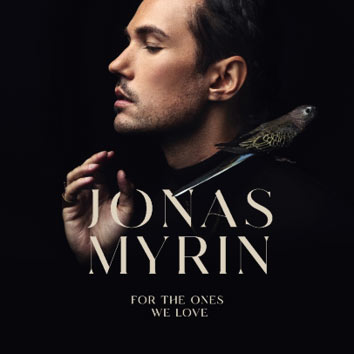 NEWS SOURCE: Capitol CMG
March 19, 2021
Los Angeles, CA (March 19th, 2021)—Two time Grammy and Billboard Award winner, Jonas Myrin, will release his brand new original song and video, "For The Ones We Love, with Capitol CMG on March 26th. A truly international affair, the track was co-written by Jonas and Grammy nominated songwriter Sam Ellis (Lady A, Ingrid Andress), co-produced in Sweden with Elias Kapari (Kygo, Icona Pop), and features the string orchestrations of Erik Arvinder (Childish Gambino, John Legend), conducting the Stockholm Symphony. Jonas acknowledges the role of music in these anxiety-ridden times: "We all need hope right now. I want to remind people that no matter what we're facing or going through, love is greater. Together, we can overcome anything."
The single's timeless lyric remind us about the power of unconditional love, "When life breaks down / sweep up the glass. And forgive forget the hurt that's in the past… What we do for the ones we love…" The stunning video for the song, directed by Se Oh, features Jonas in a dreamlike world sitting by a white grand piano where an angel appears, reminding us of the gift of love.
Crossing many genres, Jonas believes his music has a message for everyone: "I started the idea 'For The Ones We Love' when I was on a tour across the US," he adds. "I was sitting on my own by a piano in an empty venue, thinking about my loved ones in Sweden. Even though physically being on the other side of the world, I felt them so close in that moment. It's amazing that there is no distance to love and we carry each other in our hearts wherever we go. Throughout this pandemic, everything has come full circle and these lyrics came alive in a new way."
"Wherever I go, the piano is my home, and it brings purpose – and right there I feel true peace and fully alive. I never viewed music as a job because it always kept me going, and it was the healer and friend that gave me strength through all seasons and storms. I am so grateful to have a fresh platform to share my songs and along with that, an opportunity to impact people's lives for the better."
Launching his musical career in the early 2000s as a songwriter in London, Jonas made a profound global impact with 13 chart-topping anthems and has won two Grammys. Myrin's career highlights include writing and co-producing four songs on Barbra Streisand's critically acclaimed 2018 album Walls; co-writing "Gloria The Gift of Life," recorded by Andrea Bocelli on his collection Si (the first classical album to hit #1 in the U.S. and UK) and recently featured in the film Fatima; and writing "Together In This," title track from Jungle Beat: The Movie," recorded by Natasha Bedingfield, which has had more than 16 million views on TikTok and over one million views on YouTube. Later in the summer of 2020, his US debut artist single Not Alone was added to more than 4,100 playlists around the world. Other musical highlights include co-writing "At This Table," from Idina Menzel's holiday album A Season of Love, which became one of the most streamed original Christmas songs of 2019; co-writing and performing with Nicole Scherzinger, "Victorious," the closing song for the 2019 World Games at the Special Olympics in Abu Dhabi which was seen by more than 100 million people; and writing "Beautiful Life," an international hit-single for Simon Fuller's new global music band NowUnited, which has topped the streaming charts around the world. He wrote and performed the end title song 'Noel (Just a Breath Away)' from the 2020 movie release Three Wise Men.
Jonas has also collaborated with Celine Dion, David Foster, Carole Bayer Sager, Jessica Simpson, and many others. Additionally, he has written songs for international icons around the globe from Brazil, Japan, Korea, Sweden, Germany, France and the UK including Vanessa Paradis, Gaëtan Roussel, Vanessa da Mata to Tohoshinki, and many more.
###