APOLLO LTD MAKES GIANT LEAP AT RADIO, LANDS FIRST NO. 1 HIT, "SUNDAY MORNING FEELING"
Single Featuring Ryan Stevenson From Sophomore Album "Nothing Is Ordinary, Everything Is Beautiful"

Baylor University Features "Sunday Morning Feeling" In ESPN Commercial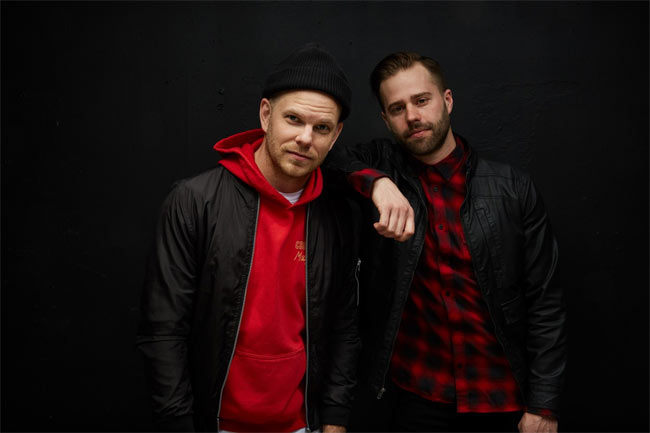 NEWS SOURCE: Hoganson Media
September 28, 2021
Residence/Centricity Music's cinematic, alternative-pop duo Apollo LTD receives its first No. 1 with the sunny-vibes of "Sunday Morning Feeling (Feat. Ryan Stevenson)" showcased on the sophomore album from bandmates Jordan Phillips and Adam Stark, Nothing is Ordinary, Everything is Beautiful, which was released amidst acclaim earlier this year.
Following the duo's top five hit and concept music video, "Patient," "Sunday Morning Feeling" not only lands on top of the Hot AC/CHR National Airplay Billboard Chart this week, but is also being heard on outlets like ESPN as part of a Baylor University commercial that premiered during the Baylor vs. Texas State football game Sept. 4.
"We are excited to see 'Sunday Morning Feeling' connect with radio and its audiences like it has. It's been quite a journey for us," shares Stark. "We are very grateful for the hard work of our label, radio team and management, and are especially thankful for the all the listeners that have supported us."
"And working with Ryan on this song was an honor," adds Phillips. "His voice, talent and contribution made it such a special song. We've also loved getting to know him and his band on the road and sharing the stage with him this summer!"
"I'm so happy to see the impact that 'Sunday Morning Feeling' is having at Christian radio," says Gotee Records artist Ryan Stevenson. "The guys in Apollo LTD have become my dear friends, and I'm thrilled to see this success! They are amazing people on and off the stage! I'm grateful and honored to have played a small part in the heart and vision of this song."
Co-written with Colby Wedgeworth, "'Sunday Morning Feeling' ushers in a smooth groove and a subtle perspective shift urging listeners to remember that God is working all things for our good," says the K-LOVE Radio Network. "The song highlights the difference between fleeting happiness and real joy. Happiness changes with our circumstances, while joy is solid gold—an unchanging emotion that truly only comes through an authentic relationship with Christ."
It's just inside me
Got that Sunday morning feeling
I can't hide it
Counting blessings to the ceiling
I believe that you are working everything for good
No denying
Your love is shining
Sunday morning feeling
(From the "Sunday Morning Feeling" chorus)
"This song is proven to make you 73% happier," quips WAY FM's WAY Nation. "OK, maybe it's not actual science, but take a listen to 'Sunday Morning Feeling' … and see if you can resist smiling or tapping your foot. Share it with someone who needs a little sunshine in their day."
Along with "Sunday Morning Feeling" and "Patient," Apollo LTD's Nothing is Ordinary, Everything is Beautiful features the top 20 hit and American Songwriter-premiered video "You" along with "Good Day," "Rulers," "Now!" and "Better." Packing a punch with EDM drops, pulsing drumbeats and singalong choruses meant for clubs, cathedrals and coliseums, the album blurs the horizon between organic and electronic music. At its heart, the recording is an uplifting pop album about resilience and resolve punctuated by messages about the human race's challenges amidst a mix of hooks that target the head as well as the heart.
For all the latest Apollo LTD tour, music, news and more information, go to https://weareapolloltd.com/, Facebook, Instagram, Twitter, YouTube, Spotify, Apple Music, Amazon Music and Pandora.
About Apollo LTD:
Named after the NASA program that sent the first human beings to the Moon, Apollo LTD has become an escalating highlight reel since their formation in 2015. Making cinematic, alt-pop music with a message that reaches skyward and rooted in a mix of organic instruments, electronic soundscapes, anthemic hooks and shimmering production, Apollo LTD have an "expert grasp of the pop genre," says The Atlantic Magazine as Artist Direct agrees they are "a band that builds melodic hooks, powerful pop tunes and lyrics that play with expectation." Consequence of Sound says, "Each melody could be a hook in its own right...radio friendly single with bite." Making waves with Nothing is Ordinary, Everything is Beautiful (2021) and the Top 40 hits "Gold" and "On The Way Up" from its Dove Award-nominated Out of Body (2019) LPs, Apollo LTD songs have been heard on outlets like Grey's Anatomy, Station 19 and shows featured on ESPN, FOX Sports, Comedy Central, NBC and ABC while gathering well over 50 million streams worldwide and sparking four top 25 Christian radio singles.
While on tour, Apollo LTD shares an explosive energy live on stage featuring Jordan Phillips' elastic vocal instrument equipped with a strong falsetto and Adam Stark's playing that has been honed as a session instrumentalist and years of touring as a lead guitarist. In addition to their own headline events, the duo has shared stages with Panic at the Disco, DNCE, All-American Rejects, Kesha, Amanda Lindsay Cook and more.
About Residence/Centricity Music:
Residence/Centricity Music is an independent Christian music company based in Franklin, Tenn. Founded in 2005 with a commitment to artist development and stylistic diversity, its artist roster includes Andrew Peterson, Apollo LTD, Brandon Heath, Chris Renzema, Coby James, Cross Point Music, Jason Gray, Jordan Feliz, Lauren Daigle, North Point Worship, Patrick Mayberry, PEABOD and Unspoken. Providing label and publishing services, Centricity is a family-owned organization, and they like it that way. The committed work of its staff and artists has yielded successes such as Grammy Awards, Billboard Awards, Dove Awards, K-Love Fan Awards, and multiple Gold and Platinum Albums and Singles. For more Information on Centricity Music, visit https://centricitymusic.com/.
###
For more info on Apollo LTD, visit the JFH Artists Database.