Integrity Music Announces The Double Release From REVERE Of "There Is No Higher Name" In English And Portuguese ("Não Há Nome Maior") In Partnership With Onimusic
The Song Has Become An International Expression Of Worship For All Cultures And All People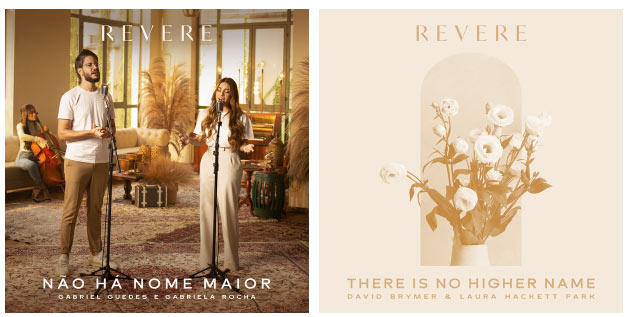 NEWS SOURCE: Merge PR
December 3, 2021
3 December 2021 - Nashville, TN - In partnership with Onimusic, Integrity Music announces a double release from REVERE - the new Portuguese single "Não Há Nome Maior" featuring Brazil's Gabriel Guedes and Gabriela Rocha along with a newly recorded version of "There Is No Higher Name" featuring David Brymer and Laura Hackett Park. Brymer wrote the song with Mark Alan Schoolmeesters.
During the Covid lockdown, Integrity Music hosted an online writing camp between a group of English-speaking songwriters from the U.S. and the U.K. along with Portuguese writers from Brazil. The result became a series of releases in both English and Portuguese including "There Is No Higher Name."
Gabriel Guedes and Gabriela Rocha's recording of "Não Há Nome Maior" is the first release to come out of the Onimusic and REVERE collaboration as a launch to an upcoming Portuguese album, a writing initiative that supports more collaboration for Portuguese and English worship leaders. With their rendition simply led by piano, strings, and their powerful vocals, it was their desire to be a part of the international expression of worship where every culture and every people group has a valid and needed contribution. A new performance video of "Não Há Nome Maior" has also released and can be viewed below.
Gabriela Rocha is the No. 1 Christian artist in Brazil. With seven million subscribers on YouTube, Rocha has been releasing music since 2012. Her biggest song, "Lugar Secreto," has over 482 million views on YouTube.
Gabriel Guedes is an emerging Christian artist that released his first record in 2014. He became popular covering songs on YouTube and in the last few years has been releasing his own compositions. His growth accelerated after the release of his own song, "Ele Vem" featuring Gabriela Rocha, in 2019 and has 51 million views on YouTube.
Laura Hackett Park, a recording artist, songwriter, and worship leader, and David Brymer, who also wrote "Worthy Of It All," were honored to record the English version of "There Is No Higher Name" as they both share a heart for Brazil and what is happening in the Portuguese-speaking church.
"What I live for as a songwriter and worship leader is that special place where heaven meets earth...the experience that transcends language, race, and culture," Brymer shares. "When this song took form with Mark Alan, I knew there was something different about it. The song was simple melodically, and it came together fairly quickly. Yet, in the following days as I started to lead it, the song would usher in a profound awareness of the holiness of God. When I heard that it had been translated into Portuguese and that Gabriel and Gabriella were planning to sing it, I got chills and knew then and there this song was one for the nations. There's a lot of gratitude in my heart for being a part of writing songs that give language to the global body of Christ and help usher in God's manifest presence. I'm so excited for you guys to hear this song. Obrigado Deus!"
ABOUT INTEGRITY MUSIC: Integrity Music is part of the David C. Cook family, a nonprofit global resource provider serving the Church with life-transforming materials. With offices in Nashville, Tennessee (US) and Brighton, West Sussex (UK), Integrity is committed to taking songs of substance to the local church and its leaders around the world.
Integrity publishes many of the top songs in the Church, including "Great Are You Lord," "Revelation Song," "Open The Eyes Of My Heart," "In Christ Alone," "10,000 Reasons," "Here I Am To Worship," "The Lion And The Lamb," "Great I Am," and "We Believe," among others. Integrity Music artists include Matt Redman, Lincoln Brewster, Darlene Zschech, Leeland, William McDowell, Paul Baloche, David and Nicole Binion, Sandra McCracken, Nashville Life Music, Selah, Thrive Worship, Local Sound, Sarah Kroger, Kees Kraeynoord, ICF Church, Matt Marvane, InSalvation, Phil Thompson, Village Lights, Tim Timmons, Mission House, among others. Additional information is available at
integritymusic.com
.
###