JOHN SCHLITT AND THE UNION OF SINNERS & SAINTS UNVEIL REIMAGINED VERSION OF THE CLASSIC CHRISTMAS SONG, "THE BIRTHDAY OF A KING"
Grammy and Dove Award Winning Gospel Music Association Hall of Famer John Schlitt Delivers Heartfelt, Tender Vocals on Billy Smiley-Produced Single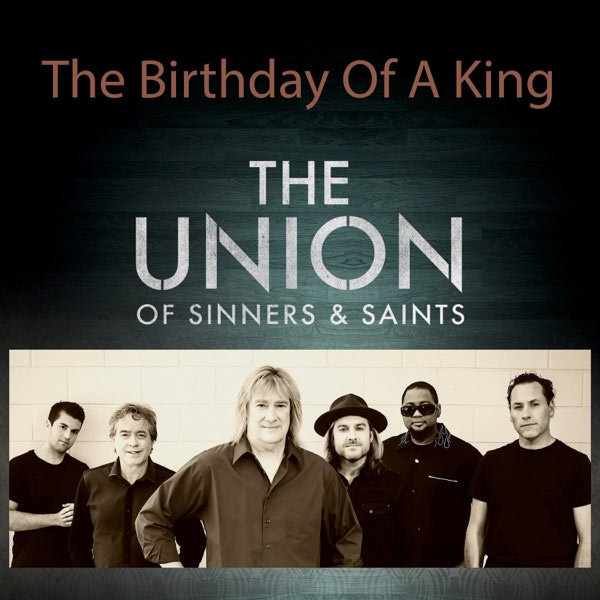 NEWS SOURCE: McCain & Co. PR
December 15, 2021
NASHVILLE, Tenn. (December 15, 2021) - Grammy and Dove Award-winning recording artist and Gospel Music Association Hall of Fame member John Schlitt reunites with The Union of Sinners & Saints to deliver a heartfelt, tender, reimagined version of the classic Christmas song, "The Birthday of a King."
The new single was produced by five-time Grammy-nominated and 26-time Dove-nominated recording artist/producer/songwriter Billy Smiley and features the talents of The Union of Sinners and Saints, which is comprised from the two best-selling Christian Rock bands of all time, Petra and Whiteheart, with over 15 million albums sold, 25 #1 songs, 15 Grammy and 40 Dove awards and nominations between them.
The lyrics contrast the humble little village of Bethlehem with the glory and greatness of Jesus Christ, who was born there. The refrain focuses on the wonderful appearance of the host of angels, and how that was a fitting celebration for the birthday of a King.
Although penned as a hymn in the late 1800s by American composers William Harold Neidlinger and Francis Fischer Powers, the song gained widespread popularity when it was recorded by Judy Garland in 1941.
"When Billy Smiley found this song from the past, I was very intrigued," says Schlitt, whose lead vocals inject a gentle rock n' roll vibe into the traditional hymn. "When I realized it was Judy Garland who was singing it, I was totally thrilled. It's a beautiful song for a beautiful season."
"John's vocals are unbelievable on this classic rendition of a Christmas favorite," says Smiley. "We wanted to fit a classic into what we do as a group, and we had a great time doing this Christmas version! We hope people really connect with it."
John Schlitt, who has been called the greatest rock 'n' roll singer in Christian music history, is no stranger to Christmas music. The iconic vocalist delivered a full-length Christmas project in 2014, appropriately titled, The Christmas Project.
Schlitt launches The Christmas Project with what is arguably the greatest Christmas song of all time, "The Hallelujah Chorus." While Handel's masterpiece has been interpreted by a multitude of musicians over the past 250 years, no one sings "hallelujah" like Schlitt. "The Hallelujah Chorus" transitions seamlessly into a guitar-driven, barn-burning version of "Do You Hear What I Hear." "Little Drummer Boy" gives Schlitt the freedom to explore his full range of vocal prowess, starting at a muted whisper before embracing his full-throttle, wailing rock roots while holding fast to the traditional melodies of the beloved carol.
Schlitt reins in his potent vocals for a gentle, reverent interpretation of "O Holy Night," then ratchets up the intensity on "God Rest Ye Merry Gentlemen," a rock-inflected fist-pumper that is guaranteed to get the listeners' blood flowing. The versatile vocalist shifts moods to one of pure fun with the funky Irish reel "Good Christian Men Rejoice," then slides comfortably into the mellow, bluesy "That Spirit of Christmas," made popular by the legendary Ray Charles.
Melancholy keys and strings embellish Schlitt's emotion-laden vocals on the traditionally arranged "We Three Kings." The gently rocking "What Christmas Needs to Be" leads into the project's closing tune, the reflective "What Child Is This." "What Child Is This" provides the perfect foil for Schlitt's signature vocal stylings, allowing him to channel his passionate delivery through a filter of awe at the enormity of this central event in history. The icing on the Christmas confection is an original tune, "What Christmas Needs to Be," which is destined to become a seasonal classic.
###
For more info on John Schlitt, visit the JFH Artists Database.