MUNDAY MARTIN SHOWS HOW LOVE CONQUERS TRIBULATION IN HIS NEW CROSSOVER SINGLE, "TAKE YOUR BEST SHOT"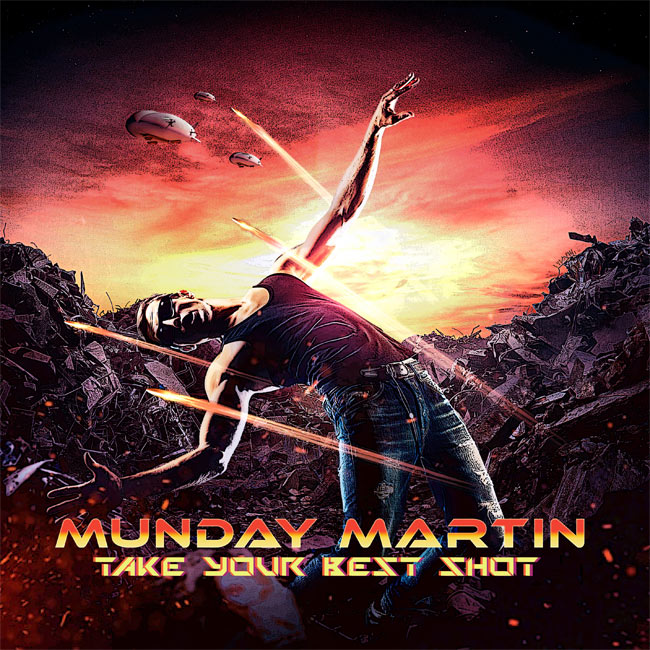 NEWS SOURCE: Marketing with Wisdom
January 7, 2022
NASHVILLE, TENN. (Jan. 7, 2021) -
Up-and-coming alternative rocker Munday Martin released his new rock/Christian crossover single, "Take Your Best Shot," today - available to
stream/download
worldwide.
This song is Martin's sixth single release since his debut in June of 2021. Martin's own riveting story of overcoming severe drug addiction and suicide shines in this song.
"If you are consumed with love, then when an arrow is shot at your life it can't hit you because you've already been burned up into a beautiful heap of ashes," Martin said. "Love is the key that sets the captives free and is the antidote against cutting, self-mutilation, drug addiction, suicide and so forth."
The song is alive from both lyrical and musical standpoints. John Mark Painter, known for producing hit singles like "What If I Stumble" (DC Talk) and "Ooh Ah" (Grits), skillfully arranged and added a variety of effects to the music to bring to life the 80s retro sound Martin's listeners grew up with. With the combined musical genius of Martin, Painter, and drummer Bobby Huff, the final product is a beautiful proclamation of truth with an unforgettable twist:
Take your best shot
And your arrows will fall
You'll find that I'm already gone
Take your best shot
But haven't you read
You can't kill someone dead
The lyrics and upbeat rhythm have already spoken to a wide range of listeners. Some say it is their favorite song of Martin's thus far.
"The world often offers us fame, fortune, and success at the cost of our souls," Martin said. "This song is defiance of the darkness. It tells the enemies of our souls working behind the scenes, 'Take your best shot, but you will find that you're hitting the air.'"
About Munday Martin
Munday Martin (vocals, guitar, bass, percussion) is an up-and-coming, cutting-edge rock recording artist. He is also a songwriter, poet, painter, and acrobat. As a child in the 80s, he grew up singing and doing on-camera work for national TV and radio commercials such as "Hungry Hungry Hippos," "Nintendo," "McDonald's," and many others in New York City and Chicago.
He fearlessly taps into post-punk, new wave, and indie band rock sounds which he lovingly grew up with in the 80s and 90s and offers this generation a fresh new feast that is not only digestible but delicious. Munday just kicked his new music career off in 2021 and is already making waves in the music industry. He is now being played on Nashville's biggest rock station 102.9 The Buzz. His song "Silver Lining" is already approaching 100K views on his YouTube channel and he just hit 40K listeners on Spotify this month. He has also been chosen as Effect Radio's upcoming artist of the month.
###