Awakening Events Announces Tim Hawkins - Live In Concert
His 20-City Spring Tour, His First Since 2019, Kicks Off March 24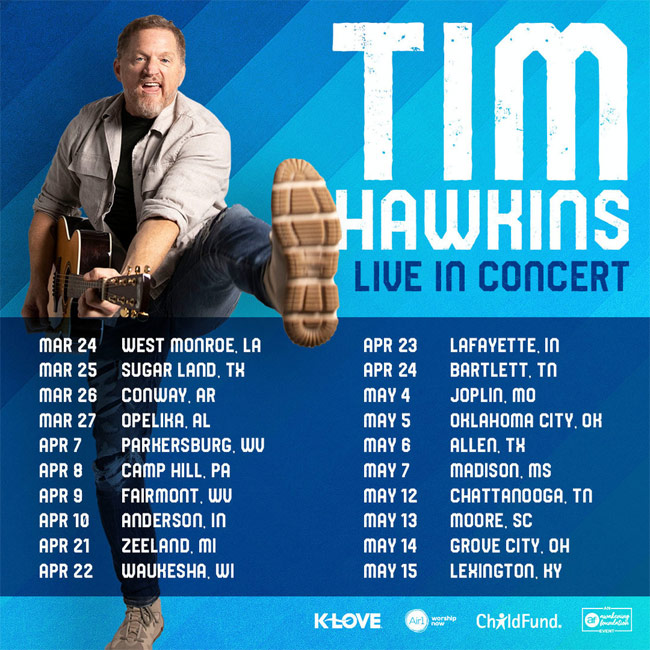 NEWS SOURCE: Merge PR
January 27, 2022
26 January 2022 - Nashville, TN - Comedian Tim Hawkins returns to the stage this spring for TIM HAWKINS LIVE IN CONCERT. His 20-city run kicks off March 24 in West Monroe, LA, and will run through May 15 in Lexington, KY. The tour is supported by The Awakening Foundation, Awakening Events, K-LOVE, Air1, and ChildFund.
Every attendee is promised an enjoyable night of stories, laughs, and fun, designed to bring people together to laugh and enjoy each other's company. Tickets go on sale this Friday, January 28 and be sure to click HERE for more information.
LIVE IN CONCERT is Hawkins' first tour since 2019 and he's more than ready to get back on the road in front of his fans. "Comedy is a great way of finding out that you're not the only one going through things," he recently shared. "You're not the only one struggling, and laughter is fun."
Please note: all Awakening Events / Awakening Foundation shows are required to follow local health and venue requirements as it relates to COVID-19. These may include but are not limited to vaccine and/or testing requirements and face coverings. Local health & venue guidelines are subject to change at any time. Changes in local COVID-19 health guidelines or venue policies are not grounds for a refund. Thank you for your understanding and please know that Awakening Events takes the health and safety of their guests, employees, and community very seriously.
ABOUT TIM HAWKINS: Since giving up his job at Olive Garden in 2002, Tim Hawkins has been establishing himself as one of the most in-demand comedians in the country. With more than 100 million video views online, Hawkins has grown into a revolution of multi-generational proportions.
He offers a gut-busting comedy show that entertains the entire family while doubling down on the funny, a daunting task in an age where the obscene has become routine. His act is one part gifted and two parts twisted - the only certainty being his on-the-nose observations that expose the ridiculousness of daily life while marveling in its hilarity. The perils of marriage, homeschooling, and growing up in the Midwest may not exemplify the rock star life but they make for really good punchlines.
While his stand-up is riotous, fans are often more amazed at his singing voice and guitar chops. Hawkins' hilarious music videos have brought him viral YouTube fame with fan favorites including "The Chick-fil-A Song," "Yoga Pants," "Cletus Take The Reel," and "The Government Can."
Still, Tim Hawkins is no rock star: "It's not like I have a choice. Comedy is my only life skill." Above all, he reminds us that for life's many trials, laughter is our best medicine. Visit TimHawkins.net for more.
ABOUT AWAKENING FOUNDATION: The Awakening Foundation exists to share the message of hope and resources with individuals and families in local and international communities by bringing together artists, fans, and like-minded organizations through live events and missional endeavors to serve and empower those in need. Find out more at AwakeningFoundation.com.
ABOUT AWAKENING EVENTS: Since its inception, Awakening Events has remained focused on its mission of producing events that impact people in a positive way while glorifying God. That focus has led to rapid growth over the last decade, catapulting Awakening Events towards the top of the Pollstar Charts, most recently ranked No. 3 in the world in total tickets sold.
By providing our artist partners a platform to share their message and creating a great fan experience, Awakening Events hopes to have a lasting impact both locally and globally. Long-term partnerships with great organizations like Food for the Hungry, Altrua HealthShare, the Salvation Army, and many others have allowed Awakening Events and the Awakening Foundation to help transform the lives of thousands of people both domestically and abroad. For more information on Awakening Events or for any of the shows they produce, please visit AwakeningEvents.com.
ABOUT CHILDFUND: Founded in 1938, ChildFund works throughout Asia, Africa, and the Americas — including the United States — to connect children with what they need to grow up healthy, educated, skilled, and safe, no matter where they are. Last year, ChildFund reached 16.2 million children and family members in 24 countries. Find out more at ChildFund.org.
###