JUSTIN WARREN RELEASES FIRST RADIATE MUSIC SINGLE "ALL THINGS WELL"
CCM Café Premieres Live Acoustic Version Of Single

"…one day our faith will be made sight, and we will be able to see in full that God does do all things well" - Justin Warren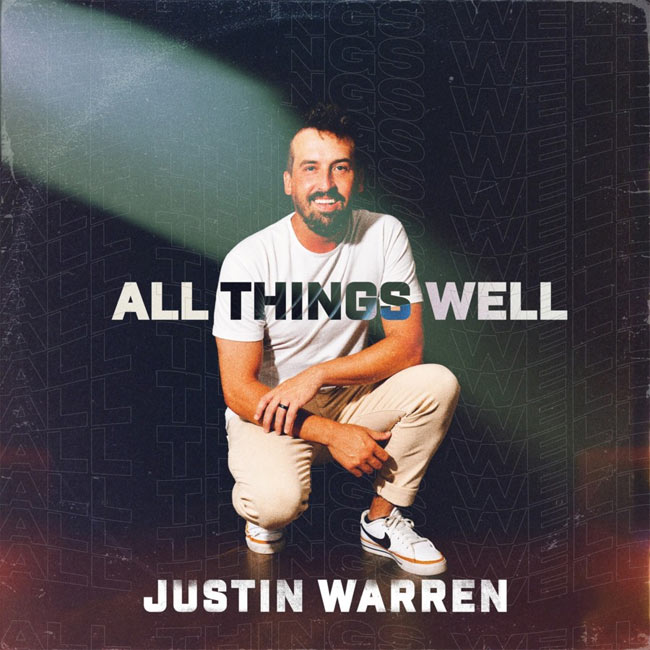 NEWS SOURCE: Hoganson Media
September 30, 2022
Raleigh, NC-based singer / songwriter and worship leader Justin Warren releases his Radiate Music debut single, "All Things Well," today (Sept. 30) at all major digital and streaming outlets via https://ffm.to/jwatw. The single, which precedes an EP slated to release in early 2023, began with a lot of questions for God during a difficult season for the artist that transitioned into a hopeful declaration.
"I started writing 'All Things Well' when one of my best friends' father was diagnosed with cancer," shares Warren. "We prayed and prayed for healing, but ultimately the Lord's plan was to take him to glory. We may not understand why certain things happen on this side of eternity, but one day our faith will be made sight, and we will be able to see in full that God does do all things well."
Finishing the rough version of the song after being inspired by a sermon his father sent him that was based on Mark 7:37, Warren took "All Things Well" into a songwriting session with labelmate JJ Weeks and veteran songwriter, producer and Radiate Music founder Ian Eskelin.
"The three of us recrafted the song into something I am so excited to share with the world," says Warren. "In good times and hard times we can praise Him, we can trust Him. He does all things well!"
After announcing his signing to Radiate Music earlier this year, Warren received coverage by numerous media. Outlets that have featured the signing, or are planning upcoming coverage, include the Gospel Music Association, Worship Leader Magazine, Jesus Freak Hideout, Alabama Baptist, The Christian Beat, Louder Than The Music, JubileeCast, Breathecast, and more. CCM Magazine's "CCM Café" also premieres a live acoustic performance of "All Things Well" at https://youtu.be/RdPR6hzx0t4.
With a heart to communicate the hope we have in Jesus, Warren has shared stages across the country with artists like Mercy Me, Sanctus Real, Building 429, Natalie Grant and more. Leading fan favorites and new songs like "All Things Well" and "Back To Life," he completed a tour last month with Cade Thompson and continues into select markets in October.
For all the latest Justin Warren tour and music news, visit www.justinwarrenmusic.net, Facebook, Instagram, Spotify, Apple Music, Twitter and YouTube.
About Justin Warren:
Singer/songwriter and worship leader Justin Warren shares the hope we have in Jesus through his music. His most recent album, Moments, is filled with hopeful songs that remind us that every second of life is a gift from God that should not be taken for granted. With over a million Spotify streams alone, Warren has toured with artists like Sanctus Real, Rhett Walker, JJ Weeks, Finding Favour, Jasmine Murray and John Waller. He has also opened up for bands such as Mercy Me, Building 429, Natalie Grant and many others. Warren, his wife Laura and their two children reside in Raleigh, NC.
About Radiate Music:
Founded by Ian Eskelin, Radiate Music launched summer 2015. Eskelin's 20-plus-year resume in the music business, ranging from being a recording artist to a record executive, gives him a unique perspective in partnering with artists who are passionate about impacting culture with music. Eskelin, who has recorded more than 50 Top 10 singles in the United States alone, including 20 No. 1 songs, and whose songs have been licensed for use by ABC, NBC, CBS, ESPN and many feature films, is looking to break additional ground with Radiate. In addition to Warren, Radiate's artist roster includes Natasha Owens, JJ Weeks, About A Mile, Attaboy and Inspiration Worship.
###