THE LONG-AWAITED ALBUM FROM ZACH WILLIAMS, A HUNDRED HIGHWAYS, IS OUT NOW
"There Was Jesus" Now Certified Platinum; Williams Set To Appear On Dolly Parton's NBC Christmas Special; Fall Headlining Tour Continues Through November Before Embarking On Christmas Run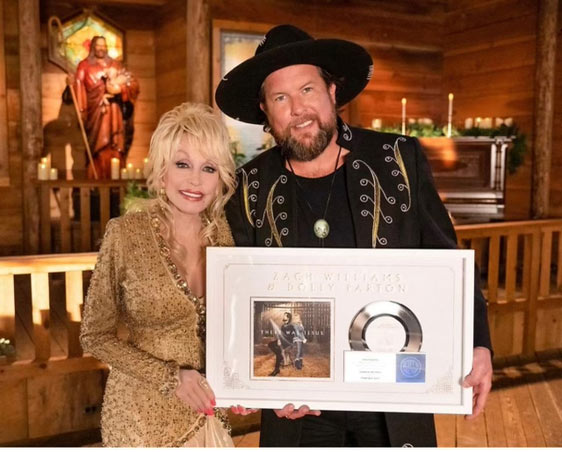 Dolly Parton and Zach Williams celebrating their Platinum single "There Was Jesus"

NEWS SOURCE: Merge PR
September 30, 2022
30 September 2022 - Nashville, TN - Zach Williams, the two-time GRAMMY Award® winner, multi-GMA Dove Award® winner, and multi-platinum selling singer/songwriter, officially releases his new album,
A Hundred Highways
, today. The anticipated 15-track project is available courtesy of Sony Music/ Provident Entertainment. Listen
HERE
.
A Hundred Highways is Williams' faith on full display from beginning to end, with each song built on his unchanging love for Jesus. "This record feels more like me than anything else I've done," Williams shares. "It's the most 'Zach' record I've made. I wasn't concerned about if it fits in any certain pocket, I just wrote about my life experiences and the things I'm feeling and living."
It's been three years since Williams released his previous project Rescue Story, which followed his GRAMMY Award-winning album, 2017's Chain Breaker. While the former album sang of redemption and God's love, A Hundred Highways is redemption lived out, forgiveness explored, and songs of love for his wife and family, all offering a true reflection of a man who's found a Savior and is never letting go. Each song offers his signature blend of country-meets-rock-meets-Gospel, all expertly blended with his genre-defining vocals that deliver a life fully lived. A Hundred Highways was produced by his longtime musical partner, multi-award winner Jonathan Smith.
The album's first single, "Heart Of God," continues to make an impact around the world and in its first week alone received an astounding 1.5 million listens. Others include "Like A Billy Graham Revival," a song that peeks into his childhood memories with his grandparents and traveling to concerts on weekends, "Jesus' Fault," the duet with country star Walker Hayes, and "Love Is A Battleground." an ode for his wife, to name a few.
It was announced earlier this month that "There Was Jesus," his GRAMMY Award-winning song with Dolly Parton, became certified RIAA Platinum®. They were able to share in the celebration of the song's success during Williams' taping for Dolly Parton's "Mountain Magic Christmas" TV special. Set to air this holiday season on NBC, along with Williams other guest stars appearing are Jimmy Fallon, Billy Ray Cyrus, Miley Cyrus, and Jimmie Allen, among others.
Along with "There Was Jesus," Williams is also sharing many of his new songs on his current headlining tour. Running through November 20, the Zach Williams Fall '22 Tour is visiting 36 major markets such as New York City, Colorado Springs, Baton Rouge, Phoenix, and Austin. Additionally, for VIP ticket holders and in partnership with the Salvation Army, for every VIP ticket sold a food box will be given to a family in need in the community, providing enough meals to feed a family of four for an entire week. The Salvation Army partnership will continue through the holidays when he embarks on his
I Don't Want Christmas To End Tour
, which runs through December. Click
HERE
to find out more and for tickets to both tours, which are on sale now.
A Hundred Highways track listing:
Big Tent Revival
Up There Down Here
Sunday's Comin'
Heart of God
Like a Billy Graham Revival ­
Jesus' Fault (feat. Walker Hayes)
Praise Opens Prisons
Looking for You
That'll Preach
I Got You
Love is a Battleground
Holy Rollin'
Flesh and Bone (We Remember)
Far Too Good to a Man Like Me
Plan For Me
ABOUT ZACH WILLIAMS: Williams is a husband, father, recording artist, songwriter, and a two-time GRAMMY® winner (Chain Breaker, 2018; "There Was Jesus," 2021). Along with an additional five GRAMMY nominations, Williams is also a multi-GMA Dove Awards and K-LOVE Fan Awards winner and nominee.
He made history with two consecutive radio No. 1 hits for 35 weeks as a debut artist ("Chain Breaker," "Old Church Choir"), and "There Was Jesus," his duet with Dolly Parton, topped the charts for multiple weeks. Most of all, Williams' music comes from a place of humility and honesty as his songs are a direct reflection of God's redemption in his life.
"Chain Breaker," his record-breaking and RIAA®-certified Platinum single from the album Chain Breaker (RIAA-certified Gold), has impacted millions of people around the world, earning Williams his first GRAMMY nomination in 2017 for Best Contemporary Christian Music Performance/Song, two Billboard Music Award nominations (Top Christian Song, Top Christian Album) and has 2018 and 2021 American Music Award nominations. He also received another GRAMMY nod in 2019 for Best Contemporary Christian Music Album, Survivor: Live from Harding Prison, and in 2020 for "Rescue Story" (Best Contemporary Christian Music Performance/Song). "Old Church Choir" and "Fear Is a Liar" are both RIAA-certified Gold.
Williams performed his RIAA-certified Platinum single "There Was Jesus" live with Parton at the 53rd Annual CMA Awards. The song also made the Pandora Top Spins chart for twelve consecutive weeks and was named one of Pandora's top 100 songs across all genres. Additionally, "There Was Jesus" was WAY-FM's top song of 2020.
He has won six GMA Dove Awards (Artist of the Year; New Artist of the Year; Pop/Contemporary Recorded Song of the Year, "Chain Breaker;" Pop/Contemporary Song, "Old Church Choir;" Songwriter of the Year/Artist; Recorded Music Packaging, Rescue Story). He was also named Billboard's 2017 Top Christian Male Vocalist and New Artist of the Year and CCM Fan Awards' Favorite New Artist Of The Year. Apple Music chose him as Artist of the Week (2016), while "Chain Breaker" was the top track of 2016 on iTunes' Christian Songs chart. Williams has also been awarded by BMI with four Citation of Achievement awards for his singles "Chain Breaker," "Old Church Choir," and "Fear Is a Liar," recognizing the songs for their national popularity and reach.
###
For more info on Zach Williams, visit the JFH Artists Database.