Ronnie Booth to Release Living Legacy Album, DVD and TV Special, June 2
"Sweet Beulah Land" and "Moon River" out now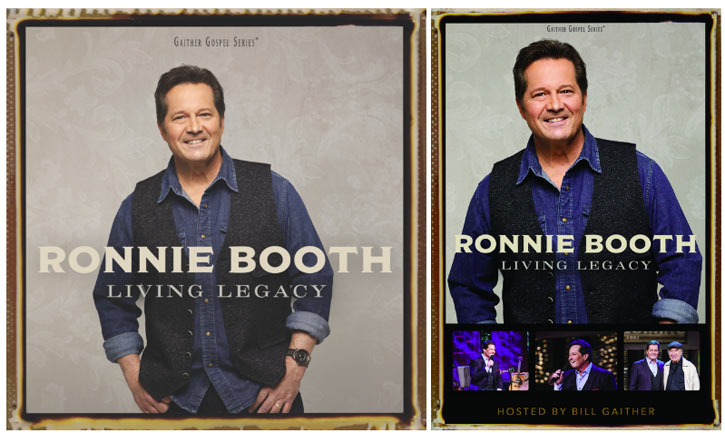 NEWS SOURCE: The Press House
May 24, 2023
NASHVILLE, Tenn. (May 23, 2023) — Award-winning artist Ronnie Booth will deliver a new solo album Living Legacy —a nostalgic collection of songs that have inspired him personally and professionally — on June 2 via Gaither Music Group.

Known as the lead singer for 30 years of the renowned Booth Brothers, Ronnie showcases his unmistakable, tender voice as he reimagines timeless songs like "Moon River," "Sweet Beulah Land," "Blue Eyes Cryin' in the Rain," "Somewhere Over the Rainbow" and other classics. He captures some of the rich country, gospel and pop heritage that has contributed to his own Living Legacy today.

"In addition to the musical influence of my own father, these artists and songs had a profound impact on my development as an artist," Booth says. "The beautifully-crafted lyrics, masterful musicianship and alluring melodies captured my attention as a young teenager and set me on a lifetime path of artistry that continues to this day. The song truly does 'remember when,' and as you listen to these timeless creations it is my hope you are transported back to when you first heard them and discover anew a deep appreciation for the heart of these artists and their songs.

"As Dan Fogelberg said, 'I'm just a living legacy to the leader of the band,'" he adds. "I have adopted this phrase in my own life because it is my story too. Beginning with the influence of my father and the impact these artists and songs had on my life, I too can say I'm just a living legacy."

A Living Legacy DVD will also be available, featuring LIVE performances from Ronnie of these recordings as well as a heartfelt interview with Gospel legend and friend Bill Gaither. A Living Legacy TV special, hosted by Bill Gaither, will premiere on June 1 and will air on networks including PBS, DISH TV, DirecTV, TBN, RFD-TV, GaitherTV, FamilyNet, CTN, GMC, GMTN, Guardian, Liberty, TCT and TLN. It will air in Canada on Vision TV, CTS, The Miracle Channel and Hope TV.

Videos from the new recording will be available on the Gaither Music TV YouTube channel (over three million subscribers), the Gaither Music Facebook page and Apple Music. The recording will be featured on the Gaither Store on Amazon; and songs from the new release will air on Gaither Radio on Pandora, Gaither Radio on Spotify and on Homecoming Radio, which is aired on nearly 4,000 radio stations, networks and digital outlets worldwide, including SiriusXM.

"We are excited to partner with Ronnie to capture these songs that have played an influential role in his life," stated Paul Sizelove, president of Gaither Music Group. "His unmistakable voice is showcased, and he was able to share pieces of his life story, including the legacy he has inherited from his father."

Living Legacy track listing
Annie's Song
Rhinestone Cowboy
You've Got a Friend
Moon River
I Can't Smile (Without You)
Leader of the Band
Somewhere Over the Rainbow
Blue Eyes Crying in the Rain
Let Me Be There
Danny's Song
Gentle Shepherd
Sweet Beulah Land

Listen to "Sweet Beulah Land" here: https://gaithermusic.lnk.to/SweetBeulahLand-RB

Listen to "Moon River" here: https://gaithermusic.lnk.to/MoonRiver-RB

Pre-order Living Legacy here: https://gaithermusic.lnk.to/RBLivingLegacy

About Ronnie Booth:
Known for 32 years as the lead singer for the GRAMMY-nominated, DOVE Award-winning, 10-time Singing News Artist of the Year family group the Booth Brothers, Ronnie Booth is also the 14-time recipient of the Singing News Fan Award for Lead Singer of the Year and a 13-time winner of Male Artist of the Year.

Ronnie was born into a musical family with a rich heritage of recording and touring. His dad, Ron Booth Sr., sang first tenor for quartets including the Toney Brothers and JD Sumner and the Stamps, who sang background vocals for Elvis Presley. Ron passed his love of music to his sons, who traveled alongside him in the group until he retired. Ronnie and his brother, Michael, continued the family tradition, becoming one of the most respected and awarded trios in their field.

A gentle spirit with a heart that is grateful to God for blessing him with decades of successes, Ronnie views his greatest accomplishment to be his precious family. He and his wife, Kim, have four children and seven grandchildren.

About Gaither Music Group:
One of the largest independent Christian music companies in the world and a household name for millions of fans, Gaither Music Group, in partnership with Primary Wave Music Publishing, is known worldwide for its award-winning and top-selling recordings, including the Gaither Gospel Series, of which 133 products have been certified gold, platinum or multi-platinum. These recordings, which encompass more than 200 video copyrights, showcase gospel music pioneers; many of the finest performers in the gospel and country genres; up-and-coming acts; and country artists including The Oak Ridge Boys, Jimmy Fortune, Joey+Rory, Alabama, Alan Jackson, The Statler Brothers, George Jones, Vince Gill, Josh Turner, Tennessee Ernie Ford, The Isaacs and others. The brand has partnered with Sandi Patty, Gloria Gaynor, Steven Curtis Chapman and a host of acclaimed talents from various fields of music. Gaither Music Group has garnered sales of more than 40 million DVDs and CDs, including such PBS stalwarts as Billy Graham: God's Ambassador, the only authorized video autobiography of Reverend Billy Graham; The Gospel Music of Johnny Cash; and three Elvis Presley projects, including He Touched Me and The Gospel Music of Elvis Presley, in conjunction with the Elvis Presley Estate. The company developed a strategic partnership with Cracker Barrel Old Country Store® in 2008; and its alliances with Capitol Christian Music Group, Virgin Music Label & Artist Services, Universal Music Group and Time Life Music remain bedrocks for the company.
###