Capulet Fest 2023 Boasts Memphis May Fire, Anberlin, Spoken, Norma Jean and Many More
JULY 1st & 2nd, 2023

At Thompson Speedway Motorsports Park in Thompson, Connecticut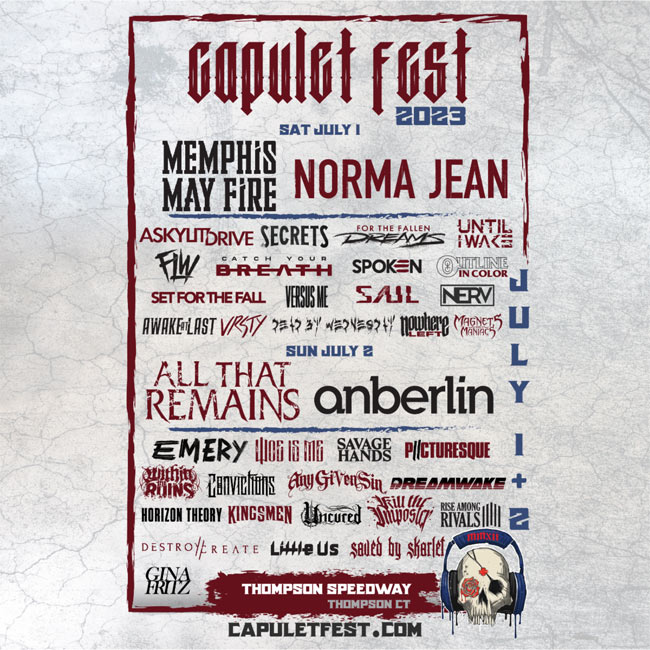 NEWS SOURCE: Song River PR
June 12, 2023
Capulet Fest - Thompson Speedway Motorsports Park in Thompson, Connecticut: Are you ready for an unforgettable experience? We're thrilled to announce that this year's Capulet Fest is going to be bigger, better, and more extraordinary than ever before! Over the course of two days, we'll be treating you to an electrifying lineup of over 30 bands across two stages. Get ready to kick off the Independence Day festivities in style with Capulet Fest - the ultimate pre-Fourth of July celebration! This mega event has something for everyone, from amazing food and drinks to exciting entertainment and activities.
With a wide variety of vendors, food trucks, and beer trucks on site, you'll never go hungry or thirsty. Plus, you'll be entertained by some of the top podcasters and radio personalities in the area, including Radio 104's own Amy Grey who will be emceeing the event.
But that's not all - Capulet Fest will culminate in a spectacular fireworks display that will light up the night sky and leave you in awe. So gather your friends and family for this all-ages two-day music event and join us for this unforgettable event - you won't want to miss it!
CAPULET FEST LINE-UP JULY 1 & 2
Saturday, July 1
Memphis May Fire // Norma Jean
A Skylit Drive (playing Wires in full)
Secrets
For the Fallen Dreams
Until I Wake
Famous Last Words
Catch Your Breath
Spoken
Outline in Color
Set for the Fall
Versus Me
Saul
Nerv
Awake at Last
VRSTY
Dead By Wednesday
Nowhere Left
Magnets for Maniacs
Sunday, July 2
All That Remains // Anberlin
Emery
Woe is Me
Savage Hands
Picturesque
Within the Ruins
Convictions
Any Given Sin
Dreamwake
Horizon Theory
Kingsmen
Uncured
Kill the Imposter
Rise Among Rivals
Destroy / Create
Little Us
Saved By Skarlet
Gina Fritz
Tickets are GA. Add-ons for VIP and Meet and Greet. The Capulet Royal Pass includes every awesome upgrade and parking. Parking must be purchased with a GA ticket if you are driving to the event and parking on-site. Carpooling is allowed.
Bands included in Meet and Greet: Memphis May Fire, Norma Jean, Anberlin, A Skylit Drive, Emery, Woe is Me.
VIP tickets include: Early Entry, Air Conditioned Bathrooms, Merch
Capulet Royal Pass gets every amazing upgrade!
*Please note: Parking tickets must be purchased in order to park on-site.
**Cell phones only unless accompanied by a press pass. No outside coolers. An empty water bottle is allowed.
*****************
Website: Capuletfest.com
Contact: capuletentertainment@gmail.com
Tickets: https://www.capuletent.com/tickets
Instagram: https://www.instagram.com/capuletent
Facebook: https://www.facebook.com/capuletENT
Capulet Entertainment is an independent promotion company formed in 2012 by author and lifelong music aficionado Estevan Vega. Since its inception a decade ago, Capulet ENT has curated numerous events in the New England area, booking high-profile talent in the alternative rock and metal scene, some of whom include: Alesana, A Skylit Drive, PVRIS, My Ticket Home, Spoken, Kingsmen, D.R.U.G.S, Glasslands, Rivals, Spirit Breaker, Project 86, Convictions, Prison, and many more. Connecticut, Rhode Island, and New Hampshire have all been ground zero, with fans and friends alike helping to simultaneously cultivate the musical landscape and evolve the brand across New England, proving that the time was right to establish a bona fide, nationally-appealing rock festival.
In 2021, Capulet Fest was born in Providence, RI. Off the heels of a dynamic and unifying first-year festival and the epic Back to School Bash (featuring Alesana and A Skylit Drive), Capulet ENT is set to take the northeast by storm with the second annual Capulet Fest 2023 at Thompson Speedway Motorsports Park in Thompson, Connecticut.
###
For more info on many of these artists, visit the JFH Artists Database.