Travis Tritt To Release First-Ever Gospel Project, Country Chapel, Inspired by His Childhood Roots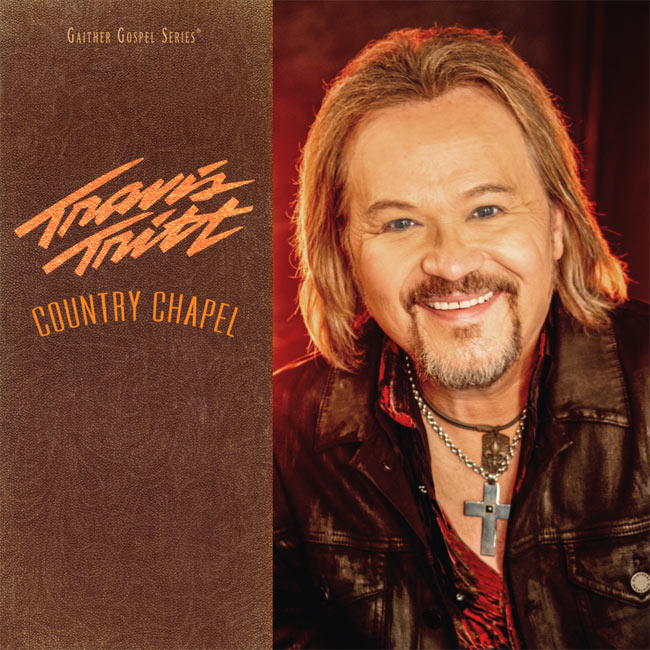 NEWS SOURCE: AristoMedia / The Press House
July 20, 2023
NASHVILLE, Tenn. (July 20, 2023) — Multi-award-winning artist Travis Tritt is set to release his highly anticipated debut Gospel project, Country Chapel, taking listeners on a nostalgic journey back to his childhood roots. Captivating audiences with authentic renditions and powerful testimonies of redemption, this heartfelt album pays homage to Tritt's formative years within the comforting embrace of the Country Chapel.

Produced by Dave Cobb at Georgia May Studio in Savannah, Georgia, Country Chapel seamlessly blends traditional church harmonies with Tritt's signature award-winning vocal style, offering a unique and inspiring listening experience. This long-awaited Gospel project promises to be a defining milestone in Tritt's illustrious career, touching hearts and souls through the universal language of music.

Released by Gaither Music Group, Country Chapel will be available on September 15, 2023. The album's pre-sale begins tomorrow, July 21, 2023, with the release of Track #1, "When God Dips His Love in My Heart." Building anticipation, Track #2, "Like the Father Loves His Son," will be released on August 18, 2023. Finally, on September 15, 2023, the soul-stirring track, "Nobody's Fault But Mine," will be unveiled, serving as a testament to Tritt's remarkable musical journey and unwavering dedication to the Gospel genre. Country Chapel is distributed by Capitol Christian Music Group and Universal Music.

Country Chapel Track Listing:
1. "When God Dips His Love In My Heart" (Cleavant Derricks)
2. "Like The Father Loves His Son" (Travis Tritt)
3. "Mama Used To Pray For Me" (Travis Tritt and Aaron Raitiere)
4. "In the Valley (He Restoreth My Soul)" (Dottie Rambo)
5. "Uncloudy Day" (J.K. Alwood)
6. "Wayfaring Stranger" (Public Domain)
7. "Nobody's Fault But Mine" (Blind Willie Johnson)
8. "The Baptism Of Jesse Taylor" (Dallas Frazier and Sanger D. Shafer)
9. "Why Me" (Kris Kristofferson)
10. "Little Country Chapel" (Travis Tritt and Aaron Raitiere)

With a career spanning over three decades, Tritt has garnered numerous accolades and chart-topping hits. Known for his distinctive voice and powerful songwriting, Tritt continues to captivate audiences worldwide with his timeless music and electrifying live performances.

Tritt's albums, seven of which are certified platinum or higher, have led him to amass more than 30 million in career album sales, two GRAMMY® Awards, four CMA Awards, including the CMA Horizon Award (now known as the New Artist Award), a Billboard Music Award for Top New Artist, an invitation to become a member of the world-famous Grand Ole Opry and a devoted fan base that has filled venues coast-to-coast. He also charted more than 40 times on the Hot Country Songs Chart, earning five #1s and twenty Top 10 hits. Among his eleven studio albums and numerous charted singles are "Help Me Hold On," "Anymore," "Can I Trust You with My Heart," "Foolish Pride," "Best of Intentions," "I'm Gonna Be Somebody," "Modern Day Bonnie and Clyde," "Here's A Quarter," "It's A Great Day To Be Alive," and more. He is also dubbed one of "The Class of '89," which includes Country music superstars Garth Brooks, Clint Black, and Alan Jackson, who dominated the charts in the '90s.

For more information, please visit travistritt.com and connect with Travis on Twitter, Facebook, and Instagram.

About Gaither Music Group:
One of the largest independent Christian music companies in the world and a household name for millions of fans, Gaither Music Group (Gaither Music, Sun Records, Green Hill, emeraldwave), in partnership with Primary Wave Music Publishing, is known worldwide for its award-winning and top-selling recordings including the Gaither Gospel Series, of which 133 products have been certified gold, platinum or multi-platinum.

These recordings, which encompass more than 200 video copyrights, showcase gospel music pioneers; many of the finest performers in the gospel and country genres; up-and-coming acts; and country artists including The Oak Ridge Boys, Jimmy Fortune, Joey+Rory, Alabama, Alan Jackson, The Statler Brothers, George Jones, Vince Gill, Josh Turner, Tennessee Ernie Ford, The Isaacs and others.

The Gaither Music Group brand has partnered with established artists including Whitney Houston, Sandi Patty, Gloria Gaynor, Steven Curtis Chapman and a host of acclaimed talent from various fields of music. Gaither Music Group has garnered sales of more than 40 million DVDs and CDs, including such PBS stalwarts as Billy Graham: God's Ambassador, the only authorized video autobiography of Reverend Billy Graham; The Gospel Music of Johnny Cash; and three Elvis Presley projects, including He Touched Me and The Gospel Music of Elvis Presley, in conjunction with the Elvis Presley Estate.

Gaither Music Group developed a strategic partnership with Cracker Barrel Old Country Store® in 2008; and its alliances with Capitol Christian Music Group, Virgin Music Label & Artist Services, Universal Music Group and Time Life Music remain bedrocks for the company. Most recently, the Gaither Music TV YouTube channel crossed the 3 billion life-to-date streaming benchmark and hosts more than 3 million subscribers.
###