WATCH THE 38TH ANNUAL STELLAR GOSPEL MUSIC AWARDS SUNDAY, AUGUST 6TH AT 8/7C ON BET
Hosted by Jonathan McReynolds and Tasha Cobbs Leonard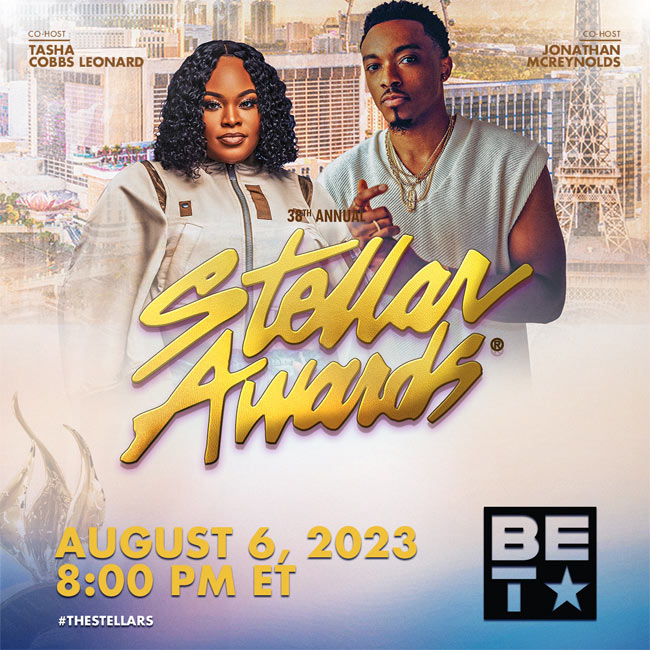 NEWS SOURCE: Cr8 Agency
August 4, 2023
The 38th Annual Stellar Gospel Music Awards, the "Greatest Night in Gospel Music," hosted by Jonathan McReynolds and Tasha Cobbs Leonard, is set to premiere on BET, Sunday, August 6th at 8/7C.
Audiences can also look forward to powerhouse performances by Kirk Franklin, Charles Jenkins, DOE, Dottie Peoples, Isaac Carree, Kierra Sheard-Kelly, Naomi Raine, Natalie Grant, Maranda Curtis, Pastor Mike Jr., Tim Bowman Jr. & Faith City Music, Bishop S.Y. Younger, Zacardi Cortez and more. Presenters for the evening include Adrienne Bailon-Houghton, Marvin Sapp, Lady Tramaine Hawkins, Brian Courtney Wilson, Erica Campbell, Isabel Davis, James Fortune, Koryn Hawthorne, Jason Clayborn, NOTKARLTONBANKS, Shirley Caesar and Travis Greene. CeCe Winans will receive the prestigious Aretha Franklin Icon Award, recognizing her exceptional talent and enduring impact. Reverend Dr. Milton Biggham will be honored with the James Cleveland Lifetime Achievement Award in recognition of his lifetime dedication to spreading the uplifting message of Gospel music. Additionally, Dr. Bobby Jones will be presented with the Thomas A. Dorsey Most Notable Achievement Award, acknowledging his outstanding contributions and influential career.
Visit BET.com for exclusive Stellar Awards content. Follow The Stellar Awards on social media — @thestellars on Instagram and Twitter and 'Stellar Gospel Music Awards' on Facebook.
About the Stellar Gospel Music Awards
The Stellar Gospel Music Awards is the first and only Gospel Music Awards show in the country, honoring Gospel Music artists, writers, and industry professionals for their contributions to the Gospel Music Industry. The Stellar Awards ranks high in status as the only Gospel Music television awards program syndicated in over 140 markets nationwide. For more information, please visit www.thestellarawards.com.
About Stellar TV Network
For over 50 years in television programming targeted to Black audiences, Central City Productions has become the most recognized and respected company in the Faith-based community. Going forward, we are excited about the continued success we will enjoy in launching our Stellar Network. The Stellar Network fills the void for a Family-Friendly, entertainment, lifestyle network targeting Black audiences. Stellar Network is the first in uplifting content with positive, inspirational, and entertainment programming. Stellar's Goal is to be the most preferred network to Black audiences nationwide.
About Central City Productions, Inc.
Founded in 1970 by Don Jackson, Chicago-based Central City Productions, Inc. is a national broadcast television producer and syndicator of its exclusively owned African-American programming. Celebrating over 50 years of broadcasting Black excellence with uplifting and entertaining original television content, CCP's award-winning television programs include the Black Music Honors (www.blackmusichonors.com), Stellar Tribute to the Holidays, Black College Quiz Show Series (www.blackcollegequiz.com), Black History Honors, America's Black Forum (www.americasblackforum.com), Mentoring Kings (www.mentoringking.com), and Mentoring Queens (www.mentoringqueen.com), among many others. For more information, visit www.stellartv.com.
About BET Media Group
The BET Media Group, a unit of Paramount (NASDAQ: PARAA; PARA; PARAP), is the world's largest media company dedicated to entertaining, engaging, and empowering the Black community and championing Black culture. Connecting Black audiences through a portfolio of brands including BET, BET+, BET Gospel, BET HER, BET International, BET Jams, BET Soul, BET Studios, and VH1, the BET Media Group is a thriving media ecosystem of leading interconnected platforms across cable TV, streaming, digital, studios, live events and international.
For more information about BET, visit www.bet.com and follow @BET on social platforms. For more BET news announcements, follow us on social @BET_PR.
###