SIGNUM REGIS ANNOUNCES NEW ALBUM "UNDIVIDED"
FIRST SINGLE AND MUSIC VIDEO RELEASED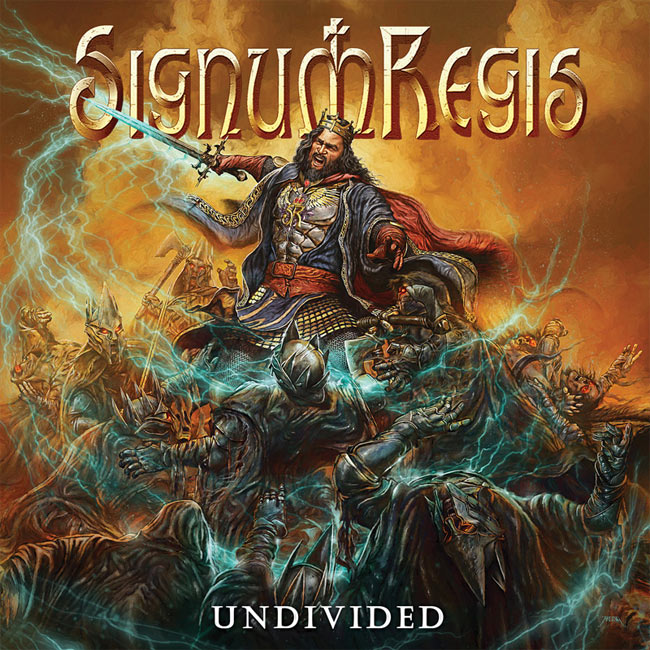 NEWS SOURCE: Ulterium Records
August 25, 2023
The melodic power metal band SIGNUM REGIS will release their new album "Undivided" via Ulterium Records on November 17th. The album will be available on CD, limited vinyl editions and digital.
"Salt of the Earth", the first single from the album is an uplifting melodic power metal hymn, perfect for fans of bands like Helloween, Stratovarius, Stryper and Theocracy! The single is available on all digital platforms and you can check out the music video on YouTube below.
"Undivided" was produced, mixed and mastered by Jacob Hansen (Volbeat, Kamelot, Evergrey) and the epic artwork was created by Uwe Jarling (Grave Digger, Mystic Prophecy). Guests on the album includes guitarists Jimi Cimbala (No Control) and Daniel J. Fries (Affector) and vocalist David Åkesson (Moonlight Agony, Quantice, Symphonity).
The songwriting on "Undivided" is really strong and the songs that ended up on the album were cherry picked from many. On the album you will find fast power metal songs, epic heavy metal songs, lots of catchy melodies, neoclassical influences and uplifting lyrics. Throughout the entire album you hear the strong musicianship that Signum Regis are known for, crowned by the excellent vocal delivery by Jota Fortinho!
The album marks the return of SIGNUM REGIS to Ulterium Records, the label where the band released three successful releases between 2013-2015: "Exodus", "Through the Storm" and "Chapter IV: The Reckoning".
Don't miss out on "Undivided", an impressive uplifting power metal album that should be perfect for fans of melodic power metal and heavy metal and bands like Helloween, Stratovarius, Stryper and Theocracy!
"Undivided" track listing:
01. Daniel's Prophecy
02. Ministry of Truth
03. Salt of the Earth
04. Interpreter of Dreams
05. Pilgrim Road
06. Servants of the Fallen One
07. Sea of Galilee
08. Prepare for War
09. Undivided
10. Shield My Soul
Signum Regis online
Ulterium Records online
###