SUPER SOPRANO RUTH LA'ONTRA JOINS HYMNS PROFESSOR BISHOP LEONARD SCOTT ON HYMN REMAKE, "NO NEVER ALONE"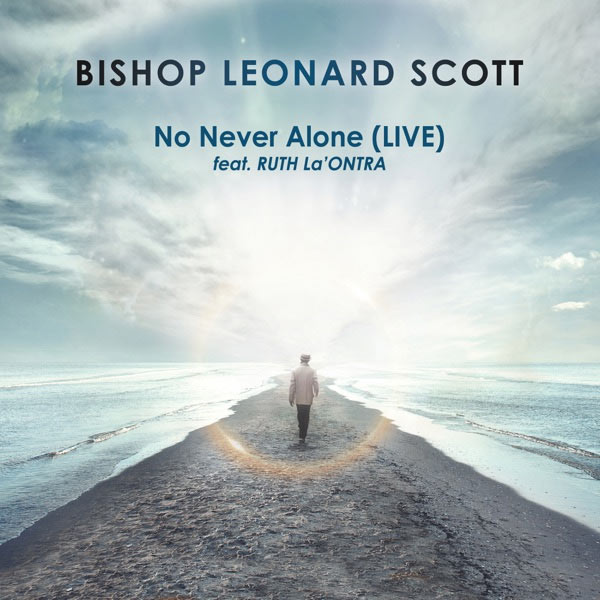 NEWS SOURCE: Carpenter PR
September 1, 2023
Super-soprano Ruth La'Ontra joins The Hymns Professor, Bishop Leonard Scott, on a stunning new rendition of Ludie Pickett's obscure 1897 hymn "No Never Alone." The pair first made a studio recording of the song for Scott's acclaimed, Keep Hymns Alive (Tyscot Records), studio project in 2022. The new cut, "No Never Alone (Live)," was recorded a few months ago at the Sheraton Hotel ballroom in Chapel Hill, NC. La'Ontra was backed by a quartet of soulful singers as her dynamic voice effortlessly glided over the track with sincere emotion. Her angelic instrument ebbed with the lilting melody that was punctuated by strident piano keystrokes and an infectious warmth that permeated the room. Listen:
https://li.sten.to/noneveralonelive
"It was a hymn I haven't heard of before until I did it with Bishop," La'Ontra recalls. "After hearing it, I fell in love with it because it's a song of hope, promise and future. Listening to it, the lyrics and the music bring me joy knowing that I have a promise from God that he will never leave me alone." That track has been programed on a few playlists such as Amazon Music's Gospel Now, Apple Music's New in Gospel, Pandora's New Gospel Now and Spotify's Fresh Gospel. The editorial coverage has brought the song over 15,000 digital streams a in a few days.
"Working with Ruth La'Ontra on the `No Never Alone' recording was an absolute delight," Bishop Scott says. "Her vocal prowess is amazing and her delivery impeccable." Meanwhile, they both have respective projects in the work. La'Ontra is busy writing songs for a live a project that she's planning to record in 2024. Bishop Scott will release an EP entitled, Cross Songs, in the next few weeks. View Video:
https://youtu.be/js9cmXS6XQo?si=yA94VRia8vabJmRP
###