Music Health Alliance and 2x Grammy Award-Winning Artist Lauren Daigle Join Forces to Create Music Industry's First Healthcare Program and Fund for Industry Seniors and Legacy Music Makers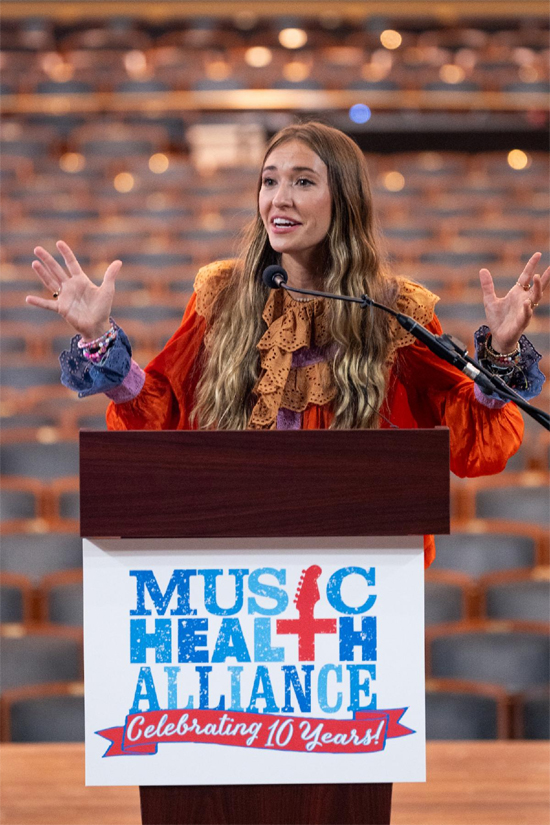 NEWS SOURCE: PFA Media
September 20, 2023
September 20, 2023 — NASHVILLE, TN — On Tuesday, September 19, at Belmont University's The Fisher Center for Performing Arts, Music Health Alliance (MHA) — the music industry's crucial nonprofit healthcare resource — 2x Grammy award-winning artist Lauren Daigle, and special guests came together to address the critical healthcare needs of the music industry's fast-growing senior population. The partnership not only marks another industry first for MHA, but it also establishes a first of its kind combined senior healthcare program and fund designed specifically for music industry veterans and legacy music makers.
Approximately 20% of the 20,000 music industry clients MHA has served over the past 10 years are aged 55 and older resulting in $6.5M in senior medical savings. The seed money provided by Daigle's The Price Fund will help grow MHA's team of trained senior care advocates and network of healthcare resources, as well as provide financial grants through The Price Legacy Fund to cover direct healthcare expenses, including those not covered by existing plans or Medicare; prescriptions, emergent rehabilitation services, and emergent short-term home healthcare or respite care. This effort will allow MHA to serve one of the fastest-growing, vulnerable populations in need of healthcare access, support, and navigation — aging music professionals and legacy music makers aged 65 and older.
"Any success I have comes with a deep-seated appreciation for the people who have come before me — those whose lives, hard work, creativity, and vision now serve as the bedrock upon which the music industry lies," said Daigle. "These are the people that we honor and what I hope is the start of a long partnership with Music Health Alliance."
"For the two years I was at LSU I lived with my grandfather, Julian Price," said Daigle. "And what I noticed in that season of life was that I had someone who believed in me. And that changed everything for me. A few years after I moved to Nashville, he was diagnosed with cancer and one thing that happened that will never leave my heart, my soul, my spirit, my mind, was watching [my grandfather] pass with peace. He was privileged to pass away at home with hospice, surrounded by his loved ones, and we held his hand. There was something so pure and so peaceful about it, it changed my life forever. It was the first person I lost who was so close to my heart. Why is [the Price Legacy Fund] so important to me? It's because I was able to see what a healthy transition looks like. I was able to see someone who had people and support all around him, whether it was medicinal needs or having resources to get from one appointment to the next, being able to pay for that x-ray or scan to see where the cancer had spread, those moments are really tender in the life of someone. Those are the moments where you find out how much you're made of and how much you're worth to the world."
"I was able to see someone who had people and support all around him, whether it was medicinal needs or having resources to get from one appointment to the next, being able to pay for that x-ray or scan to see where the cancer had spread, those moments are really tender in the life of someone," Daigle added. "This is one of those moments where we get to love on people that might not feel loved, that may not feel seen, that might feel like they're the forgotten generation. We're the ones that get to go and say, no. There are still people that believe in you. There are still people that love you. Thank you so much for letting me be a part of this fund, it is quite an honor."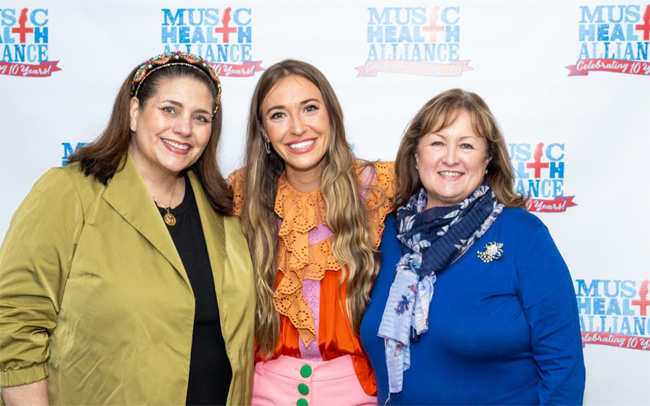 "Over the past 10 years, I've been an advocate for our aging music industry community — witnessing hardships, loneliness, and the inability to pay for medical and prescription costs. I couldn't be more excited about this fund and the impact it will have on one of the fastest growing populations of healthcare needs," says Shelia Shipley Biddy, CFO and Certified Senior Advisor at Music Health Alliance. "The Price Legacy Fund will ensure that this often-overlooked population will never be alone or forgotten. Thanks to the support of Lauren and contributions through her Price Fund, there will always be a caring advocate who will help seniors find solutions to their daily health needs and provide counsel on Medicare and Social Security issues."
Josh, a legacy artist in his 70s, reached out to MHA after a routine colonoscopy revealed that his wife had advanced colon cancer that had spread to her lungs. Covered only by Medicare Part A, the couple faced mounting medical bills they couldn't pay and weren't able to get the care she needed without additional insurance or funding. MHA advocated for an industry grant to pay rent and living expenses for 6 months, helped get $85,900 in hospital bills written off, provided funding to assist with medication, and has been diligently working to get her set up on Medicare Part B so they can afford the care she needs. Josh and his wife are just one of more than 2,250 stories of seniors who relied on MHA's free healthcare support and resources as a lifeline through a health crisis.
Celebrating 10 years of "healing the music", MHA fights so those in our industry never have to feel alone in a health crisis and removes obstacles so patients can receive life-saving care. MHA continues to advocate on behalf of songwriters, producers, audio engineers, musicians, recording artists, publishers, and more across the country. Thanks to the direct efforts of MHA, over 20,000 members of the music community nationwide have gained access to life-saving transplants, medicine, mental health resources, end-of-life care, and other necessary services. Its services are free to any person who has worked in the music industry for three or more years. Spouses, legal domestic partners, and dependent family members also qualify for access to the nonprofit's services.
Entirely funded through grants and individual and corporate donations, financial support from the music community is critical to continue Music Health Alliance's advocacy and free services. 86% of all dollars donated go directly to MHA's programs and services — for every $1 donation, MHA provides $30 in life-saving healthcare resources to #HealTheMusic.
ABOUT MUSIC HEALTH ALLIANCE
Music Health Alliance's mission is to #HealTheMusic by providing safe and confidential guidance to gain access to healthcare — including mental health — through programs and services that protect, direct, and connect the music community with medical and financial solutions. In its first 10 years, MHA has provided free healthcare advocacy and support to more than 20,000 clients, saving more than $107M in healthcare costs for the music community nationwide. If you would like to help support our mission, learn five ways you can help at HealTheMusic.com.
ABOUT LAUREN DAIGLE'S PRICE FUND
Lauren Daigle founded The Price Fund to honor and memorialize her grandfather, who taught her how to love the world one relationship at a time. Designed to provide care for at-risk youth, children, and the elderly, The Price Fund, established in 2018, has expanded its mandate to support the arts with a goal to instill hope and love among people, no matter their background. The efforts have resulted in the distribution of nearly $2.5M to nonprofit organizations around the world.
###
For more info on Lauren Daigle, visit the JFH Artists Database.