KJ-52 DROPS NEW ALBUM "STILL STANDING"
Commemorating the One-Year Anniversary of Florida's Historic Hurricane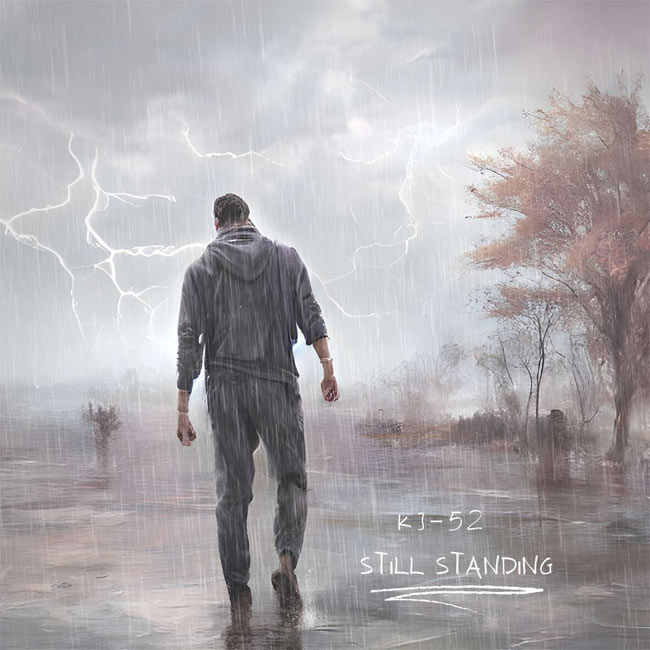 NEWS SOURCE: INOV8 PR
September 28, 2023
NASHVILLE, TENNESSEE (September 28, 2023) – Today marks the one-year anniversary of the largest hurricane ever to hit Southwest Florida, and commemorating this significant event is KJ-52's latest album release, "Still Standing". Fueled by personal experiences and stories from a community still picking up the pieces, the album is a testament to human resilience, unity, and hope.
"Still Standing" boasts 11 tracks, with the radio release of "No Bad Days (feat. Peabod)" recently hitting #1 on Christian radio. The album also features collaborations with Dan Rivera of SEU Worship in "Hall of Fame", and Fern of Social Club and Gaijin in "Sunshine".
"On September 28th, 2022, my city of Cape Coral bore the brunt of this Category Four Hurricane. In the wake of devastation, loss, and tragedy, we emerged "still standing". This album is inspired by the stories of perseverance and embodies the spirit of a community uniting to rebuild," shared KJ-52.
In the aftermath of the hurricane, KJ-52, a local pastor, dedicated weeks serving the community, offering food, water, repairs, and more, embodying the love of Christ in tangible ways. "Still Standing" seeks to echo this sense of unity, uplifting those who continue to rebuild their lives.
In a heartfelt move to address personal challenges stemming from the hurricane's impact, KJ-52 is hosting a liquidation sale of all his physical merchandise to fund repairs to his own home, which was damaged in the aftermath. Fans and supporters can browse and purchase at https://www.kj52.com/store.
About KJ-52:
Cape Coral-based KJ-52 holds a Guinness world record in freestyling. His noteworthy career includes six Dove Award wins, celebrating hits like "Do Yo Thang" and "Never Look Away", and album successes such as "Five-Two Television", "KJ-52 Remixed", and "It's Pronounced Five Two".
Connect with KJ-52:
https://kj52.com/
https://www.facebook.com/kj52
https://www.instagram.com/kj52instagram/
https://twitter.com/kj52
https://www.youtube.com/channel/UC2IaDmgY_Jfq_JYTzHLQZlQ
https://open.spotify.com/artist/0kSHocNBxQeP9pr25l1scP
###
For more info on KJ-52, visit the JFH Artists Database.