EMERGING BRITISH SINGER, SONGWRITER AND ACTRESS MIRIAM NYARKO UNVEILS DEBUT EP 'THE JOURNEY'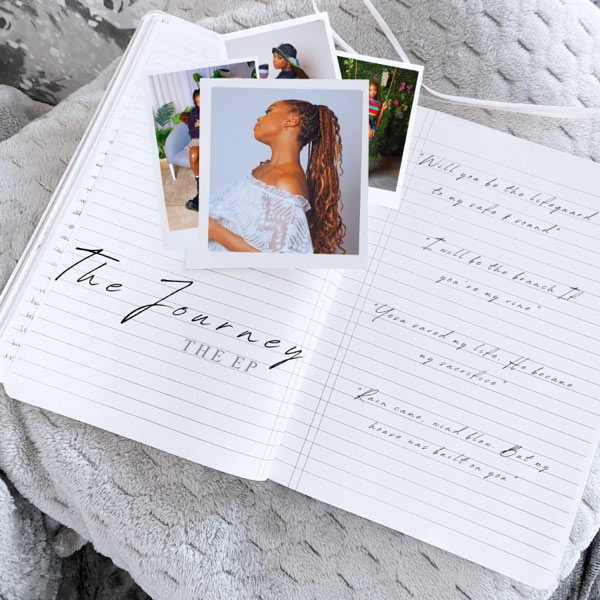 NEWS SOURCE: WPGM PR
October 6, 2023
Fresh from the premiere of her riveting new movie Blackwool at the prestigious Tribeca Festival this summer, and riding high on the critical success of her last single 'Built On You', which was applauded by Notion Magazine, Earmilk, Metal Magazine, and Live Nation's Ones To Watch, among others, emerging British singer, songwriter, actress, and dancer MIRIAM NYARKO is proud to unveil her much-anticipated debut EP aptly titled THE JOURNEY. Written and composed by Miriam herself, the EP benefits from the production magic of her stalwart collaborator, Samuel Jinadu, known for his work with MOBO Award winner Still Shadey and The Voice UK champion Annatoria.
Told over four glorious tracks, The Journey EP sees Miriam Nyarko offering a vulnerable and celebratory take on her life's journey so far, and her bold faith in God. Across the EP, Miriam delves into both the highs and lows of faith, struggle, and redemption – seamlessly blending jubilation with contemplation. Inspired by Biblical verses like Jeremiah 2:11, the project takes listeners through moments of feeling overwhelmed by life's storms only to realize that they're encompassed by the "living water", symbolizing God's unwavering presence. The journey Miriam takes listeners on with the EP explores the nuances of faith through peaks and valleys, and is a profound testament to her own experiences of perseverance, and rediscovering the foundational role that God plays in her life.
The EP's opening track 'Drowning' is a raw reflection of Miriam's heart and a testament that faith isn't just about the mountain tops, but the challenging valleys we navigate to reach them. 'Mine (Oh Father)' is an emotionally resonant track that sees Miriam unpacking her journey through grief and the loss of her father, rediscovering her identity, and leaning even closer to her faith. 'Lifeline' transforms her personal and intimate conversations with the divine into a universal anthem of hope, emphasizing the power of verbalizing her faith and overriding doubts with fervent worship. Rounding off the EP, 'Built On You' encapsulates Nyarko's unshakable belief that God is the rock upon which she stands, capturing the very essence of the EP - faith, resilience, and the journey of rediscovery.
Speaking about the inspiration behind her EP, Miriam Nyarko says, "My debut EP has been a long time coming over the past few years, and it's taken many different shapes, sounds and forms. I think if you dwell on something for too long, you encounter the risk of staying stagnant when seeking perfecton. So, I couldn't think of a better time than now to release these songs. If God has given me these songs for now, then why wait till later? Ultimately, I feel like these four songs are the most accurate and vulnerable representation of me and my faith. I also love the story that this EP conveys – we start 'Drowning' and wading through our struggles, but through a journey of finding God, and finding ourselves again, we end with an ever-present reminder that we are all built on Him."
Highly recommended if you like the sounds of Tori Kelly, H.E.R or Madison Ryann Ward, Miriam Nyarko found her passion for music from the very early age of four, when she started singing at her local church. She quickly unearthed her penchant for acting and dancing soon after, and was making her West End debut, starring in Disney's The Lion King musical at just 10-years old. Miriam has also been honing her songwriting skills from a very young age as well, winning a songwriting competition that gave her the chance to perform her original music at the renowned Royal Albert Hall when she was only fourteen, as well as an appearance on The Voice Kids, and a live feature on BBC Three.
Fast forward to 2023, and she is the lead star in the Tribeca Festival premiered movie Blackwool, and you might also remember Miriam Nyarko from starring as Jamila in Marvel Studios' Moon Knight, or as Miri in the Disney and BBC series Almost Never, or from touring with the Royal Shakespeare Company on their award-winning shows, including The Boy In The Dress, and Matilda: The Musical. The British, Ghanaian and Bajan native is also emerging as a rising singer and songwriter to watch in the UK's R&B and Gospel music scenes. Following her demo single 'Step By Step' in 2020, she introduced listeners to a new musical universe earlier this year with her 'Built On You' single, and is now catapulting to new heights with her glorious debut EP, The Journey.
CONNECT WITH MIRIAM NYARKO
Instagram: https://www.instagram.com/miriam.nyarko
TikTok: https://www.tiktok.com/@miriam.nyarko
Twitter: https://www.twitter.com/miriamnyarko_
###