THOUSAND FOOT KRUTCH, ART OF DYING RELEASE "SO FAR GONE (2023)"
Single Is Third Track Revealed From TFK's First New Project Since 2017, THE END IS WHERE WE BEGIN: REIGNITED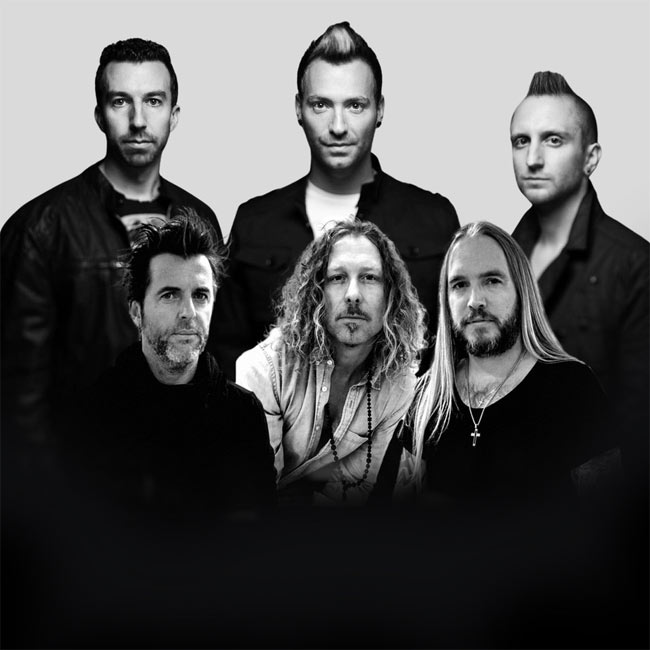 NEWS SOURCE: Hoganson Media
October 6, 2023
Ontario, Canada-bred international rock favorite THOUSAND FOOT KRUTCH is joined by fellow Canadian rockers Art of Dying on the single "So Far Gone (2023)" releasing today (Oct. 6) in both stereo and Dolby Atmos at digital and streaming outlets globally from Endurance Music Group and The Fuel Music via https://slinky.to/SoFarGone.
"So Far Gone (2023)" is the third single revealed from Thousand Foot Krutch's first new project in over six years, The End Is Where We Begin: Reignited, which includes newly recorded performances from several of the band's musical peers morphed with the original tracks from TFK's hugely successful independent recording, The End Is Where We Begin.
"We are thrilled to have been asked to sing on this song with our friends in Thousand Foot Krutch," says Art of Dying collectively. "It's a special song that we hope will give you chills."
"So Far Gone (2023)" follows the debut, SiriusXM Octane added single from the project, "War Of Change (2023)," which features TFK pairing with Las Vegas-based rockers Adelitas Way, and "Down (2023)" with Minneapolis' modern hard rockers New Medicine. Both tracks have garnered significant playlisting, including on Spotify's Rock Hard, Apple Music's Breaking Hard Rock, Amazon Music's Rock Arena and various Pandora playlists.
The roots of The End Is Where We Begin: Reignited began in 2012 when TFK took a huge risk, walking away from record label life to release the SiriusXM Octane-nominated "Epic Album of the Year" and Billboard No. 1 selling Hard Rock album The End Is Where We Begin. Launching with the band's biggest sales debut to date, the five-star acclaimed indie album went on to spark five Active Rock hits and four Christian No. 1s that continue to resonate with the band's fans. In 2021, the album garnered two RIAA Gold® Single certifications, including for "War Of Change" and "Courtesy Call."
By mid-summer 2014, The End Is Where We Begin had gathered 215 million YouTube streams alone, while averaging 296,000 plays every day. The success landed TFK's founder, vocalist and songwriter Trevor McNevan, bassist Joel Bruyere and drummer Steve Augustine, on the biggest rock festivals of that time nationally, including Rock on the Range and mainstage appearances at Rocklahoma, Carolina Rebellion, and more. Since then, the band has literally received billions of streams.
About Thousand Foot Krutch:
Ontario, Canada-bred TFK launched into the music scene in 1997 and racked up an impressive highlight reel, selling over 1.5 million albums, releasing 12 Active Rock radio hits, garnering numerous soundtrack slots, plus securing a massive presence in professional sports. The band literally infiltrated every facet of pop culture. Before going on hiatus in 2017, TFK received ongoing ESPN appearances, as well as various NASCAR, MLB, NHL, WWE, NCAA and NFL airings (including the 2010 Super Bowl), as well as had songs featured in EA Sports' NHL 2010 and 2013 video games along with tallies of about 30,000,000 monthly views in combined streaming across all of YouTube. Releasing its first independent record in 2012, The End Is Where We Begin, TFK's success story added two RIAA Certified Gold singles, over two billion streams and a million albums sold, along with nine Active Rock radio chart hits.
TFK's website and socials follow:
www.thousandfootkrutch.com, Twitter, Instagram, YouTube and Facebook.
About Art of Dying:
With eight acclaimed albums that have amassed well over 100 million streams, Art of Dying formed in Vancouver around the talents of Jonny Hetherington (vocals), Greg Bradley (guitar), Tavis Stanley (guitar), Cale Gontier (bass) and Jeff Brown (drums). Releasing its self-titled debut in 2006 on its own label, Thorny Bleeder, the internationally acclaimed recording led to UK/US tours with the Seether, Disturbed and Theory of a Deadman. The group's sophomore effort, Vices and Virtues, arrived in 2011 after Dan Donnegan and David Draiman of Disturbed signed AOD to their Reprise Records imprint at Warner Bros. This major label debut put them on the road in every US State (less Hawaii), becoming one of Canada's stand out post grunge/rock artists and sparking the top 10 US radio hits "Die Trying," "Get Through This" and "Sorry." In 2015 the band released Rise Up produced by David Bendeth (Bring Me the Horizon, Breaking Benjamin) followed by the Nevermore EP (2016), Armageddon LP (2019), Demos and Rarities (2020) and Ready For A Good Time EP (2022). Along with today's Thousand Foot Krutch collab, AOD will release its Phoenix EP Oct. 27.
For all the latest Art of Dying news, including tour dates, music, videos and more, go to https://artofdyingmusic.com/, Facebook, Twitter, Instagram and YouTube.
About The Fuel Music:
Established in 2008, The Fuel Music & Management, LLC, is a leading artist management and artist solutions company that independently distributes music internationally. Based in Nashville, TN, the Fuel team brings well over 70 years of combined music industry experience in record label operations, major label distribution and marketing, and artist management for artists ranging from upstart bands to GRAMMY Award-winning, multi-Platinum artists. More information on the company can be found at www.thefuelmusic.com.
About Endurance Music Group:
Founded in 2015, Endurance Music Group is the Nashville-based music publishing and master recording partner of Raven & Company. EMG is a full-service music company with administration and creative services for our artists and writers. We are the creative home of multiple hit songwriters and artists, including Scooter Carusoe, Jordan Schmidt, Matt Stell and more. Our reputation for iconic recordings, quality songs, and best-in-class service is reinforced by our track record, which includes over 100 chart-topping hit albums and songs. For more information, visit us at www.endurancemg.com and on Instagram @endurancemg_nash.
###
For more info on THOUSAND FOOT KRUTCH, visit the JFH Artists Database.