iNTELLECT and Griffin Have a Challenge For Listeners on Latest Single
Releasing Friday, October 13, 2023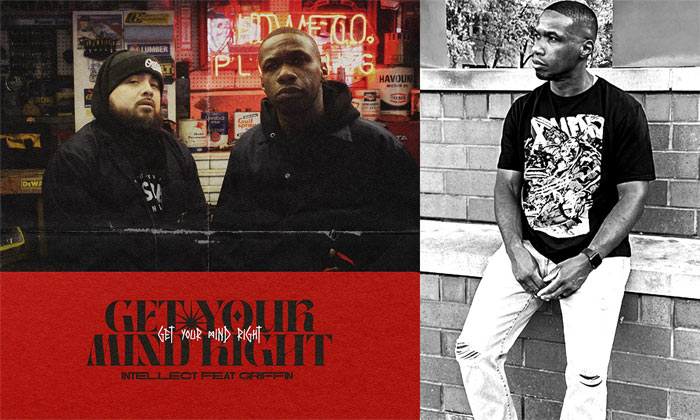 NEWS SOURCE: FiveTwenty Collective
October 12, 2023
Sandusky, OH - "Then Jesus told them, 'You are going to have the light just a little while longer. Walk while you have the light, before darkness overtakes you. Whoever walks in the dark does not know where they are going. Believe in the light while you have the light, so that you may become children of light.' When he had finished speaking, Jesus left and hid himself from them." [John 12:35-36]
Gifts are given, not for the glory of those who receive them, but to honor the Giver. When we forget where our gifts originate, we end up in our own way and miss out on the fullness of their purpose. Despite any notoriety that may come our way, personal fame does not endure. As pride takes over, we must check ourselves and Get Your Mind Right!
"Bringing this song back to life has been one of the highlights of revamping 'The Soulution' album. The song has the perfect combination of depth and energy. It says so much without the message being overstated." - iNTELLECT
Releasing on October 13, 2023, Get Your Mind Right is the latest, reworked single from iNTELLECT's album 'The Soulution.'
As iNTELLECT gears up for the re-release of the project, Get Your Mind Right serves as yet another showcasing of the Ohio emcee's growth and experience over the years.
Alongside fellow emcee Griffin and production from Brokenfinga, iNTELLECT fervently spits truth that hits just as hard as the boom-bap beat that accompanies his vocal track. The record is a smoothly delivered message that encourages listeners to ensure that their focus is on the proper target. What matters most? Are you chasing the glitz and glam or are you intent on bringing hope to a struggling world?
Get Your Mind Right continues the amazing run of music drops from Polished Arrow Music. It also coincides with the label's announcement of its new home base on the Substack platform. You can subscribe to the newsletter to get all of the latest info from PA delivered directly to your inbox!
Support iNTELLECT: Instagram | Facebook | Website
Song Details
Title: Get Your Mind Right

Artist: iNTELLECT

Release Date: October 13, 2023

Label: Polished Arrow Music

Production: Brokenfinga

Engineering: iNTELLECT

Feature: Griffin
About iNTELLECT
With a distinct flow, iNTELLECT has used his gift to spread the message of salvation through faith in Jesus Christ. Drawing his inspiration from the Gospel and life experience, iNTELLECT combines biblically sound doctrine with hip-hop beats. generation.
###