GRAMMY® AWARD WINNING ROC NATION SINGER/SONGWRITER VICTORY DROPS NEW MUSIC VIDEO FOR "I DON'T HAVE TO PRETEND"
VICTORY GEARS UP FOR "THE KALEIDOSCOPE TOUR" AS OPENER ON SELECTED DATES FOR GRAMMY® AWARD WINNING LAUREN DAIGLE BEGINNING NOVEMBER 10 IN LOS ANGELES AT CRYPTO.COM ARENA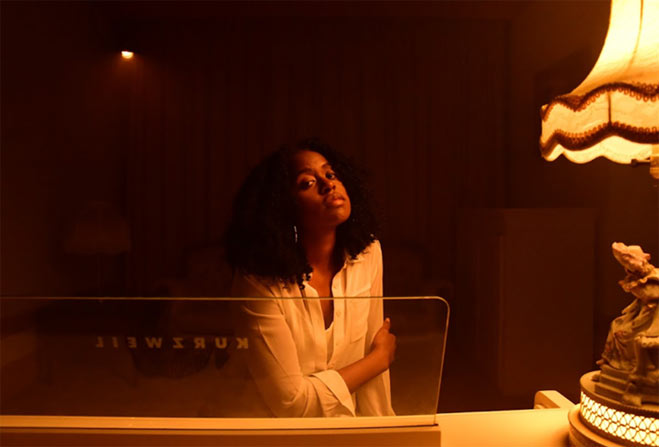 NEWS SOURCE: Rogers & Cowan PR
October 18, 2023
New York, NY (October 18, 2023) — Grammy® Award winning Roc Nation singer-songwriter VICTORY drops her new music video today for "I Don't Have To Pretend," from her current album, "Glory Hour." Check out the video HERE.

VICTORY has had a busy year on tour since the release of "Glory Hour," and will be a featured guest supporting artist on two-time GRAMMY® Award-winning Lauren Daigle's highly-anticipated 2023 "The Kaleidoscope Tour." VICTORY will join Daigle on the national U.S. arena circuit for select dates beginning November 10 through December 9, with stops in Los Angeles (Crypto.com Arena), Sacramento, Ft. Worth, Knoxville, Greenville, and more. VICTORY will perform songs from her recently released sophomore album, which showcases the singer/songwriter's distinct vocals, and offers a deeply felt and earnest collection of songs that seek to uplift the soul in dark times.
*The Kaleidoscope Tour dates (cities and venues where VICTORY will perform):
11/10/23 - Crypto.com Arena - Los Angeles, CA
11/11/23 - Desert Diamond Arena - Glendale, AZ
11/14/23 - Golden 1 Center - Sacramento, CA
12/1/23 - Dickies Arena - Fort Worth, TX
12/2/23 - AT&T Center - San Antonio, TX
12/7/23 - Greensboro Coliseum - Greensboro, NC
12/8/23 - Thompson-Boling Arena - Knoxville, TN
12/9/23 - Bon Secours Wellness Arena - Greenville, SC
Tickets are on sale at https://www.victoryboyd.com/.
Bluesy and soulful, VICTORY, who originally hails from Detroit, Michigan, brings the full measure of her talent to music that blends gospel, blues, folk, pop, and soul musical styles. From the start of her career, VICTORY has always been about finding fresh ways to express her truth, and though musically grounded in her unique R&B fusion style, "Glory Hour" is a bold and inspirational 18-track collection that marks her first official foray into gospel music. Produced by Kaleb Moten, VICTORY set the tone for the stylistically eclectic album, and features singles "Just Like In Heaven" and "El Shaddai", which has garnered 1.2M views and close to half a million streams.
VICTORY wrote, recorded and co-produced the new project at The Secret Place, the New Jersey based studio she opened in early 2020, and penned her tunes on a baby grand piano. On "Glory Hour," the singer-songwriter plays multiple instruments, from the piano on her ballad "Glory to God"; to acoustic guitar on "Just Like in Heaven." The album also includes the choir and blues-infused "Rejoice," and classic hymns such as "His Eye is On The Sparrow," and "Great is Thy Faithfulness." VICTORY was accompanied by an ensemble of musicians on tracks produced by Kaleb Moten, Space Jones and Grammy® Award winner Stephen Blake Kanicka.
About VICTORY:
Grammy® award winning Roc Nation singer/songwriter VICTORY releases her sophomore album, Glory Hour – the follow up to her first two folk/jazz/soul recordings It's a New Dawn (2017) and her critically acclaimed debut album The Broken Instrument (2018).
Growing up in a family deeply committed to music and live performances, VICTORY is one of nine siblings who sang in the Boys & Girls Choir of Detroit, an organization founded by her father John Boyd. Taking music seriously as a career from the start, she began singing with the choir at age four, and later studied jazz guitar. When she was 12, the family moved to North Bergen, New Jersey, and they started busking together using various names – including Peace Industry Music Group – at NYC tourist attractions and on subway platforms. The Boyd's became particularly renowned for their appearances in the Minton Tile Arcade next to Bethesda Fountain, a spot favored for its great acoustics.
VICTORY and four of her siblings -- older brother Abraham and younger siblings Angel, Israel, and Momo, later formed the offshoot group Infinity's Song, which rose to national prominence in 2015 after pop singer Tori Kelly happened upon them performing "Oceans" one day in Central Park and joined in. A video of the impromptu performance went viral (1.2M views on YouTube). In 2015, Peace Industry Music Group released Infinity's Song's self-titled debut album. The Boyd's later played for Jay-Z, who signed them to Roc Nation, ultimately leading to VICTORY's signing with the label as a solo artist and releasing "It's A New Dawn." The EP featured her beautiful renditions of songs by two of her greatest influences, Nina Simone ("Feeling Good") and Stevie Wonder ("Overjoyed"). In2020, Infinity's Song released their label debut "Mad Love." In 2019, VICTORY won her first Grammy® for her work on Kanye West's album "Jesus is King" and performed the National Anthem at an NFL playoffs game in 2018.
For more information about VICTORY and "Glory Hour" visit: http://victoryboyd.com/.
###