V1 Worship Signs To DREAM Label Group
New EP "The Domino Revival" Out Today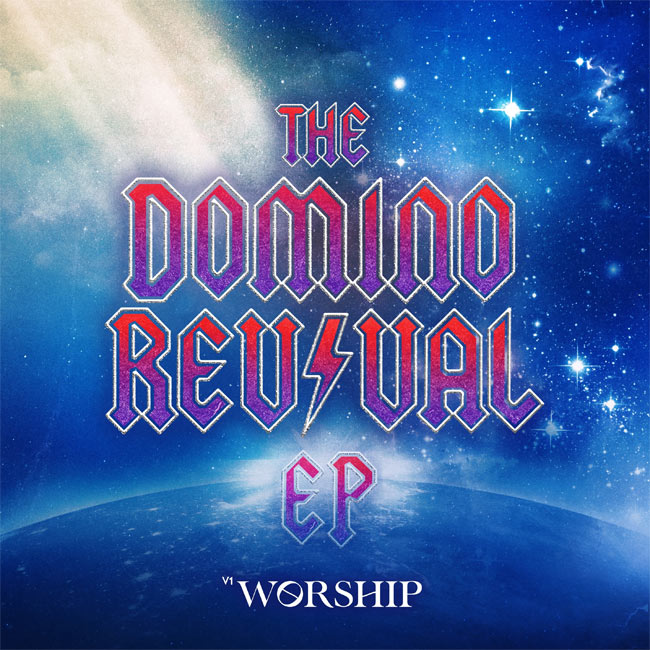 NEWS SOURCE: DREAM Records
October 20, 2023
Los Angeles, CA (October 20th, 2023) — DREAM Label Group is proud to announce that it has signed New York worship team V1 Worship. V1 is a revival-driven collective of worshippers from V1 Church locations across the United States founded by Pastor Mike & Julie Signorelli.
"Thrilled to announce that V1 Worship has officially joined forces with DREAM! This partnership is not just a dream; it's a kingdom-reality, and I couldn't be more pumped for the incredible journey ahead!" - Mike Signorelli, V1 Church
"We can't be more excited about V1 and what they are about to do for the Kingdom. Pastors Mike & Julie Signorelli are on a mission to expand the Kingdom and we are honored to be able to do our part with their music." - Lance Brown, DREAM Label Group
V1 Worship has also released their debut EP titled The Domino Revival today. The EP, which was recorded live at the church's Breakers Conference, was produced by Brandon Meyer and co-written with Zoe Spitters, Aaron Kraniak, Julie Signorelli and Stephanie Haas. The 3-song collection supports the upcoming documentary film also titled The Domino Revival premiering in theaters nationwide on October 24th.
Here's the quick synopsis:
The Domino Revival takes moviegoers on an extraordinary journey with Mike Signorelli and a group of revivalists during a pivotal period in our nation's history. As society's fascination with the supernatural intensifies, this film unveils the awe-inspiring power of Jesus Christ.
Watch trailer to The Domino Revival here:
Listen or Buy The Domino Revival EP here:

Connect with V1 Worship
Web | Facebook | TikTok YouTube | Instagram

ABOUT V1 WORSHIP:
When Pastors Mike and Julie Signorelli started V1 Church, they knew it would carry a powerful sound into the earth as a global voice of the gospel. V1 Worship is a revival-driven collective of worshippers from V1 Church locations across the United States. Their worship expresses the hunger and passion of a people wildly pursuing Jesus in this generation.
ABOUT DREAM WORSHIP:
DREAM provides artists with a genuine approach to how real artist development should be done. By allowing for a partnership as a business model, DREAM artists empower themselves to develop and carry out a real vision for their lives as they affect other people's lives with their music and message. Incorporating social media, press, radio and touring, DREAM is helping its artists grow together as a family. DREAM was founded in 2008 and has grown to 17 different divisions comprised of multiple labels, merchandise, apparel, mobile, publishing and film.
###