Ayo Shamir Features YP aka Young Paul and Da Commissioner on Latest Single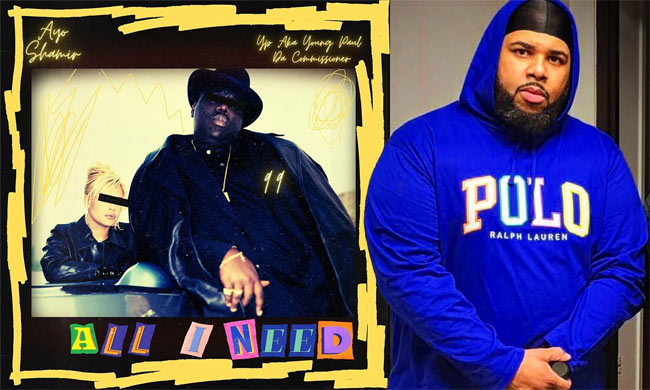 NEWS SOURCE: FiveTwenty PR
October 23, 2023
Bronx, New York - "May the God of hope fill you with all joy and peace as you trust in him, so that you may overflow with hope by the power of the Holy Spirit." [Romans 15:13]
Life throws us consistent curveballs. Sometimes it throws a heater directly at our dome. Our natural instinct is to dodge, it is survival. But even when we are staring down certain pain, we are meant to hang in and stand strong. We have not been given a spirit of fear, but one of hope. We are reminded that, through all of the ups and downs, God is All I Need.
Producer Ayo Shamir has been putting in work when it comes to Christian hip-hop, collaborating with the top lyricists of today's scene. Whether it has been producing a project for Selah the Corner and C4 Crotona, or knocking out singles with YP, he has quickly established himself as the premiere producer for the new generation of gritty CHH.
"'All I Need' is about being able to recognize, in every stage of life, how much we need God. How he comes through for us even we least deserve it." - Ayo Shamir
When you're from the birthplace of hip hop, your skill has to be special in order to stand out. When you're infusing the Gospel into your music you have to be able to balance it with the grittiness that listeners expect of the east coast. As he is building up to the release of a new project, Ayo Shamir is taking the New York sound and creating a bridge to the Christian Rap world.
Collaborating with lyricists such as YP aka Young Paul and Da Commissioner (known collectively as The Guillotines) delivers punch-you-in-the-face rhymes with the hard-hitting truths of scripture.
All I Need is the follow-up record to the single "Bunk Beds" which also featured YP alongside Philly's Q-Flo. RDKL infuses the hook with a soulfulness that interacts beautifully with Ayo Shamir's classic production. Cracking high hats and a pounding baseline demand attention as the emcees flow effortlessly with the wave.
All I Need is available now across digital music platforms.
Support Ayo Shamir: Instagram | YouTube
Song Details
Title: All I Need

Artist: Ayo Shamir

Release Date: October 20, 2023

Production: Ayo Shamir

Engineering: Ayo Shamir

Features: YP aka Young Paul, Da Commissioner, RDKL
About Ayo Shamir
Originally from the Bronx, New York, the Mecca of hip hop, Ayo Shamir grew up around deejays and rappers that played a major part in his upbringing. From Spanish music to soul and hip-hop, this wide range allowed him to become the producer he is today. One who is able to create without boxing himself in.
###