Rottweiler Records Announces New Albums from A Hill to Die Upon and Mangled Carpenter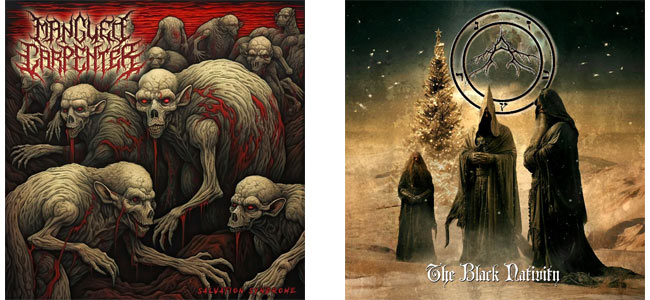 NEWS SOURCE: Rottweiler Records
October 23, 2023
Mangled Carpenter have returned with the brutal new record, "Salvation Syndrome" releasing October 27th on both Rottweiler Records and Broken Curfew Records. With guest appearances by Chris Ackerman, Jason Wisdom, and Rob Clark, "Salvation Syndrome" is an extreme metal new addition to any playlist. The brand of death metal Mangled Carpenter dish out is akin to Aborted, Napalm Death, and Dying Fetus - uncompromising extreme brutality!
Nothing can prepare you. You have never heard A Hill To Die Upon unleash such a creative, eccentric, and uncompromisingly metal tome. November 24th is the day of "The Black Nativity" - Black Friday is so aptly named. Six long years and now A Hill To Die Upon has returned to give a glimmer into what is a black hole of galactic chaos. "The Black Nativity" is a long awaited journey to purge the chaos and find a new path, a new home, a new nativity of sorts.
With the guest list of, Karl Sanders of Nile, Ole Borud of Extol, Bruce Fitzhugh of Living Sacrifice, and Sakis Tolis, A Hill To Die Upon invite you to take this quest into the dark caverns of time.
###