Natalie Grant, Hunter Premo & Jessica Turner co-host an intimate screening full of hope and conversation of "All the Light We Cannot See"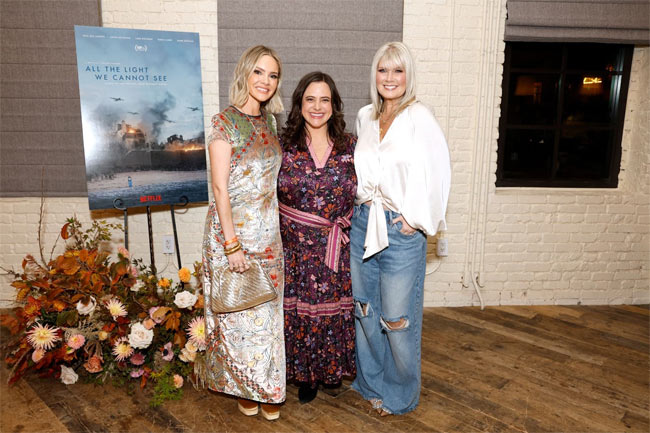 NEWS SOURCE: Grace Hill Media
October 25, 2023
OCTOBER 25, 2023, (Nashville, TN) — NETFLIX was proud to showcase their upcoming series, "All the Light We Cannot See" with an exclusive and intimate screening co-hosted by Grammy-nominated artist Natalie Grant, fashion & lifestyle guru Hunter Premo, and renowned Mom maven, author Jessica Turner. Nashville's influencers, Jess Conte, Gabriel Conte, "Facebook Marketplace" Tiktok comedian Chris Guerra, Julia Haven, Ashley Hetherington and Matthew Paul Turner, attended the exclusive event at Soho House. After the screening, the attendees held a lively conversation about the themes throughout the series: the power of community and hope, love of family, and finding light in the midst of profound darkness.
Natalie Grant said, "What struck me about the series was the power of words. The fact that she believed that she could withstand. Not just the character but the actress. Marie says, 'in this time of stupid darkness what are we saying?' and I find that so timely. We have so much power in our words.Hunter Premo said, "What struck me as a mother, was Mark Ruffalo's character and everything he did as a father to prepare his daughter for the world. I also was moved by the notion that light goes on even in the darkness."
Jessica Turner said, "When I watched this series, I didn't remember the story's plot because I read it 9 years ago. But I did remember the feeling. The series made me feel the exact same way I felt when I read the book. So powerful!"
"All the Light We Cannot See" premieres November 2nd on Netflix. Be sure to follow Netflix on social media platforms for updates and announcements on this thrilling miniseries.
About ALL THE LIGHT WE CANNOT SEE: Anthony Doerr's Pulitzer Prize-winning bestseller All The Light We Cannot See will become an epic four-part Netflix limited series produced by Shawn Levy's 21 Laps Entertainment (The Adam Project, Stranger Things, Free Guy, Shadow and Bone, Arrival) and written by Steven Knight (Peaky Blinders). Levy directed all episodes.
Shawn Levy, Dan Levine and Josh Barry of 21 Laps Entertainment serve as Executive Producers on the series. 21 Laps is the production company behind PGA Award-winning global phenomenon Stranger Things, Oscar nominated film Arrival, Netflix hit series Shadow and Bone, hit movies Free Guy and The Adam Project. Knight also serves as an Executive Producer. Joe Strechay (See, The OA) serves as Associate Producer, Blindness and Accessibility Consultant.
About the Novel: All The Light We Cannot See quickly became a global phenomenon when it was published in 2014 and has received wide critical acclaim as well as a Pulitzer Prize in 2015, and the Andrew Carnegie Medal for Excellence in Fiction in 2015. All the Light We Cannot See has spent more than 200 weeks on the New York Times best-seller list, and has sold more than 5.7 million copies in North America across print, e-book and audio formats and another 9.5 million copies worldwide.
Based on the Pulitzer Prize-winning novel by Anthony Doerr of the same name and starring Mark Ruffalo, Hugh Laurie, Dark breakout Louis Hoffman, and newcomer Aria Mia Loberti, who stuns in her first ever acting role, the series is directed and executive produced by Shawn Levy, written by Steven Knight (Peaky Blinders), and recently had its world premiere at TIFF on Sunday, September 10.
About Co-Hosts:
Natalie Grant is an American contemporary Christian music artist, singer, and songwriter. Grant has received multiple awards and nominations for her music, including Grammy and Dove Awards. In addition to her music career, she is also recognized for her philanthropic efforts and advocacy work, particularly in human trafficking and anti-slavery initiatives. Natalie Grant is a prominent figure in the Christian music industry and is celebrated for her contributions to both music and social causes.
Hunter Premo is an American lifestyle influencer, blogger, and social media personality known for her fashion, travel, and lifestyle content. She has gained a significant following on platforms like Instagram and her blog. Hunter's posts often feature her sense of style, travel adventures, and insights into her daily life.
Jessica Turner is a renowned author, podcaster, and lifestyle expert known for her work on intentional living, productivity, and organization. She has written books and shared practical tips to help people simplify their lives and find more joy in their daily routines. Jessica's work resonates with those looking to create a balanced and meaningful life.
###
For more info on Natalie Grant, visit the JFH Artists Database.