DISCOVER THE POWER OF FAITH WITH ASHLEY GRONHOLM'S "ANOINTED ONE"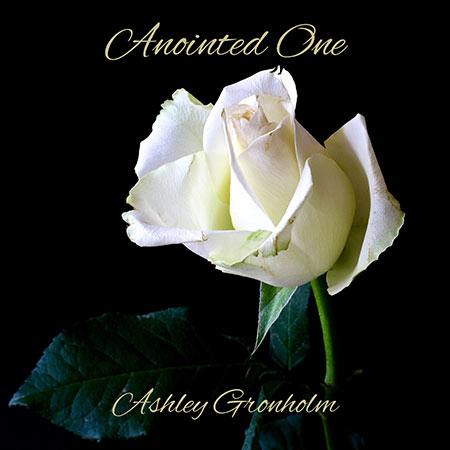 NEWS SOURCE: B! Noticed PR
November 1, 2023
NASHVILLE, TN - (November 1, 2023) - Evangelist, author and singer/songwriter Ashley Gronholm wants listeners to discover the power of faith with the release of her new single, "Anointed One." This song reflects one of the most powerful songwriting moments of her career as a songwriter. This timely new release celebrates the coming return of Jesus and can be streamed and downloaded HERE.

Ashley Gronholm wrote this song as she read the book of Revelation 22:17, "And the Spirit and the Bride say, Come. And let him who hears say, Come. And let him who is thirsty come. And whoever will, let him take the water of life freely." As she was sitting at the piano praying about this verse and imagining the day when Jesus will one day return, this excitement rose up in her spirit and the melody came. Her fingers began flying across the piano and the tears began to fall as the spirit of God was releasing this sound. "Anointed One" was written in less than 30 minutes.

"It is my deep desire and prayer that this song will bless the people of God and reveal the love of Jesus in this end time hour we are living in, because Jesus is coming back soon and we need him now more than ever!" exclaimed Ashley Gronholm.

"He will appear upon the clouds
With sword, a robe, a royal crown
The victory, He has won
Messiah, Christ, Anointed One

Perfecter of our faith,
Defender full of grace,
My Jesus!
You're my Jesus

Redeemed me from my sin
Brought me to life again
My Jesus!
You're my Jesus…"

"Anointed One" was self-penned by Ashley Gronholm and recorded at 800 East Studios in Atlanta, Georgia. Produced by Gronholm, Martin Kearns and Shannon Tebo and mixed by Martin Kearns with mastering provided by Larry Anthony at COS Mastering.

Studio musicians on the new single included Shannon Tebo (piano), Martin Kearns (keyboards, tambourine), Colin Agnew (percussion) and Gronholm and Tebo (background vocals).

Stay in touch with Ashley Gronholm on her website and social media platforms Facebook, Twitter (X), Instagram and watch videos on her official YouTube account. Stay connected with her on LinkedIN.

Listen to her music on Spotify, Apple Music/iTunes, Pandora, YouTube Music and Amazon Music.

About Ashley Gronholm:
Ashley Gronholm evangelist, pastor and singer/songwriter Ashley Gronholm's new single, Anointed One, is a beautiful declaration of her personal faith in the King of Kings, Jesus Christ. She proudly wears her heart on her sleeve in this powerful anthem, which starts as a sweet, soft breath of airy instrumentation highlighting her exquisite voice – before building to a gorgeous crescendo of emotion and energy.

As the song builds, one can feel her passion grow as she sings from the depths of her soul. When she professes, "We pray Your kingdom come," we know she means it. When she praises, "Messiah, Christ, Anointed One," we get the sense that Ashley reveres her Redeemer on a spiritual level that we all long to experience.

Anointed One perfectly captures Ashley's heart for ministry and teaching about God's goodness. Even as the last note rings out, we can feel her inviting us to partake in the passionate love of Christ.

About Be Free Ministry, Inc.
Be Free Ministry Inc. is an international ministry originating in Roswell, Georgia and now operating as a local House of Prayer, Bible School and media ministry in Ellijay, Georgia. Since 2014, Ashley and her team have hosted 25 women's retreats, numerous pastor's retreats, "40 days of Revival" services, street evangelism, worship events and mission trips. They currently have outreach to ministries in Ghana, Kenya, India, and Pakistan, through which they help support affiliate pastors overseeing local widows and orphans. Their media broadcast "Be Free with Ashley Gronholm" currently airs to 65 million American homes as well as to 195 nations from which over 1 million salvations have resulted in Africa, Pakistan and the 10/40 region as well as India, South America and the United Kingdom.
###