MIKE JANZEN RELEASES HIS THIRD ALBUM OF PSALM INTERPRETATIONS, SONGS FROM THE CANYON
"Steady" Music Video Premieres, Features Powerhouse Fellowship Soul Choir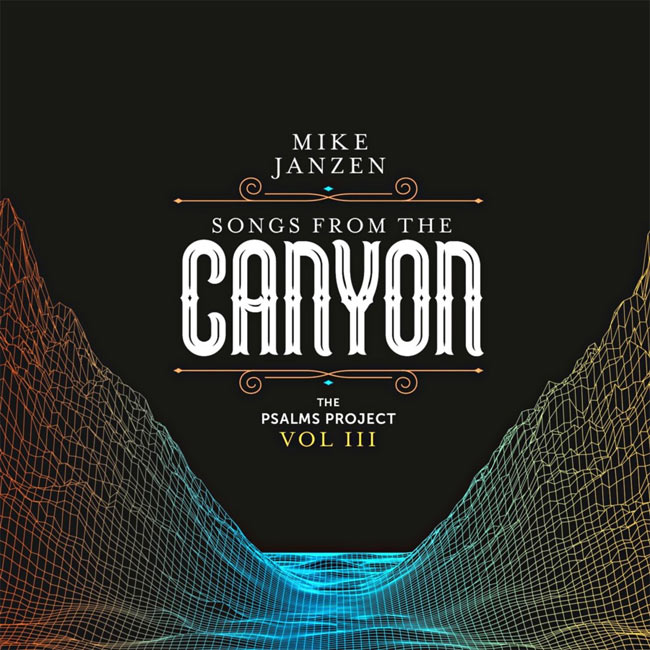 NEWS SOURCE: Hoganson Media
November 1, 2023
Melding jazz, pop and classical styles, Juno and GMA Covenant Awards-nominated Mike Janzen independently releases his third album of Psalm interpretations, Songs from the Canyon, today (Nov. 1). Available at digital and streaming outlets everywhere from Wings Access via https://wingsmusic.lnk.to/SongsfromtheCanyonThePsalmsProjectVolIII, the project features Janzen musically painting vivid, powerful textures as he explores Creation's awe-inspiring landscapes along with the deep, plunging canyons of life's suffering.
Produced by award-winning Timothy Abraham, the album has a profound sonic diversity, resonating from soaring strings to a belting gospel choir. Rich cinematic textures grace these 11 innovative compositions, including on the song "Steady" and its companion music video that premieres today on The Christian Beat. The video was filmed by Mitch Fillion at All Saints Kingsway in Toronto and features the Powerhouse Fellowship Soul Choir.
"This song was written as an anthem of hope to those who have braved the lonely valleys of loss, family breakup and injury," shares Janzen. "During these traumatic times, there's often a sense that our world is crumbling around us; however, the book of Psalms is a reminder that the hesed, or steadfast love of God, will carry us through whatever storm or tragedy we encounter."
The album also features "Hallelujah (Psalm 104)" that Janzen recently performed on 100 Huntley Street; "Took Hold," which includes guest vocals by Stellar and GRAMMY Award-winner Dee Wilson; and the lead track, "Echoes (Psalm 8)," that highlights Indigenous Canadian artists Ray "Coco" Stevenson (Cree/Objibwe) and Jonathan Maracle (Mohawk Nation). With Rich Mullins-inspired dulcimer and Snarky Puppy-like brass, "Echoes" explores how the fingerprints of God are seen throughout creation and how we can be guardians of that beauty.
"The song was written on the ancestral lands of the Anishinaabe peoples and is sonically inspired by the shared heritage of the landscape," shares Janzen. "The musical presence of Coco Stevenson and Jonathan Maracle on this track are significant both in their artistry and in their cultural understanding of creation that resonates perfectly with the pre-modern poet who penned Psalm 8."
The full Songs from the Canyon track listing follows:
1) Echoes (Psalm 8)
2) Hallelujah (Psalm 104)
3) Took Hold (Psalm 18)
4) Steady (Psalms)
5) Wonderful (Psalm 139)
6) How Long (Psalm 13)
7) Canyons (Psalm 46)
8) Great is the Lord (Psalm 96)
9) Deep to Deep (Psalm 42)
10) Have Mercy (Psalm 51)
11) Circling (Psalm 22)
A gifted jazz pianist, composer and arranger, Janzen has toured across North America, performing in concert halls, churches and at festivals while combining his undeniable talent with a desire to create music that draws attention to the Maker.
"Mike brings a really imaginative and fresh voice to the current music scene," says Joe Amaral as he introduces Janzen last month on 100 Huntley Street, Canada's longest-running daily television talk show. "And whether it's soul-stirring songwriting to mesmerizing piano solos…his music – it's approachable, and it hits the deep places of the heart…He combines undeniable talent with the desire to create music that draws attention to God, the Father, the Maker."
All the latest Mike Janzen music, tour and more news can be found at www.mikejanzen.ca, Facebook, YouTube, PraiseCharts, Instagram, Apple Music and Spotify.

About Mike Janzen:
Mike Janzen has a diverse music portfolio that includes a variety of original and commissioned compositions: music for television (GLOBAL News 2021), choir (True Christian Faith 2023), and film (Jason Hildebrand's Microfilms 2022; CBC's documentary Pure Intentions). His orchestral arranging skills are showcased in numerous collaborations: with Steve Bell (Winnipeg Symphony, Toronto Symphony and the Nashville String Machine); the CBC-commissioned piece Bending Hendrix; and an entire orchestral show, Reimagining Broadway, with singer Sarah Slean. First debuting in Winnipeg in 2014, Reimagining Broadway has been performed across the country and is now slated for April 2024 performances with the Orchestre Symphonique in Quebec City.
In addition to the double-album releaseThe Psalms Project (2021/Independent), Mike has recently released neoclassical solo piano compositions (under Michael Janzen) as well as a few singles, Breaking Through (2021) and The Great Congregation (2022; feat. Nashville-based Abbie Parker). Since 2006, he has headlined a jazz trio that features bassist George Koller and drummers Davide Direnzo or Larnell Lewis. The Mike Janzen Trio's 2010 album Try to Remember was hailed as "distinctive and sublime" by the Jazz Times. Mike's talents earned him a 2017 JUNO Jazz Album of the Year nomination for his album Nudging Forever (2015)—original compositions blending lush orchestral sounds with the spontaneity of jazz.
Mike currently lives in Toronto with his family where he dabbles in gardening, paddle boarding and tiny rink building.
###