WINTER JAM 2024, CHRISTIAN MUSIC'S BIGGEST TOUR RETURNS WITH CROWDER, LECRAE, CAIN, KATY NICHOLE, SEVENTH DAY SLUMBER & NEWSONG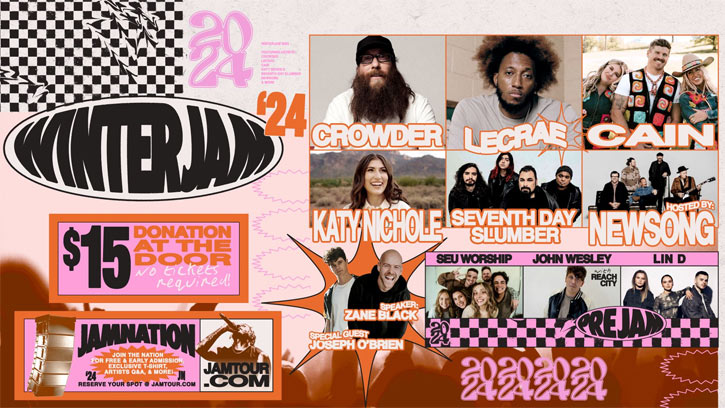 NEWS SOURCE: CMZPR
November 2, 2023
Nashville, TN (November 2, 2023) World Vision presents the Winter Jam 2024 Tour, founded by Newsong and produced by Premier Productions. Christian music's biggest tour with performances by Crowder, Lecrae, CAIN, Katy Nichole, Seventh Day Slumber, Newsong, including Speaker Zane Black. Winter Jam 2024 kicks off on January 12th in Mobile, AL and will hit a total of 39 cities and arenas around the country including, Tampa, FL; Pittsburgh, PA; Charlotte, NC; Atlanta, GA; Nashville, TN; Memphis, TN, and St. Louis, MO. This year's Winter Jam will feature first time tour performers including CAIN, Katy Nichole, Seventh Day Slumber and Joseph O'Brien.
"I can't wait to be out on Winter Jam again! It's a special thing and there's nothing else like it. I'm honored to be a part," said Crowder. "The lineup this year looks incredible - some of my favorite folks will be there and I am beyond excited to be back out there singing to God together! It's gonna be a great tour."
"I'm excited to be back on the road again with some incredible artists and friends on Winter Jam," said Lecrae. "It's a great opportunity to share hope and love and joy through music."
"When I called Crowder a few months ago he was up on the roof cleaning out his gutters and I thought we gotta get him back on tour before he gets himself hurt," said Eddie Carswell of Newsong. "This is honestly one of my favorite lineups we've ever been able to have. I love having some new faces as well as old friends. I can't wait to see all the lives that will be changed!"
GRAMMY nominated artist, Crowder will perform hits from his current album, Milk & Honey, including his No. 1 Billboard Hot Gospel Song, "God Really Loves Us," along with his other chart toppers including "Good God Almighty," "In The House," "All My Hope," and "Come As You Are."
Lecrae, the GRAMMY Award winning artist that blends faith with hip hop, will join Winter Jam 2024 and perform hits from his current chart-topping album, Church Clothes 4 Deluxe, including hits from his past #1 album, Anomaly.
Award-winning sibling trio, CAIN will perform their No. 1 back-to-back radio hits "Rise Up (Lazarus)" and "Yes He Can," both songs from their first full-length album Rise Up, along with hits from their worship project, Honest Offering as well as their new album Jesus Music.
Christian musician, singer, songwriter and Dove Award winning New Artist Of The Year, Katy Nichole, will perform songs from her debut album Jesus Changed My Life, including "In Jesus Name," "Hold On," and "God Is In This Story." After being featured on America's Got Talent, Joseph O'Brien will be joining the Winter Jam tour for the first time ever and perform his new single, "Give Up On Love," as well as "Take Your Time," and "Down On My Heart."
No tickets are required to attend Winter Jam and admission is only a $15 donation at the door. Arrive early for the pre-jam party with SEU Worship, John Wesley, and Lin D. For more information, visit jamtour.com.
WINTER JAM 2024 TOUR DATES
Saturday, January 13, 2024
Saturday, January 20, 2024
Thursday, January 25, 2024
Saturday, January 27, 2024
Thursday, February 1, 2024
Saturday, February 3, 2024
Thursday, February 8, 2024
Saturday, February 10, 2024
Thursday, February 15, 2024
Friday, February 16, 2024
Saturday, February 17, 2024
Sunday, February 18, 2024
Thursday, February 22, 2024
Friday, February 23, 2024
Saturday, February 24, 2024
Sunday, February 25, 2024
Thursday, February 29, 2024
* Lecrae will not be performing in Charleston, WV.
**Cain will not be performing in Columbus, OH and Tupelo, MS.
About Winter Jam:
Winter Jam was founded over 20 years ago by Christian music group NewSong. The tour has stayed true to its original mission of low donation at the door to allow as many people as possible to hear the gospel. Winter Jam has consistently ranked in Pollstar's top tours and has taken the number one spot several years. Promoted by Premier Productions, the tour hits the road again in 2024.
About Premier Productions:
Founded in 1996, Premier Productions has been a top 20 global promoter selling over 20 million tickets. Pollstar named Premier the #1 faith and family independent promoter in the last 10 years. Producing events that move the soul both nationally and internationally, Premier is proud to have helped raise more than $271 million to improve the lives of children and communities in 100+ countries worldwide. Whether it's a large multi-day festival, sold-out concert or intimate conference, Premier seeks to positively impact the lives of every attendee so they leave encouraged, happy and hopeful. Premier is currently promoting acts including, Dude Perfect, Elevation Worship, We The Kingdom, CocoMelon, Bluey, Blippi, Kari Jobe, Cain, Jeremy Camp, Gaither Vocal Band, Wheel of Fortune Live & more.
###
For more info on these artists, visit the JFH Artists Database.