PLANETSHAKERS RELEASES SHOW ME YOUR GLORY - LIVE AT CHAPEL ALBUM
12-Song, 12-Video Project Recorded Along With Planetshakers Bible College Students

YouTube Premieres Full Live At Chapel Praise and Worship Video Event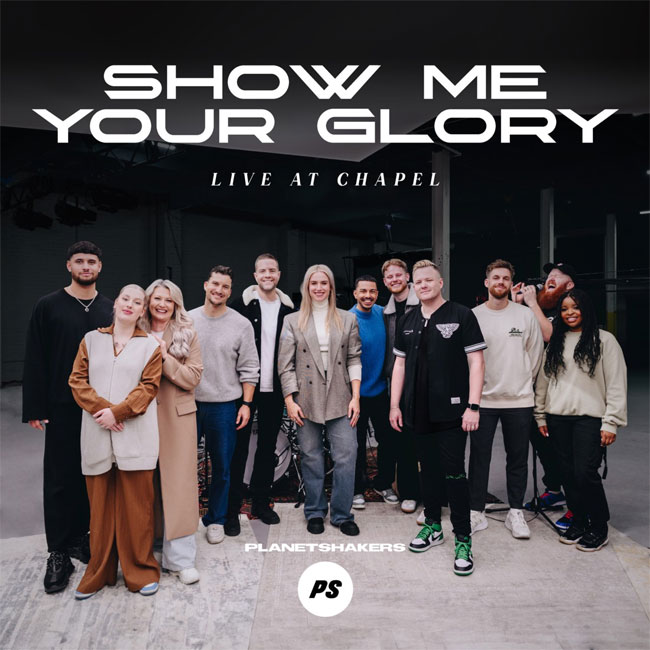 NEWS SOURCE: Hoganson Media
November 3, 2023
Internationally recognized praise and worship band Planetshakers globally releases Show Me Your Glory - Live At Chapel today (Nov. 3) ) from Venture3Media (V3M). Available now at all major digital and streaming outlets via https://planetshakers.streamlink.to/showmeyourgloryliveatchapel, the album will also be released as an Apple Music exclusive Deluxe Edition that contains all 12 songs along with 12 companion music videos.
Recorded live in-the-round and led by Planetshakers band members singing along with Planetshakers Bible College students in their chapel, Show Me Your Glory - Live At Chapel re-crafts tracks from the full production Show Me Your Glory songs in a musically accessible way for smaller gatherings. The recording features the core Planetshakers worship team, including Joth Hunt, Sam Evans, Andy Harrison, Josh Ham, Aimee Walker, Chelsi Nikkerud and Rudy Nikkerud.
"The packaging, sound and production is different on the chapel album, but the thing we don't want to change is the passion and the spirit behind the praise and worship," says Hunt. "Giving everything to God transcends any style or arrangement."
"The Live At Chapel album is a beautiful, powerful and intimate recording that is all about making it more accessible to churches," adds Pastor Sam Evans. "Worship teams are able to lead this music very simply, acoustically following the chord charts without the complexity of production. We are always wanting to connect people with Jesus, so if this helps people connect with, worship and praise Him, that is what this album is all about."
Along with the recently released singles, "We Raise: Live At Chapel" and "Supernatural Love: Live At Chapel," the full Show Me Your Glory - Live At Chapel track listing follows:
01. We Raise - Live At Chapel
02. Take Me Back - Live At Chapel
03. Blessed Be The Lord - Live At Chapel
04. The House - Live At Chapel
05. We Lift Up Jesus - Live At Chapel
06. Show Me Your Glory - Live At Chapel
07. Worthy Is The Lamb - Live At Chapel
08. Living In Me - Live At Capel
09. Rejoice - Live At Chapel
10. The Love Of My Life - Live At Chapel
11. Supernatural Love - Live At Chapel
12. Eyes On You - Live At Chapel
Like previous years' Planetshakers chapel recordings, the entire Show Me Your Glory - Live At Chapel was captured on video and is available to stream now in one continuous praise and worship event at https://youtu.be/eICkf65cgHU.
Planetshakers' Show Me Your Glory album features 14 songs, 12 of which were recorded live along with the voices of thousands attending the Show Me Your Glory Planetshakers Conference held in Melbourne, Australia. The album is meant to be a praise and worship musical journey.
For all the latest Planetshakers music, tour and more news, go to Planetshakers.com, YouTube (1.46M subscribers), Instagram (648K followers), Spotify (1M+ followers), Twitter (185K followers) and Facebook (1.7M followers).
About Planetshakers Band:
The mandate of Planetshakers – empowering generations to win generations – is outworked globally through the ministry of Planetshakers band. The heart behind each of its endeavors is to see every generation empowered by a life-transforming personal encounter with God through the experience of authentic praise and worship.
Birthed in a youth revival in Adelaide, South Australia (2000), the band serves Planetshakers Church, founded by Russell and Sam Evans, and tours the world. Known for songs such as "Nothing is impossible," "The Anthem," "Leave Me Astounded" and "Endless Praise," and having produced over 30 internationally-acclaimed albums, Planetshakers band has been privileged to be used by God to release a fresh sound of praise and worship into atmospheres internationally.
About Venture3Media:
Venture3Media is a global music label and song publisher with sales, marketing, promotional, radio, television and movie expertise. V3M provides distribution platforms across all digital channels, including, but not limited to Spotify, Apple Music, iTunes, Amazon, Deezer, Tencent, 7Digital, Google Music, Facebook, Pandora, Tidal, Sirius and Rhapsody. Physical distribution includes online retailers such as Amazon, national retail chains, sub-distributors and internationally through well-established licensee's and distributors. V3M is excited to build a global ecosystem that serves the vision and heart of Planetshakers.
###
For more info on ARTIST, visit the JFH Artists Database.