Drew & Ellie Holcomb Announce February 2024 Feels Like Home US Headline Tour
Catch the Couple in December for Their Annual Neighborly Christmas Shows in Nashville & Memphis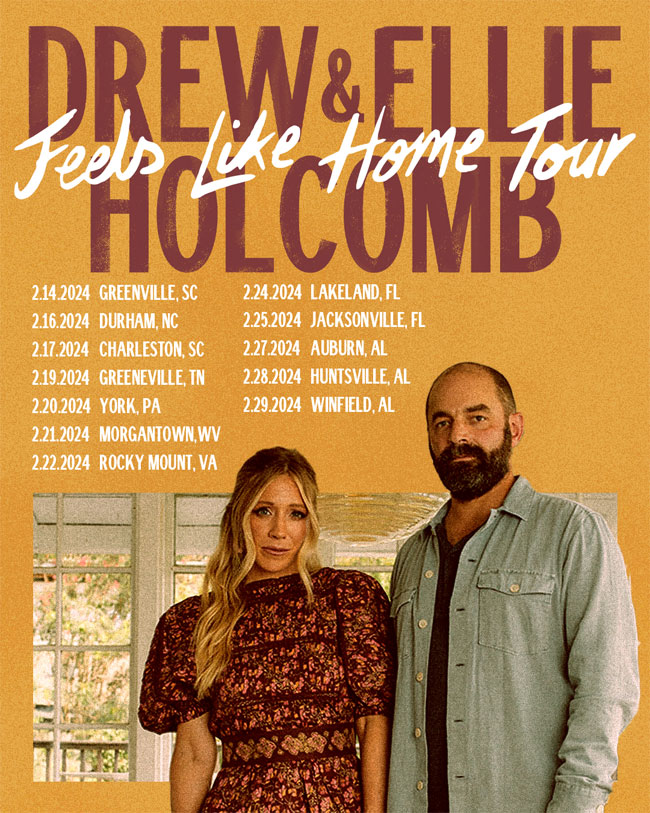 NEWS SOURCE: Stunt Company
November 6, 2023
New York, NY – 6th November 2023 – Drew & Ellie Holcomb have shared the news that they will head out in February 2024 on their Feels Like Home US tour. The upcoming run continues the couple's tradition of joining forces for "An Evening with Drew & Ellie Holcomb" headline trek each year and follows their annual Neighborly Christmas shows in Nashville and Memphis in December. The husband-and-wife duo are best known for their heartwarming Americana and folk tunes that weave stories of life, love, hope, and resilience. 2024's Feels Like Home tour takes its name from one of the couple's most beloved tunes and the February run will have Drew & Ellie sharing old and new songs.
Drew & Ellie Holcomb first met while Drew, a native Memphian, and Ellie, a native Nashvillian, were attending school together at the University of Tennessee in Knoxville. When Drew Holcomb and The Neighbors originally formed in 2005, Ellie was a full-time member. The couple married in 2006 and in 2012, Ellie left the group to pursue a solo career. She has since gone on to release three studio albums of her own including her critically acclaimed 2021 LP Canyon. Drew and the band released nine studio albums, including their more recent critically acclaimed Strangers No More LP in June 2023.
While pursuing separate and equally successful career paths, the couple has continued to collaborate personally – adding three beautiful children to their family – and professionally – putting out singles, an EP and 2022's Coming Home: A Collection of Songs album, as well as touring together regularly and of course putting on their annual sold-out Christmas shows. Catch Drew & Ellie Holcomb live on their Feels Like Home tour in February 2023. Confirmed dates are below and for the most up-to-date information, ticket buy links and more visit www.drewholcomb.com/tour or www.ellieholcomb.com/tour.
Drew & Ellie Holcomb's Neighborly Christmas Shows
Dec. 20 in Memphis, TN at Orpheum Theatre
Dec. 21 in Nashville, TN at Schermerhorn Symphony Center
Drew & Ellie Holcomb's Feels Like Home 2024 Tour
Feb. 14 in Greenville, SC at Peace Center Concert Hall
Feb. 15 in Durham, NC at Carolina Theatre
Feb. 16 in Durham, NC at Carolina Theatre
Feb. 17 in Charleston, SC at Charleston Music Hall
Feb. 19 in Greeneville, TN at Niswonger Performing Arts Center
Feb. 20 in York, PA at Appell Center for the Performing Arts
Feb. 21 in Morgantown, WV at The Metropolitan Theatre
Feb. 22 in Rocky Mount, VA at Harvester Performance Center
Feb. 24 in Lakeland, FL at Polk Theatre
Feb. 25 in Jacksonville, FL at Florida Theatre
Feb. 27 in Auburn, AL at the Jay and Suzie Gogue Performing Arts Center
Feb. 28 in Huntsville, AL at Von Braun Center - Mars Music Hall
Feb. 29 in Winfield, AL at The Pastime Theatre
###
For more info on Ellie Holcomb, visit the JFH Artists Database.