JusJames Settles in to the Season with an Instant Laidback Classic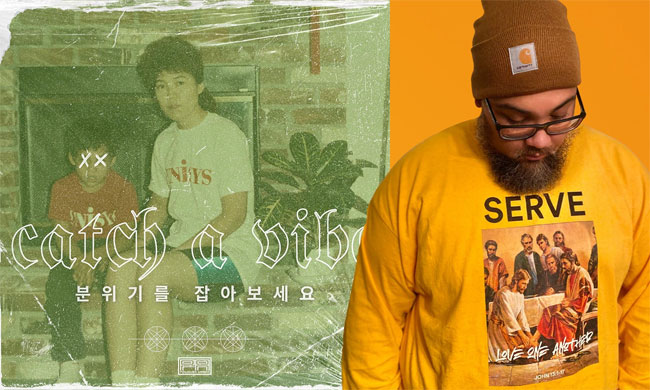 NEWS SOURCE: Five Twenty PR
November 6, 2023
Sacramento, CA - "And he who searches our hearts knows the mind of the Spirit, because he intercedes for the saints according to the will of God. We know that all things work together for the good of those who love God, who are called according to his purpose." [Romans 8:27-28]
God desires a close relationship with us. So much so that he allowed Christ to experience death in order to remove the separation that existed between us and Him. In addition, he provided a helper, in the form of the Holy Spirit, that would reveal the Father's heart to us and speak on our behalf. All that we need to do is to draw close to him. As we grow in our experience, we are able to help others Catch a Vibe and discover the gift of the gospel.
"The hope is to bring hip-hop heads and believers together." - Jus James
With a throwback to the soulful sounds of 90's g-funk, JusJames and Byron Woo deliver Christian Hip Hop's smoothest record of the year.
Releasing across digital music platforms on Tuesday, November 7, 2023, Catch a Vibe is the follow-up to JusJames' summer hit "Whirlwind," dropping via Polished Arrow Music.
James is joined by fellow Northern California artist Byron Woo.
The duo bridge their respective sounds to represent the Bay Area with a record that encourages listeners to draw close to the Spirit of God. Their complimentary styles easily captivate the attention of listeners while speaking the truth throughout their respective verses.
Produced by HUNGERFORCEBEATS, Catch a Vibe is an ideal addition to any laidback, chill, or inspiring playlist.
Support JusJames: Facebook | Twitter | Instagram
Song Details
Title: Catch a Vibe

Artist: JusJames

Release Date: November 7, 2023

Label: Polished Arrow Music

Production: HUNGERFORCEBEATS

Engineering: David Bunts aka iNTELLECT for Polished Arrow Music

Feature: Byron Wo
About JusJames
Songwriter, performing artist, Gospel Minister... JusJames (pronounced "Just" James) is a hardworking, innovative creative whose mission is to reach hearts through the Gospel with thought-provoking, Christ-centered lyrics.
The Sacramento, CA-based artist has established an ability to communicate truth and knowledge to all walks of life. Following the likes of other noteworthy Sacramento artists such as Brotha Lynch Hung, C-Bo, and T-Nutty, James has remained focused on using his gifts and strong faith in Christ by simply communicating the love and grace of Jesus.
###