GRAMMY & BILLBOARD MUSIC AWARD NOMINEE PHIL WICKHAM ANNOUNCES SPRING 2024 "I BELIEVE" TOUR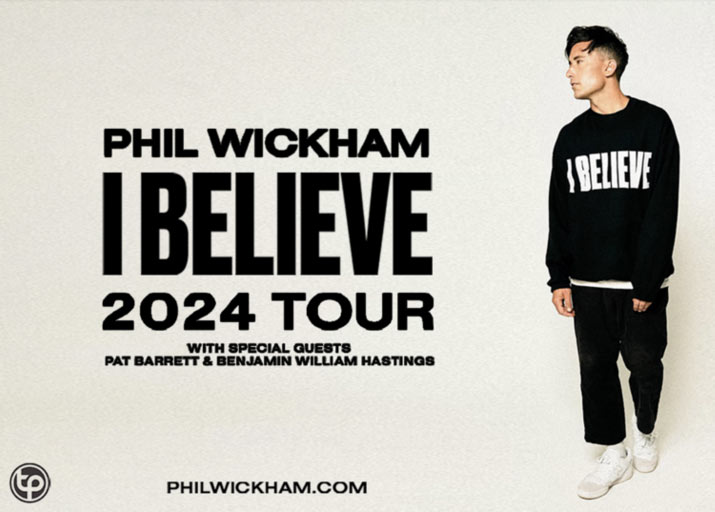 NEWS SOURCE: The Media Collective
November 13, 2023
Nashville, Tenn. (November 13, 2023) — Current GRAMMY® and Billboard Music Award nominee Phil Wickham has announced his spring 2024 "I Believe Tour," featuring special guests Pat Barrett and Benjamin William Hastings. The tour will be making 15 stops across the country with performances featuring many of his most popular songs ("House of the Lord," "Battle Belongs," "Living Hope") and brand new tracks from his latest award-winning and GRAMMY-nominated album
I Believe,
including the
Billboard Music Award-
nominated title track, "This is Our God," "The Jesus Way," "Isn't He Good," and more! Tickets are now available for purchase
HERE
.
"I can't wait for these nights!" exclaimed Wickham. "The songs on "I Believe" were not just written to record and release, they were written to sing with people in the same room. To come together as a community and declare who we stand for, what He has done and who we are in Him. I'm praying these nights are a catalyst for real hope, healing, salvation and change in the lives of everyone involved. And what a joy it's going to be to do it all alongside of my good friends Pat Barrett and Benjamin William Hastings. I'm ready for it to start now!"
Most recently Wickham released "
Just Too Good
" as a surprise for his wife in honor of their 15th wedding anniversary. The song follows his powerful new Christmas anthem, "
Manger Throne
." Prior to the "I Believe Tour," Wickham will hit three states and five cities on the "BEHOLD Christmas Nights" tour with special guest Tasha Layton.
Wickham's future tourmates are equally excited to hit the road together, with Barrett commenting, "It's always such a joy to get a chance to be in a room with people worshipping, and it's even more fun when you get the chance to team up with friends. I'm already such a fan of Phil and Ben, so the opportunity to share a night together is really special."
"I BELIEVE" TOUR

January
25 - Christ's Church - Jacksonville, FL
26 - Community Christian Church - Tamarac,FL
February
22 - Gardendale First Baptist Church - Gardendale, AL
23 - Orpheum Theatre - Memphis, TN
24 - Peoria Civic Center Theater - Peoria, IL
25 - Lincoln Berean Church - Lincoln, NE
March
15 - Evangel University's Spence Chapel - Springfield, MO
16 - Embassy Theatre - Fort Wayne, IN
17 - Christian Life Center - Dayton, OH
22 - Shandon Baptist Church - Columbia, SC
23 - Palmetto Pointe Church - Myrtle Beach, SC
24 - North Charleston Performing Arts Center - North Charleston, SC
April
19 - Mechanics Bank Theater - Bakersfield, CA
20 - Dream City Church - Phoenix, AZ
21 - Calvary Church - Albuquerque, NM
About Phil Wickham:
Phil Wickham is a GRAMMY® nominated artist and leader in the modern worship movement, having penned countless songs sung in churches around the world. Most recently, his single, "This Is Our God," opened the pages of 2023 with a wellspring of declarative praise to our God who saves. Also in 2023, the artist was nominated for two GRAMMY® awards in the category of "Best Contemporary Christian Music Performance/Song," recognizing the songs, "Hymn of Heaven" and "Holy Forever." Hymn of Heaven, Wickham's latest full-length album (June 25, 2021, Fair Trade Services), won him "Worship Album of the Year" at the 2022 GMA Dove Awards, while he was named "Songwriter of the Year" as well as awarded "Worship Recorded Song of the Year" for the title track, "Hymn of Heaven." In addition, the song, "Battle Belongs," topped five different radio charts for multiple weeks. This powerful album was written during a year when the family of God couldn't physically gather in houses of worship around the world. "Hymn of Heaven is full of praise and thankfulness, just lifting up the name of Jesus and speaking what we really know is the reality, even though we don't see it," he says. "All I want to do is facilitate moments where people can encounter the presence of God." Wickham's anthemic "Living Hope," an RIAA Gold®-certified hit, earned him a GMA Dove Award for "Worship Recorded Song of the Year" in 2019, while his first RIAA Gold®-certified single, "This Is Amazing Grace," was his first career No. 1. This iconic song held the top spot for thirteen consecutive weeks and was named Billboard's No. 1 "Christian Airplay Song of the Year" in 2014, as well as BMI's "Christian Song of the Year" in 2015. Wickham's music has received hundreds of millions of streams across multiple platforms, with his discography including eight full-length projects, several Christmas releases, and a series of popular Singalong records that capture Wickham's songs as they do what they were always meant to do — which is giving people language to sing to God. To find out more, visit
PhilWickham.com
.
Get Connected with Phil Wickham:

Website
//
Twitter
//
Instagram
//
Facebook
//
YouTube
//
TikTok
About Pat Barrett:
As a respected songwriter and artist in the broader worship music community, Pat Barrett has penned popular songs such as No. 1 Billboard Christian Airplay and Billboard Christian AC radio and RIAA Gold Certified single, "Build My Life." He has also written top songs such as "The Way (New Horizon)" and "Good Good Father." With these songs and so many more, he is a key songwriter and artist in the broader worship music community.
Barrett, a worship leader based in Atlanta, GA, released his solo debut album in 2018. Barrett was also nominated for the prestigious New Artist of the Year for the 49th GMA Dove Awards. He is also the first signing on Chris Tomlin's label imprint, Bowyer & Bow, in partnership with Capitol CMG. In 2021, he released his studio project, Act Justly, Love Mercy, Walk Humbly, a 17-track studio album that featured songs "Morning By Morning (I Will Trust)," "As For Me (Ft. Chris Tomlin)," and the title track. He recently released his newest studio album, Shelter, in October 2023. For more information, visit
patbarrettmusic.com
.
About Benjamin Hastings:
Benjamin Hastings is a Northern Irish singer, songwriter. Raised on the streets of Belfast but spending the better part of his twenties in Sydney, Australia; Hastings fell in love with A beautiful girl who too shared a love for words and six months later they decided to share a name. In the early years they tried to write songs together but as it turns out that was not very good for their marriage and they were much better at making babies anyway; of which now they have two rather perfect ones. Around that same time Hastings fell in with a church crowd who just so happened to be some of Jessa's childhood friends and that motley crew was Hillsong United. Since featuring on "So Will I (100 Billion X) he's written a whole lot of songs which, if you add them all together have been streamed over 750 Million times (not quite a 100 billion but we're on the way!!). Recently, Hastings and his family moved to Los Angeles, CA where he and is his wife Jessa Hastings (Author of novel; Magnolia Parks) still don't write together but are hard at work on their respective crafts. His latest solo offering explores the ongoing wrestle of exercising faith (among other things) and to be honest it may be a little more honest than you're used to hearing. But his hope is that somewhere in its humanity, you find something divine. After all; sometimes you gotta lie in the dirt just to stare at the stars.
ABOUT TRANSPARENT PRODUCTIONS:
Transparent Productions will promote and produce more than 500 events and sell more than 1 million tickets in 2023. Over the past 25 years, the company has produced first-class Christian concerts, tours, and festivals across the U.S. in churches, theaters, arenas, and amphitheaters. Transparent works with some of the largest names in Christian music including Phil Wickham, CeCe Winans, Brandon Lake, Chris Tomlin, For King + Country, UNITED, Casting Crowns, Crowder, Big Daddy Weave, Danny Gokey, Tauren Wells, Anne Wilson and dozens more. In recent years, they expanded into speaker and podcast tours with best-selling authors Lysa TerKeurst, John Bevere, and Annie F. Downs. The company specializes in every aspect of live events including booking, marketing, ticketing, production, venues, and day-of-show logistics, with expertise encompassing single show dates to large-scale national tours as well as annual festival events including Fishfest, Spirit West Coast, and Family Life Radio Festival.
TransparentProductions.com
.
###
For more info on Phil Wickham, visit the JFH Artists Database.