StowTown Records Celebrates Christmas with Release of Not So Silent Night by 3 Heath Brothers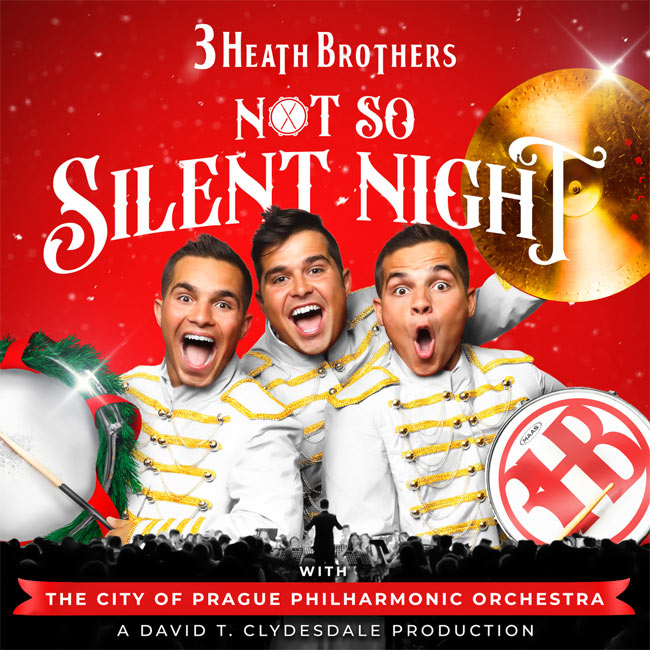 NEWS SOURCE: StowTown Records
November 14, 2023
Nashville, TN (November 14, 2023) – In a true representation of the joy of Christmas, Not So Silent Night by 3 Heath Brothers is a perfect album to kick off the Christmas season. StowTown Records makes this album available at all digital music outlets this Friday, November 17, via Provident/Sony Distribution.

Brothers Nicholas, Christian and Clayton Heath partnered with acclaimed producer and arranger David T. Clydesdale for this ten song album which includes familiar carols, covers of popular Christmas tunes and an original song as well. Making this project extra special is the inclusion of orchestral arrangements recorded with The City Of Prague Philharmonic Orchestra. "Since we began singing we've dreamed about doing a Christmas record," shares Nicholas Heath, "but honestly we had no idea what a dream come true this project would be. David T. Clydesdale was a name I had seen all over the place: Sandi Patty, Disney and most of the church choir music - David has worked with so many artists in some form. For him to have such a prominent influence on this project is still surreal to me. And working with the City of Prague Philharmonic Orchestra was just amazing. What a huge sound and what an awesome experience!"

Everyone will enjoy singing along with familiar carols such as "O Come All Ye Faithful" and "I'll Be Home For Christmas," both of which include lush orchestrations to complement the vocal arrangements. Popular Christmas tunes include "What God Wants For Christmas," made popular by country music singer Darius Rucker, and "Mary Did You Know." But the 3 Heath Brothers shine brightest on the song they wrote, the title cut, "Not So Silent Night." The energy and fun for which they are known is perfectly captured in this song celebrating the joy, love and reason for our Christmas celebrations.

"When I first saw the 3 Heath Brothers in person I was filled with joy and hope," reflects StowTown Records co-founder Ernie Haase. "Now, with their first StowTown release, Not So Silent Night, they are bringing that same creative energy to the greatest story of all time: God with us! All I can say is buckle up! This is the pure joy unleashed!" The 3 Heath Brothers are just as excited for this new partnership. "To us, StowTown Records has always been the gold standard when it comes to Gospel music. Their insight, attention to detail and their track record with taking artists to the next level has always impressed us. For us to be working with them is very exciting!"

Not So Silent Night is the perfect addition to your Christmas music library and playlist.

Not So Silent Night Track Listing:
O Come All Ye Faithful
Not So Silent Night
What God Wants For Christmas
Jingle Bells/Sleigh Ride/Caroling, Caroling
Christmas Got Colder
Feliz Navidad/Come On, It's Christmas/We Wish You A Merry Christmas
I'll Be Home For Christmas
Mary, Did You Know?
This Year (Happy New Year)
End of the Beginning
ABOUT 3 HEATH BROTHERS:
The 3 Heath Brothers is a Christian band that has entertained audiences all across America. Dubbed the "boyband of Christian music," the brothers Nicholas, Christian and Clayton Heath have generated over 100 Million views on social media since their beginnings in 2018. They received the Singing News Fan Award for "Favorite New Artist" in 2020, and have won multiple awards from the Christian Worldview Film Festival every year since 2020. In 2022, they received 13 awards for their music video release "Into the Deep." While they appeal to multigenerational audiences, their youthful performances have afforded them opportunities to make presentations in over 100 public schools where they have reached over 35,000 students. Recently, 3 Heath Brothers partnered with Keys For Kids, a Christian organization that provides free online daily devotionals for kids and teens.
LINKS:
http://www.3HeathBrothers.com
http://www.facebook.com/3HeathBrothersMusic
http://www.instagram.com/3HeathBrothers
http://www.twitter.com/3HeathBrothers
http://www.youtube.com/@3HeathBrothers
ABOUT STOWTOWN RECORDS:
StowTown Records was founded in 2011 by Ernie Haase and Wayne Haun and expanded in 2014 with the addition of partners Landon Beene and Nate Goble. With each label owner providing their individual expertise, StowTown has become a powerhouse independent label. As the creative home for many of today's top artists, the StowTown family includes Ernie Haase & Signature Sound, Doug Anderson, Charles Billingsley, The Booth Brothers, The Browns, Cana's Voice, The Collingsworth Family, Tiffany Coburn, The Erwins, TaRanda Greene, Hebron Road, The Kramers, Legacy Five, comedian Tim Lovelace, Jody McBrayer, Paid In Full, The Perrys, David Phelps, The Steeles, Sunday Drive, The Taylors and Triumphant Quartet, as well as StowTown Worship artist The Brooklyn Tabernacle Choir. Distributed worldwide through Provident/Sony Distribution, StowTown Records has garnered industry attention with multiple GMA Dove Awards and chart-topping releases from its highly respected roster of artists.
LINKS:
www.stowtownrecords.com/
www.facebook.com/stowtownrecords
www.instagram.com/stowtownrecords
###