August, 2005
---
*Saturday, August 27th, 2005*
---

With
Switchfoot
's new album,
Nothing Is Sound
, out on Sept. 13th, the band is gearing up for our World Tour. On the first U.S. jaunt, Eisley, Reeve Oliver, and Augustana will join the San Diego rock band. :Because this album was written and recorded on the road," the band said in a recent newsletter, "we really think the live show is where these songs belong. In fact, this is the first record that we've wanted to play live in it's entirety. You haven't seen a Switchfoot show until you see this Fall Tour. Another highlight of this tour is the intimate venues we're going to be playing. The success of the last record was an amazing experience and it allowed us to play in front of some pretty big audiences. Coming back to the smaller clubs is something we have really been looking forward to." Internet pre-sale begins Sept. 13th at 5:00 PM local time through switchfoot.com (the day the record releases). This is your chance to get tickets at a discounted price before they become available to the general public. But pre-sale quantities are limited, so don't miss it! General public tickets go on sale Sept. 17. Available through all Ticketmaster locations, Ticketmaster.com, or the venue box office. Check
switchfoot.com
for more info.
Click here
for the Jesusfreakhideout.com PReview of the new record... (from
Switchfoot
list; gathered by JfH)
---

For
Third Day
, the last few months have definitely been busy! As many now know, the band has been hard at work on their next studio project,
Wherever You Are
. "We're putting the finishing touches on it now and are excited about it hitting the streets on November 1st," announced the band in a newsletter yesterday. "In the coming weeks, we'll let you know how you can pre-buy the record, and maybe we'll even give you a sneak peak of the covers. (Did we say "covers"?)" -- Apparently three different designs -- "In November, we'll be hitting the road to promote
Wherever You Are
. Stay tuned at ThirdDay.com for more details on exclusive events happening in several cities and how you can register to win a chance to attend! For more details on our upcoming concerts, please check out
http://www.thirdday.com/wtour.htm
" (from
Third Day
list; gathered by JfH)
---

Tragedy has struck the recent VF tour featuring
DJ Maj
,
Mars Ill
, and new Gotee artist
Liquid
. DJ Maj sent the following email out Thursday, "On the morning of Wednesday, August 24th, the 2005 VF tour discovered various pieces of band/tour equipment was removed from a parked vehicle & trailer. A limited amount of damages will be covered by insurance, but the remainder depends on the equipment being retrieved by law officers. Meanwhile, our musicians who have sacrificed to be a part of the tour are in need. If you are able to make any type of contribution in this area, please forward it to: Fistpic Productions / PO Box 441 / Antioch, TN 37013-0441. According to our email list, we estimate that your contribution of $40.00 or more will help to cover the remainder of the missing items. Again, whatever you are able to do is greatly appreciated. Donations can also be made using PayPal (www.paypal.com). If you do not have a PayPal account, click this
link
to use their payment system. Be sure to reference this email: tour@virtualfrequency.com Thanks to all who have already come forth with support both personally and anonymously. More than anything, please continue to pray reverently for us in this matter. - Maj" Please keep the artists in prayer during this tough time! (from
DJ Maj
list; gathered by JfH)
---

Grammy winning, multi-platinum band
Jars of Clay
will follow their highly successful "Redemption Songs & Stories" tour, with a second leg this Fall. Providing audiences with intimate, acoustic performances and the stories behind some of their biggest hits and favorite hymns, the evening promises to hold numerous memorable highlights, especially with the addition of special guests
Chris Rice
and
Sara Groves
, and on selected dates, speaker
Donald Miller
, author of
Blue Like Jazz
. This tour, which kicks off October 6th in Troy, Mi. and will visit 23 cities through Thanksgiving, is in support of the band's most recent release, Redemption Songs. This unique project is a collection of soulful recordings crafted from ancient 18th century hymn texts and spiritual songs. Since debuting at No. 1 on Nielsen SoundScan, it has already produced the No. 1 radio hit "God Will Lift Up Your Head," while standing at #14 on Apple iTunes' Top 100 Albums chart. Stephen Mason, Jars of Clay's guitarist, comments, "Recently, we've been touring in a manner that is more intimate in performance and setting and has provided us with a great opportunity to interface with the audience in a way that a big production doesn't. It's simple and invites a communion with the audience that we don't get all the time. These days, that's a big part of what we enjoy about touring. In addition to this intimate setting, we're excited that Chris and Sara will be joining us to be a part of the evening. We look forward to Donald Miller joining us on selected dates, and adding his thoughtful and unique presence to the night, a foreshadowing of more dates to come in the future with Don." (from
Provident Music Group
)
---

Experience the greatness of an indescribable God through the music, the message, and the passion during the Indescribable Tour, with sixstepsrecords' artist-worshipers
Chris Tomlin
and
Matt Redman
and Passion Conferences visionary leader and author
Louie Giglio
. Featuring songs from Tomlin's
Arriving
and Redman's
Blessed Be Your Name: Songs of Matt Redman Vol. 1
, as well as powerful and encouraging messages from Giglio, the 26-city Indescribable Tour will impact such major markets as New York, Chicago, Houston, Atlanta, Grand Rapids, Sacramento and more. The tour is rooted in Passion's collegiate movement that the New York Times calls "Christian Music's New Wave." "I am so excited about the upcoming tour," says Chris Tomlin. "I know it is going to be an inspiring night with my good friends, Louie and Matt, leading people in worship and pointing them toward the indescribable God!" The tour takes its name from Tomlin's radio single, "Indescribable," from his widely acclaimed recording
Arriving
, which has sold well over 300,000 units. (from
Hoganson Media
)
---

Collegiate favorites sixstepsrecords/Sparrow Records'
David Crowder Band
and Inpop Records'
Shane & Shane
announce their fall 2005 A Collision Tour, joined by special guest
Robbie Seay Band
. Following two widely successful, groundbreaking projects, David Crowder Band continues exploring the science behind music and worship with its first new full-length studio album in two years,
A Collision
, releasing September 27. Singer/songwriter duo Shane & Shane will release its first DVD/CD combo,
An Evening With Shane and Shane
, September 13, while newcomer Robbie Seay Band's national debut,
Better Days
, released August 16. Featuring not only fan favorites, but brand new music off the bands' respective releases, the major market A Collision Tour 05 traverses the country into 28-states, 33-cities nationally, including New York, Los Angeles, Chicago, Houston, Seattle, Portland, Denver, San Antonio, Dallas, Albuquerque, Orlando, Minneapolis/St. Paul, Washington, DC and more. "We're really looking forward to the upcoming tour," says David Crowder. "We have been great friends with the Shane's and Robbie's band for a long time, and have talked about putting a tour together for a good while. Plus, the thought of seeing these new songs come to life in a live setting, with the visual presence of attachment to lives, is really exciting." "We're excited about this tour," says Shane Everett. "We hope folks will come out and join us. It's a band of Texas boys coming together with one heart, and it's going to be fun." With its engaging live performance, David Crowder Band has captured the attention of such significant media as the New York Times, CNN, FOX News and others. After selling well over 200,000 copies of its sophomore release,
Illuminate
, David Crowder Band returns with
A Collision
, its first studio album in more than two years. The already critically acclaimed third national release includes more than 73 minutes over 18 tracks and features the first studio version of the concert favorite, "Here Is Our King," which released to radio the first week in August. (from
Hoganson Media
)
---

Todd Agnew
's sophomore release,
Reflection of Something
(Ardent Records/SRE Recordings), hits the No. 1 spot its first week of release! Todd entered at No. 1 with 9,964 units sold (Christian Album charts) and at No. 3 on the combined chart (Top Contemporary Christian Chart).
Reflection
also enters the Billboard Top 100 Charts at No. 86, with well over 12,000 units sold its first week! Congrats Todd! (from
The M Collective
)
---

Warner Bros./Right Minded Records comedian
Brad Stine
has released his CD/DVD titled
Tolerate This!
to great acclaim! Stine's audience has continued to grow in great numbers since he appeared on the entertainment scene. Those current numbers include Brad appearing in front of well over 1,000,000 people, which has equaled out in sales of over 100,000 units sold in just a few months time. His current release,
Tolerate This!
, came out August 16th and already is proving to be on the same success path. In one market alone, Brad sold over $40,000 in merchandise and only 13,000 people were at the event! (from
Big Machine Media
)
---

Slanted Records recording artist
Charity Von
's current radio single "Take Me Through It" was featured this week on the new ABC Family show "Beautiful People." "Take Me Through It," found on Charity's debut self-titled release, was aired in the first fifteen minutes of the show, which aired on Monday, August 22nd at 8pm CST. The scene in which it was featured captured Sophie, one of the show's lead characters, in a discussion with Nicky, another member of the show's primary cast. "Take Me Through It," co-written by Charity and writer/producer Billy Smiley, is currently in the Top 40 on the CRW CHR radio chart and is gaining momentum on the adult contemporary radio format as well. Charity recently performed the song at the Spirit West Coast festival as well as Kingdom Bound '05 and will be performing over the Labor Day weekend at the Rock the Light VI festival. She is currently on the road with the New Faces Tour, alongside John David Webster and Jadon Lavik, and she garnered overwhelming response at the annual Gospel Music Association's (GMA) Seminar in the Rockies. "Take Me Through It" is currently featured on the KA/MO Breakout BandsTM benefit, a yearlong effort launched by Ronald McDonald House Charities to raise money for the Ronald McDonald House of Kansas. Charity, a native of Kansas City, Kan., featured throughout the campaign, has offered the single as a downloadable song for campaign participants. 100% of the proceeds goes to the Ronald McDonald House. For further details, visit www.imlovinitlate.com. Charity's music hit network TV airwaves earlier when her song "The Narrow," also from her self-titled debut, was featured on CBS' "Joan of Arcadia." "Charity's voice stands out from the pack of young female artists...by a mile," stated Slanted Records Director of Marketing David Ecrement. "While her stage presence is magnetic and her personality energetic, her voice simply turns heads wherever people are exposed to her talents. This inclusion on a major network is an exciting opportunity, allowing more people to experience Charity Von's voice-a voice that is unlike any I've heard in a very long time." (from
Spring Hill
)
---
*Wednesday, August 24th, 2005*
---

We are regretful to say that
Jaci Velsaquez
has recently split from her husband. ChristianityToday.com reported the story Monday, and although we are referencing it here, we at JfH just ask that everyone keep Jaci and Darren in your prayers. Thank you. "
'When my husband and I started out as newlyweds, we were like all newlyweds, wanting that dream marriage," Velasquez said. "Somehow, things took a turn and we have ended up in divorce.'
" Click here for the full
Christianity Today
article. (from
ChristianityToday.com
)
---
Kids In The Way
's new video "Apparitions Of Melody" is now be played on video reels at select stores across the country. Some of those stores include Best Buy, JC Penny, Wet Seal and Journeys. You can catch the video at the bands website under the Media section at
www.kidsintheway.com
(from
Night Vision
)
---

Sixpence None The Richer sweetheart
Leigh Nash
is back! While in Sixpence, Nash did a series of solo songs for various projects and films including
Bounce
and
Uptown Girls
. Now, with the demise of SNTR, Nash is officially on her own. Leigh Nash is currently hard at work writing and recording her first solo record! Be sure to stay updated on all the latest news, tour dates, and events by signing up to Leigh Nash's mailing list at
LeighNashMusic.com
. Also check out Leigh Nash's
Myspace
page here to listen to demo versions of some new songs! (from
Leigh Nash
list)
---

Skillet
is continuing to write for their follow-up to
Collide
, looking at a release sometime in 2006. "To answer everyone's question, we are working on songs for a new record." said frontman John Cooper in a recent newsletter. "I wish I had a time table for you guys, but we don't. We have about 9 songs written and we are working on getting another 8 or 9. We are trying some new things, but definitely keeping the rock. Once again, I will keep the panheads up to date with new info as soon as I know." We'll keep you posted as well! (from
Skillet
list)
---
After a well-deserved hiatus, best-selling and award-winning comedienne
Chonda Pierce
is back and ready to return to the comedy stage. Within the next year, Pierce will be releasing a brand-new DVD, a book, as well as a 23-city nationwide tour. Even though she has appeared at numerous Women of Faith conferences, Pierce has spent the majority of 2005 taking time off to spend with her family and to travel while preparing for the coming year's releases. In Pierce's own unique words, she shares, "Jesus had to take a boat to get away from the crowd once in a while and he still wound up having to walk on water, in the middle of a hurricane no less. I'm embarrassed to say, I don't have that kind of faith – to walk on water. But, a few months fishing and chatting with Jesus has certainly helped! Now, I can't wait to head back to work and tell you what we've been talking about! I never could keep a secret!" Her upcoming book, titled "Road Kill On The Highway To Heaven," will be published by Zondervan and available in July of next year. The book is a compilation of Pierce's well-known Road Kill Report e-newsletters, which are periodically emailed to her fans and also found on her website, www.chonda.org. The stories found within "Road Kill On The Highway To Heaven" share a combination of Pierce's life experiences, along with her talents of humor and spiritual insights. "I tell jokes for a living," Pierce explains. "It's adventurous. But to do that I have to fly for hours, I have to take a bus for days, I have to walk up steep stairs in skinny heels. In short, I sometimes take a beating like Road Kill on a country highway! This book is about some of those adventures. Life really is one long journey to heaven even if you're a comedian. My travel journal is filled with what I've learned along the way—the hurts, the laughter, the victories, the failings, the crowds, the loneliness, and mostly the times I've seen God at work." The new DVD, yet to be titled, will be filmed in November and slated for release February 14th, 2006 on INO Records. (from
The M Collective
)
---
To update on the speculation on the release of
Mars Ill
's much-delayed new album,
Pro*Pain
, Gotee Records has said that the album will probably be reworked for a release sometime in 2006. We'll keep you posted on developments... (from
Jesusfreakhideout.com
/
Gotee Records
)
---
*Tuesday, August 23th, 2005*
---

After months of speculation,
TheElms.net
announced recently that
The Elms
have signed an exclusive recording agreement with Universal Music Group's Universal South Records, home to some of America's best rock & roll, blues, roots, and country. The Elms began recording their debut general-market album on August 20, and will spend August and September completing what no doubt promises to be the band's finest work to date. The album will be recorded and mixed in Nashville and Los Angeles, and will be co-produced by the band and veteran producer/engineer David Bianco (Tom Petty, Rage Against The Machine, AC/DC, B lack Crowes, Primal Scream). The Elms will be meticulously chronicling the recording process at their
MySpace.com
site... Check it out now for daily photos, writings, sounds, and more, which will be posted at the site everyday while they're in the studio so fans can live the recording process with the band. A release date has not yet been finalized, but estimations from the band point to January 2006. (from
TheElms.net
; gathered by JfH; thanks to Jodi)
---

Could
Mars Ill
's agony surrounding the release of their countlessly-postponed
Pro*Pain
finally be coming to an end? While its most recent release date of July 19th ended with some stores being told to just toss away their copies of the record, many music stores online are taking preorders for this Fall. According to
JfH's MusiChristian Store
, the record may be looking at a late October release. However, if you can't possibly wait any longer, you are in luck! WalMart.com must not have gotten the memo and has the entire album available for a download purchase on their website. Click here for more info:
http://musicdownloads.walmart.com/catalog/servlet/AlbumServlet?id=93319
We'll keep you posted on any further developments... (new gathered by
Jesusfreakhideout.com
)
---

Audio Adrenaline
's
Until My Heart Caves In
is already making headlines at iTunes. In addition to featuring the first radio single from the album, "King," iTunes has launched a presale campaign for
Until My Heart Caves In
. The presale is live now at
http://phobos.apple.com/WebObjects/MZStore.woa/wa/viewPreorder?id=78625733
and is similar to the recent Coldplay and Dave Matthews Band presales. This is the first time iTunes has done a presale for a Christian artist. Here are the details: Purchase
Until My Heart Caves In
before 8/30 for just $9.99 and receive two free exclusive songs "Last Star Shining" and "Leaving 99 (live)." You will also receive a digital art booklet and a video interview with each of the individual band members about the new album (You must have iTunes installed to view the presale). Frontman Mark Stuart is currently on a ten day motorcycle ride across America from Ft. Lauderdale, Florida to San Francisco, California to raise money for their missions work in Haiti to build an orphanage there. For how you can participate financially and updates (with photos) of the trip, visit
AudioA.com
! Also, be sure to check out the recent Jesusfreakhideout.com
interview
with Mark and guitarist Tyler! (from
Hoganson Media
)
---

Drama has struck Tooth & Nail Records rock band
Terminal
is a mighty way recently when the band decided to leave lead singer Travis Bryant and go their separate ways. Drummer Ryan Conely posted the following explanation and update on
WeAreTerminal.com
Saturday... "A lot of stuff has went down in the past few days and I'd like to set the record straight - It's true Ryan as well as James, Lucas, and Matt have all decided to step down from their positions in Terminal. We can't begin to express what that means for all of us individually as well as collectively. Terminal / Letter Twelve has been our lives for the past 7 years and it is probably the hardest thing we have ever done. We'd like to set the record straight, the guys DID NOT leave Travis in California. The whole band had wanted to finish out the tour with Rufio/The Spill Canvas but after sitting in the van telling each other the most painful things for over 3 hours, it would have been impossible. Our agent as well as EVERYONE in the band decided it would be best for the band to go home and Travis to look for more members and continue on. We did not "throw" him out of the van, we actually helped him pack merch and get his gear out of the trailer, while saying good-byes and giving each other much-needed hugs. So, please take what anyone tells you with a grain of salt. All the guys have a few more shows to play in Canada, Texas, and Louisiana. We would love to see all of you there! If anyone ever loved these songs and what we stood for, please help Travis and our name continue on. We're looking for two guitar players, a bass player, and a drummer. Help Terminal, we need you now more than ever!" Visit WeAreTerminal.com for journals from the members explaining further reasons why they have decided to leave the band... (from
WeAreTerminal.com
; gathered by JfH)
---

"What is true happiness?" asks
Switchfoot
frontman Jon Foreman. "Is it a comfortable four-door sedan with tinted windows? Does it mean I have 2.3 children and a beautiful wife and live in a great neighborhood? Everyone has their own version of what happiness means, but many of the things we're going for, and I include myself in this, are absurd. There's this moment in scripture, in Ecclesiastes, where it says, 'Meaningless, meaningless, everything is meaningless.' That's the place where our new record starts." The San Diego alt-rock band's new record,
Nothing is Sound
, once again finds Foreman questioning everything, as he did on the band's two and a half-million selling breakout album
The Beautiful Letdown
. "That's pretty much where our music naturally goes," he says. "I ask myself questions and sing about it. A lot of these songs are like an oyster. A bit of sand gets in and it's abrasive and troublesome. The oyster starts working on it and a few years later you open it up and there's pearl in there. That's what I do in my songs-chew on the more abrasive parts of my life." Switchfoot's non-stop touring schedule-they performed 400 shows over the last two years-gave Foreman plenty of time to gnaw. In fact, Nothing is Sound was recorded on the road. The band was so busy that they didn't have time to take a break to make a record. So they set up their instruments and recording equipment in the dressing room every night and would lay down tracks in between interviews and soundcheck. "That was one advantage we had on this record," says Foreman. "We'd been playing some of the songs, like "Daisy" and "Politicians," off and on for awhile. We got to road test them, check the tires, and switch things up before we ever pressed the 'record' button. The audiences determined which songs were selected and how they turned out. The trickiest part is trying to capture what we do live and bottle it up into the 1's and 0's on a CD. It helped to play these songs live, feel that energy, and say, 'Okay, this is what we have to match.'" Switchfoot did go into a proper studio to cut drums and other parts. They produced the album themselves with the aid of Letdown producer John Fields, whom Foreman praises as "quick and passionate about music. That's a great combination." Foreman describes the group's unorthodox approach to recording as a blend of professional with "bro-fessional, combining the skillfully engineered sounds you get from a proper studio with the more raw noise that you get from my garage," he says. "Both are necessary in making a record. You want it to be honest and raw, but it has to be also listenable." It's Switchfoot's raw honesty that has continued to inspire the group's hordes of loyal fans, and
Nothing is Sound
does not disappoint in that area. It retains Foreman's signature thoughtful, questioning lyrics and bathes them in huge hooks and crashing guitars. The album's centerpiece is "Happy is a Yuppie Word" that takes its title from a 1991 interview Bob Dylan gave to Rolling Stone in which Dylan was asked, on the occasion of his 50th birthday, if he was happy. Dylan replied, "Those are yuppie words, happiness and unhappiness. It's not happiness or unhappiness, it's blessed or unblessed." "For me, "Happy is a Yuppie Word" is the heart of the record pumping blood out to the limbs and mouth," Foreman says. "It's that existential urban/suburban moment of thinking, 'Wow, all this happiness that I've been trying to achieve is really just the yuppie version.'" (from
Hoganson Media
)
---

Pillar
's heading back to the studio to work on their next release. "Last night we finished up the filming for our 'Frontline' video," announced the band in a recent newsletter. "If you remember we did a full day out in Joshua Tree, CA last month. It took two more days in NW Texas to get all the shots. These last two days were cool because fans were invited. Thanks everybody for coming out and being apart of our video. You all did great! One of the funniest moments was playing with the liquid nitrogen. After filming we dipped racket balls, apples, bananas, and a Mr. Potato head in the liquid nitrogen and threw them in the floor and watched them shatter like glass. You'll see that someday in the "Making of the Video." The final sequence included a massive bonfire, lots of fans pretending to be dead, pyrotechnics, and us rocking out on a cliff. I'm sure you all want to know when the video will be done? It should be done before the end of September. Hopefully we will be able to post it on our website so you can see it before anyone else. On Monday [Aug. 22] we are reporting to Knoxville, TN to begin working on our next album. We have two weeks in the studio booked and are hoping to track a handful of songs. Then we will finish the album up at the end of the year for a Spring release. Please keep us in prayer." Sounds good! We'll keep you posted on further developments... (from
Pillar
; gathered by JfH)
---
A brand new
Project 86
song has been posted on the band's PureVolume site! Be sure to head over to the page at www.purevolume.com/project86 for "Sincerely, Ichabod," an aggressive new rocker from their forthcoming September 27th release
...And The Rest Will Follow
. Check back to that link every Monday until the album releases to hear new songs! (from
Project86.com
; gathered by JfH)
---

Dove-nominated singer/songwriter duo
Shane & Shane
will release its first CD/DVD project on September 13th. Shot in Super Definition and 5.1 Surround Sound,
An Evening with Shane & Shane
features nine fan favorites and one new song, "Arise." The CD/DVD was taped with a live audience at Shane & Shane's own Spaceway Studios in Duncanville, Texas, and features special footage including a studio tour and guitar lessons from Shane Barnard. The forthcoming CD/DVD project showcases Shane & Shane in an acoustic setting backed by a full band before an intimate crowd of friends. Hits like "Saved By Grace," "Psalm 13," and "Yearn" shine with fresh arrangements as well as familiar harmonies from this college-circuit favorite. "Shane and I are really excited about this new project," says Shane Everett. "
An Evening with Shane and Shane
is an inside look at our lives, but our real hope is that the listeners and viewers would be encouraged in the Lord by spending their evening with us," he says. "Fans have been asking for the Shane & Shane live concert experience for some time now," says Inpop Records General Manager Rob Poznanski, "and I think Shane & Shane have accomplished that with this piece. What's illuminated here, plain and simple, are their hearts. Their music speaks for itself, and their ministry is real. This is a must-have for any music fan and a great introduction to the duo's ministry. "This fall, Shane & Shane will join the David Crowder Band for a 40-city, co-headlining tour kicking off September 27th in the artist's home state of Texas. The "Collide" tour, wrapping up in late November, will impact clubs, colleges and churches in key markets such as Grand Rapids, Orlando and Seattle. In addition to releasing their first CD/DVD project in September and co-headlining the "Collide" tour, Shane Barnard and Shane Everett also head up Spaceway Studios as well as the fledgling multi-media production company, Media Juice. The six-month old start-up, jointly owned by the entrepreneurial duo with Jeremy Snead (Dragonball Z), specializes in developing video game content, from storylines, commercials, trailers, cartoon character development and more. (from
InPop Records
)
---
The world-renowned
Brooklyn Tabernacle Choir
will be releasing their fifth album on INO Records September 27 titled
I'm Amazed…LIVE
. With
I'm Amazed…LIVE
, the choir presents their most eclectic project to date with a variety of musical genres represented along with featured guests Donnie McClurkin, Jason Crabb (The Crabb Family) and Luther Barnes (The Barnes Family). Director Carol Cymbala says of I'm Amazed…LIVE, "There's something here for everyone: black gospel, southern gospel, praise and worship, classical music.... We have a diversified congregation, people from Trinidad, Korea, Japan, Jamaica—people from all over the world—they all love these songs and have been blessed by them."
I'm Amazed…LIVE
features 11 songs in addition to one worship medley that create a string of anthems showcasing the Brooklyn Tabernacle Choir's ability to usher listeners to a time of worship. Penned by Carol Cymbala, the title track came to her after a weekend speaking engagement before choir directors. "I thought I had about 30 minutes to speak, but it turned out to be more like two hours," Carol explains. "I began to share how a choir was more than singing just to be singing, how we're suppose to reach out with our song and message, beyond the walls of the church." True to her word and the Brooklyn Tabernacle Choir mission, proceeds from the choir album sales fund important church outreach ministries such as the "Adult Literacy Program." The choir also recently returned from a trip to the maximum security Louisiana State Penitentiary, where they performed for an event titled The Power of Freedom to the inmates and public. The entire program will air on WMBI in Chicago on Labor Day. "We receive so many letters from people who have been ministered through the music," Carol shares. "It's just wonderful when you can hear how God has touched people, just by listening to the music. That has always been our goal, that is why we do what we do, and that is why it's always worth it." (from
The M Collective
)
---
*Friday, August 19th, 2005*
---

On her fourth recording with INO Records, critically acclaimed singer-songwriter
Sara Groves
has once again delivered a prolific, creative expression of faith and relationships set to a piano-filled musical landscape with her upcoming October 4th release,
Add to the Beauty
. Groves will tour in support of the project beginning October 6th when she hits the road with Jars of Clay and Chris Rice. Candidly truthful and compassionately hopeful,
Add to the Beauty
echoes Sara's first release in its' intimate and honest lyrical journey. "When we started
Add to the Beauty
, we set out to take beautiful pictures of the songs, to recapture the straight forward feel of
Conversations
, and couldn't have found a better song photographer than Brown Bannister," recalls Sara. "It has been a surreal and wonderful experience to work with the man who helped bring Age to Age to my living room over 20 years ago." Song-writing has traditionally been a solo process for Sara, but this album found her co-writing with songwriters like Joel Hanson who provided the great drive-with-the-windows-down music for "Just Showed Up," and Ed Cash who took "When It Was Over" to a new level. Additionally, Gordon Kennedy put the melody to "Loving a Person," and "It's Going to Be Alright," and Matt Bronlewee topped the album off at the eleventh hour with the album's title track
Add to the Beauty
, and also helped complete "You are the Sun". "You Are The Sun" will also be the project's first radio single, which will be serviced to AC and INSPO radio on August 26. Dedicated to Sara's Granddad and Grammie who "lived as such brilliant examples of what it means to add to the beauty," Sara comments on the theme of the project, stating, " The kingdom of God doesn't just come in the rally or worship event. It comes when we speak respectfully to our spouses, and refrain from letting our anger spill over onto our kids or friends, when we have an opportunity to gossip and refrain, when we open up our homes, when we mess up royally, and have the stuff to go apologize, when we refuse to blame everyone else for our own problems. In the everydayness of the kingdom, we are invited to be brilliantly beautiful, all of us moons with no light of our own, invited to shine." (from
The M Collective
)
---

Dwango® Wireless, a leading developer and publisher of mobile entertainment content for top lifestyle brands, announces that music fans can download exclusive
Amy Grant
mastertones and images for their mobile phones through Beliefnet Mobile. Dwango Wireless' partnership with Beliefnet allows the pair to deliver spiritual-themed content to mobile devices. Exclusive mastertones, which are high quality music clips for cell phones, from Grant's "Anywhere With Jesus" and "How Great Thou Art'" songs and two exclusive images of Amy Grant are now live here. In addition to the exclusive mobile content, Amy Grant ringtones, mastertones and additional image choices are also now live at the site. The mastertones cost $2.99 each. Ringtones and images are $1.99 each and are compatible with a variety of wireless devices. Grant's "Anywhere With Jesus" is featured on her newest and critically acclaimed project,
Rock of Ages…Hymns and Faith
.
Rock of Ages
is Grant's twentieth album and follows the recent Gold certification of her first hymns project,
Legacy…Hymns & Faith
, on which "How Great Thou Art" is found. Additionally, Grant will be featured this fall hosting NBC's anticipated television series, "Three Wishes." The hour-long, unscripted show spotlights Grant as she leads a team of experts to "grant" wishes to help make the hopes and unbelievable dreams of deserving people come true. Viewers will follow the deeply personal and heartwarming stories as Grant and her team transform these hopes into a life-changing reality. For More information visit
www.AmyGrant.com
(from
Word Records
; gathered by JfH)
---

Renowned storyteller
Mark Schultz
will release the two-disc, CD/DVD project
Mark Schultz Live – A Night Of Stories & Songs
Sept. 27. The fourth project from Mark, the compilation encompasses his greatest hits since the release of his acclaimed self-titled debut in 2000. Mark's live shows and albums have connected time and time again with people, young and old, from different walks of life. And just as the masses have embraced him over the years, so has the industry as evidenced by his numerous accolades including six No. 1 hit songs and multiple Dove Award nominations. Filmed LIVE before a sold-out crowd at the Marion Civic Center (Marion, IL) earlier this Spring, the project features six favorites, two brand new songs and other timeless classics from Mark's past three studio albums.
Live – A Night Of Stories & Songs
also includes the brand new studio cut, "I Am," which currently continues to climb AC and INSP radio charts. Fans will additionally enjoy a personal look at Mark's own coming of age story as he traveled from Colby, KS to Nashville, making his dreams a reality with the help of friends along the way. The gift of writing stories through firsthand life experiences has made Mark Christian music's premier storyteller. However, his humble approach will attribute that gift to those who have been placed in the path that God has carved out for his life, as revealed on
Mark Schultz Live – A Night Of Stories & Songs
. (from
Word Records
; gathered by JfH)
---
The band from southtown San Diego,
P.O.D.
has finally announced the release date for their new project.
Testify
, the band's fourth major label album hits store shelves December 6th! (from
Word Records
; gathered by JfH)
---
Floodgate Records is thrilled to announce the signing of
Transition
. For two years, the band, based in Pittsburgh, PA has been working hard, building a solid grassroots fanbase throughout the country, while most of the band was still in high school. In 2004 they released a self-made CD
Sunset Wakeup
, and sold over 4000 copies on their own. One year later, Transition independently recorded a brand new self-titled EP which has already moved over 3,000 copies in only 2 short months of release. "We had been fans of Mourning September for quite a while, so we were aware of Floodgate," explains Steve Biringer, guitarist for the band. "But once we got to meet Tim and Josh, and really got to see just how much of a family Floodgate Records is, and what the label is all about, we knew that we could call Floodgate home." Dan Smyers, singer in Transition, states, "Floodgate seemed to be the right choice because the label cared about us just as much as we cared about them. Success comes much easier when both sides are working hard together to achieve the same goals. Transition came to the attention of the label earlier this year, after hearing rave reviews from other bands and checking out their amazing presence on purevolume.com. "Right away we were blown away by Transition," explains Josh Ragsdale, A&R for Floodgate Records, "They have an amazing live show and they are one of the hardest working bands I have ever seen. From the first time we saw them, we knew that they should be a part of the Floodgate family. Look for big things to come from this Pennsylvania band." Dan continues, "I am happy to be on Floodgate because I feel like I am part of a family." This past week, the band played to huge happy crowds at several Warped Tour dates across New England, and is wrapping up the summer touring down the Atlantic coast. Transition will enter the studio early in 2006, with a release date set for later in the spring. (from
Biscuit PR
)
---
Greatest Hymns
, from multiple Dove Award-winning Curb recording artist
Selah
, will release August 23. The collection brings together performances of 12 hymns from their three previous studio recordings, including "Great Is Thy Faithfulness," "There Is Power In The Blood," "How Great Thou Art," "Amazing Grace" and "Bika Mono Ve (Pass Me Not, O Gentle Savior)/It Is Well With My Soul." In addition,
Greatest Hymns
includes three selections available for the first time on a Selah recording: "O Sacred Head Now Wounded," from the multi-artist Next Door Savior project; the trio¹s never-before-released rendition of "Be Thou My Vision"; and "Be Thou Near To Me," with Jim Brickman from his Grace recording. "Be Thou My Vision," the first single from
Greatest Hymns
, is currently #10 on CRW¹s Inspirational chart for the week of August 15. "This collection brings together the hymns we have recorded, along with the song we did with Jim Brickman," said Selah¹s Todd Smith. "These songs have so much depth‹we hope people will be able to listen, relax, and spend time worshipping." "I'm especially excited that listeners will be able to hear our version of "Be Thou My Vision,'" said Selah¹s Allan Hall. "I think it represents 'vintage Selah' and is one of my favorite tracks we¹ve recorded. I'm also pleased we could include "O Sacred Head Now Wounded." With the pictures it paints, I believe it is one of the best-written hymns." Nominated for Artist of the Year and Group of the Year at the 2005 GMA Music Awards, Selah's best-selling 2004 recording,
Hiding Place
, featured the multi-format Christian radio #1 "You Raise Me Up." This spring, the group was featured on Michael W. Smith's "Healing Rain" Tour. Since their debut in 1999, Selah has garnered eight Top 10 Christian radio singles and three Dove Awards for Inspirational Album of the Year, along with a 2002 Dove for Traditional Gospel Recorded Song for "Hold On." (from
Turning Point PR
)
---
It's been 16 years since the inception of
Christafari
, and much of the band's initial teenage fanbase now have kids of their own. Combining their love for reggae and their heart for kids, Christafari has delivered
Reggae Sunday School
, their most original concept album to date. Producer/vocalist Mark Mohr has assembled the world's finest gospel reggae musicians and vocalists for a unique children's album that is unlike anything you have heard before. Featuring a massive ensemble of guest appearances from popular reggae artists Red Cloud, Richie Righteous, 'Imisi, Avion Blackman, Jaibo Culture, Monty G, Ace Winn and Solomon Jabby,
Reggae Sunday School
is sure to satisfy even the most critical of ears.
Reggae Sunday School
includes many American and Caribbean Sunday school classics plus a few new Christafari originals. Through its interludes, it takes listeners on a journey to the mythical islands of "Yeahman" and "Noman" and introduces such engaging characters as Nigel the Iguana, Calypso the Coconut, Manu the Mango, Seymour the Seagull and Patchouli the Jellyfish. "
Reggae Sunday School
answers the cries of parents in search of quality children's music," says Mohr. "Do not be fooled by what the title suggests - this project is also for adults who are still kids at heart!"
Reggae Sunday School
was released April 16th and is available in stores and direct from www.gospelreggae.com. Lion of Zion Entertainment, the largest provider of gospel reggae and world music on the planet, is distributed to Christian and mainstream stores nationwide through Infinity Music Distribution (a division of Central South Dist. Inc.). Infinity currently distributes such top selling artists as Lifehouse, Blindside, Kevin Max, Stryper and Gladys Knight. (from
Nashville Publicity
)
---

Point Of Grace
will launch the Christmas season Oct. 4 with the release of
Winter Wonderland
, the anticipated follow up to the girls' Gold-certified
A Christmas Story
from the last decade. Produced by Brown Bannister (Amy Grant, Michael W. Smith),
Winter Wonderland
includes 10 holiday songs showcasing Point Of Grace's intricate harmonies. Select tracks additionally feature string arrangements that were recorded in London. The Christmas collection contains such sing-along classics as "Jingle Bells," "Little Town," and a "Santa Medley" of "Here Comes Santa Claus," "Rudolph the Red-Nosed Reindeer" and "Frosty the Snowman." Fans who have seen Point Of Grace on Michael W. Smith's acclaimed "Christmastime" tour will applaud Heather's rendition of "All Is Well" with piano accompaniment from Michael. Also featured are Church favorite "Breath of Heaven" and the new original song, "Let There Be Light," which will further support
Winter Wonderland
at radio this Oct. (from
Word Records
; gathered by JfH)
---
*Thursday, August 18th, 2005*
---

Long before "American Idol," the
Gospel Music Association
(GMA) has been discovering the future recording artists of Christian and gospel music every summer in the Rocky Mountains. Last week, winners were named at the 31st Annual GMA Music in the Rockies' Spotlight 2005 and Song of 2005 competitions. "There was a lot of excitement generated at this year's event, with many key industry tastemakers talking about the impressive level of talent that entered in the Spotlight and Song competitions. I suspect a few of these young artists will find their way to development and songwriting deals before too long. Perhaps some of them will experience great careers in Christian music because of this experience," said John. W. Styll, president of GMA. There were a total of 13 categories for this year's competition - eight finalists in Spotlight and five finalists in Song. From those winners, four Grand Prize winners were named for Spotlight Vocal, Spotlight Band, Spotlight Instrumental and Song. In addition to a performance slot on the main stage on closing night of the Music in the Rockies concert series, the Grand Prize winners receive prize packages which include musical equipment, free studio time and professional performance consultation. The total packages are worth thousands of dollars and offer priceless opportunities for these artists to pursue their musical goals. An urban-flavored quartet of sisters known as
Witherspoon
were named the Spotlight Vocal 2005 Grand Prize winners. Coming to Estes Park from the Seattle area, sisters Erica, Krista, Tasha and Tamara also placed first in Urban Gospel and took home second place in the Vocal Group Spotlight categories. In addition, Krista and Tamara's song "I'm Good," placed first in the Urban/Gospel/Hip Hop Song category. Taking their name from the Hebrew word for "worship,"
Shachah
, made up of Earl Mergelsberg, Brenden McPeek, Jesse Morales, Joshua Wagner and Bryan Whitley, captured the Spotlight Band 2005 Grand Prize. From southern California, the band's "I Will Not Die Today," took third place in the Urban/Gospel/Hip Hop Song category.
Daniel Yarbrough
, a drummer from Oklahoma, won the Spotlight Instrumental 2005 Grand Prize and Colorado's Megan Isaacson's "My Worship" was named Song of 2005 and also claimed first place in the Praise & Worship/Choral Song category. For a full list of winners, click here:
http://www.gospelmusic.org/events/winners.aspx?aid=16&pid=125
(from
Spinhouse PR
)
---

Platinum-selling singer/songwriter
Steven Curtis Chapman
is ready to spread the holiday cheer this season with his Christmas CD,
All I Really Want For Christmas
, releasing September 27th on Sparrow Records. In addition, bookshelves will be stocked this fall with
Shaoey And Dot: A Christmas Miracle
(Tommy Nelson Publishing), the second installment of the "Shaoey And Dot" picture book series penned by Chapman and his wife, Mary Beth. With more than one million of his Christmas titles sold to date, Chapman's
All I Really Want For Christmas
is his 15th studio project with Sparrow Records. This collection of 12 original and traditional holiday favorites includes new Chapman originals, such as "The Night Before Christmas," "The Miracle of Christmas," "All I Really Want," as well a new version of the timeless hymn "Angels From The Realm of Glory." Also included are Chapman's renditions, previously recorded for his 2003 Hallmark release
Christmas Is All In The Heart
, of "Silver Bells," "Go Tell It On The Mountain," and "Home For Christmas." Ed Cash produces the new songs while Brown Bannister produced the songs from
Christmas Is All In The Heart
. Rounding out the holiday project are a couple of special appearances, one from country superstar Vince Gill sharing his voice on a new version of "Christmas Is All In The Heart." Another special guest is Chapman's first adopted daughter, Shaohannah Hope. Shaoey starts the CD off with her touching narration of "The Christmas Story" taken from the Book of Luke. She closes out the project, joined by her dad, singing her rendition of "We Wish You A Merry Christmas," a special hidden track at the end of the CD. Shaohannah, now age 6, also appears with her dad on the CD cover.
All I Really Want For Christmas
' first single, the endearing "All I Really Want," promises to be a song we'll want to hear for years to come. The song focuses on a topic dear to Chapman's heart – adoption. "All I Really Want" shares the story of a little boy's one item wish list to Santa, asking not for toys at Christmastime but for a family. Chapman sings: "
All I really want for Christmas is someone to tuck me in, a shoulder to cry on if I lose and shoulders to ride on if I win / There's so much I could ask for but there's just one thing I need / All I really want for Christmas is a family
." To promote the single, Chapman will be filming a music video in Los Angeles at the end of the month. Brandon Dickerson of Merge Productions, based in San Francisco, will direct the video. Dickerson will also be filming him in another music video for Chapman's song, "Remembering You," the first radio single from
Songs Inspired By The Chronicles Of Narnia: The Lion, The Witch and The Wardrobe
. J. David Huffman, COO, Creative Trust, comments, "With All I Really Want for Christmas, Steven is giving what everybody wants for Christmas – a warm, emotive experience about all the joys of the holiday season for all ages." "Steven has once again delivered a pristine offering of songs for this new Christmas album," says Peter York, President, EMI CMG Label Group. "He has captured the emotion, wonder and miracle of Christmas and invites the listener to enter in." Chapman will do a nationwide tour this holiday season promoting
All I Really Want For Christmas
with friends MercyMe. Together they will appear in 21 markets beginning the day after Thanksgiving in Greenville, SC and ending December 20th in Indianapolis, IN.
Shaoey And Dot: A Christmas Miracle
will be released by publisher Tommy Nelson this November, in time for National Adoption Awareness Month and the Christmas season. This story is a wonderful reminder of the miraculous love that makes every Christmas a special one while sharing with its readers the many joys of adoption. (from
The M Collective
)
---

Project 86
will be embarking on the "...And The Rest Will Follow, Album Release Tour" beginning on September 23rd! Also on the tour will be bands Spoken, Number One Gun, Mourning September, and The Fold (on select dates). So far cities confirmed include Modesto, CA, Roseville, CA, Fresno, CA, Spokane, WA, Portland, OR, Seattle, WA, Salt Lake City, UT, Denver, CO, and Omaha, NE, many more to be announced soon! See the shows page for details! (from
Project86.com
; gathered by JfH)
---

You can catch
Hawk Nelson
this Fall touring the west coast as part of their Recess Tour with special guest 4th Avenue Jones! Also, this Fall, the band, along with 4th Ave, will be joining Dizmas and Thousand Foot Krutch for the latter's The Art Of Breaking Tour. Hawk Nelson is prepping for a Spring release of their sophomore project, but be sure to check out the band's Expanded Version of their debut
Letters To The President
that releases October 4th! (from various, including
HawkNelson.com
; gathered by JfH)
---
Stavesacre
announced Tuesday that they have signed a multi-album deal with Abacus Records, an imprint of the Century Media Group. Century is one of the biggest independent labels in the world, with offices in the US, South America, Australia, UK, and Europe. The band is currently recording in Los Angeles at Studio 606 with producer Matt Hyde (Hatebreed, Strung Out, Slayer & lots more) recording their first album for Abacus,
How To Live With A Curse
. The record will hit the shelves in early 2006. (from
Stavesacre.com
; gathered by JfH; thanks to Kevin V.)
---

Derek Webb
is excited to announce a first for the Christian music industry with the introduction of his very own iTunes podcast. Derek's podcast is available now as a free download at iTunes and will feature exclusive interviews, music and performances that can be downloaded and listened to on iTunes or on your iPod. You will also soon be able to take home the "live" experience with the release of Derek's first-ever live DVD,
How To Kill And Be Killed
. The DVD will feature live concert footage as well as unique and extensive behind-the-scenes interviews. Well-known song favorites such as "Wedding Dress" and "I Repent" will be featured as well as many others. The DVD is currently available for purchase only at Derek"s concerts and officially hits store shelves October 11th. (from
INO Records
)
---
Atlanta-based worship leader
Aaron Shust
is set to release his highly anticipated debut project,
Anything Worth Saying
, August 23 on Brash Music/Word Distribution.
Anything Worth Saying
overflows with well-crafted pop hooks wrapped in memorable, vertically-oriented songs. The project was produced by Dan Hannon and mixed by Steve Bishir (Amy Grant, Chris Tomlin, Garth Brooks) and Dan Hannon. Players include John Chalden (drums), Tim Gibson (bass), Candi Pearson-Shelton and Michael Mellett (backing vocals). Shust contributed acoustic guitars and piano while Hannon and George Cocchini (Michael W. Smith, Michael McDonald, Tim Hughes) played electric guitars. "This is a record that reflects my heart and I hope that people who hear it will find a connection," said Shust. "I think the majority of the songs have moments of introspection, moments of real honesty that confess, I don't have what it takes. I'm empty. But I'm running to the God that has it all." The first single from
Anything Worth Saying
, "Matchless," was serviced to AC and CHR radio and has already seen a tremendous response including adds at KTIS/Minneapolis (Skylight Network), WBVM/Tampa, WBFJ/Winston –Salem, WFRN/South Bend, KBNJ/Corpus Christi, WXHL/Wilmington and KLJC/Kansas City. For the last five years, Aaron Shust has served as a full-time staff member and worship leader at Perimeter Church, a progressive, 27-year-old congregation in Atlanta. Beyond that community, Aaron leads worship throughout the United States at new churches, adult retreats and youth camps, placing his songwriting fingers firmly on the pulse of the church's devotion. He recently announced an exclusive management agreement with Blanton Harrell Cooke and Corzine, and joins the company's roster of best-selling, award-winning artists and authors such as Amy Grant, Michael W. Smith, Frank Peretti, Joy Williams, Bebo Norman and Point of Grace. In addition to his work promoting
Anything Worth Saying
, Shust is preparing to embark on a fall tour beginning in October. (from
The MWG
)
---

If you missed the Tuesday, August 2 edition of Praise The Lord on TBN, you missed an amazing program. The August 2 program featured performances by
Kirk Franklin
, who debuted his new single "Looking For You" as well as another new song, "Imagine Me," live. Hosted by Pastor Paula While, the show featured a panel discussion with guests Bishop Noel Jones, Bishop Liston Page, Bishop Neil Ellis and Pastor Jamal Harrison Bryant, as well as additional music by Judy Jacobs. Taped in Atlanta just prior to the launch of Mega-Fest, the compelling dialogue among the panelists has been quite the hot topic since the show first aired. In fact, we have heard that this particular edition of the Praise The Lord broadcast had the highest ratings of any other PTL broadcast in the previous 90 days! For those of you who heard about it but missed it the first time, or if you saw it before but can't wait to see it again... set your TIVOs, DVRs and VCRs because TBN will be re-airing this riveting program this week! The program will rerun a total of 3 times, first on Thursday, August 18 at 10pm/9pm EDT/CDT, and on Friday, August 19 at 2am/1am EDT/CDT and again at 5pm/4pm EDT/CDT (from
Fo Yo Soul Entertainment
---
*Saturday, August 13th, 2005*
---
Today is
Jesusfreakhideout.com
's ninth birthday! Thanks to everyone for their support through the years! Here's to many more!
---

Nationally distributed PARADE answers reader's question on
Steven Curtis Chapman
. PARADE is a fixture in 330 Sunday newspapers all across the United States with a readership of over 36 million people. In addition to several feature articles, PARADE's best-known feature might be the Q&A page where reader's questions are researched and answered by PARADE's staff. This weekend's PARADE feature a reader's question about our own Steven Curtis Chapman. We don't know what the question is... But we do know Steven's Christmas album
All I Really Want For Christmas
comes out September 27. (from
StevenCurtisChapman.com
)
---

Michael W. Smith
celebrated his 30th #1 single this week as "Here I Am" secured the top spot on R&R's Inspirational Chart. This is Michael's second consecutive #1 from
Healing Rain
(10/26/04). The album's title track claimed #1s on the following charts: R&R's Inspirational (10/24-12/12 - 8 weeks), AC Monitored (11/7 -1 week) and AC Indicator (11/7-14 - 2 weeks). It was also #1 on CRW's Inspirational chart (11/15-29 - 3 weeks). While his music is celebrated at radio, "Smitty" continues to perform before crowds in sold out venues nationally and internationally. In October, he travels to Brazil and Europe for several events where ticket sales reflect a tremendous fan base. In just four weeks, more than 14,000 tickets were sold for his concert in Holland. Hans Groeneveld, of GMI Music Partners, shares that event organizers are discussing the possibility of adding more seats to the venue in order to meet ticket demand. While in Europe, Michael will also visit countries including Switzerland, France, the United Kingdom and Germany. (from
Provident Music Group
)
---

The Recording Industry Association of America (RIAA) recently announced its album and video certifications for the month of July.
Relient K
's 2004 project,
Mmhmm
(Gotee) was certified Gold for shipments of more than 500,000 units. The band's 2003 project,
Two Lefts Don't Make A Right... But Three Do
(Gotee) also received the same distinction from the RIAA in March. Also, be sure to tune in next Tuesday, Aug. 16th, at 2PM EST/PST to watch Relient K perform "Be My Escape" LIVE on MTV's TRL! Vote for the video everyday to get it on the TRL COUNTDOWN.
Click here
to vote now! (from
GMA
/
RelientK.com
, gathered by JfH)
---

Hard rockers
Staple
are set to release their sophomore effort entitled
Of Truth And Reconciliation
with Flicker Records on August 30. To support their newest release, the band will be hitting the road from September 25-October 14 with friends
Forever Changed
(Floodgate Records) and
Sides of the North
(Word of Mouth Records) on the
HM Magazine Presents: The Tour of Duty
. This tour will encompass much of the southeast and midwest, hitting cities like Atlanta, Dallas, Kansas City, and Dayton, Ohio along the way. For the past few years, Staple has been regarded as one of the premier up-and-coming heavy acts in Christian rock music. The highly-anticipated
Of Truth And Reconciliation
picks up where their self-titled debut album left off, touching on many subjects that people face in the world every day. Forever Changed has spent most of 2005 on the road winning new fans in cities across the U.S. with the likes of He Is Legend, Kids In The Way, The Wedding, and label-mates Yellow Second. Their debut album,
The Need To Feel Alive
, has received rave reviews for lead vocalist Dan Cole's personal and direct lyrics and the bands catchy pop rock hooks. The first single off the record, "Encounter," has reached number-three on the Christian Rock R&R charts and still resides in the top five. Hailing from Dayton, Ohio are Sides of the North, a melodic blend of emotional vocals and driving energy comparable to the likes of Chevelle and Moments In Grace. The band released
The Incurable Romantic
on Word of Mouth Records in March, and has received national airplay of their single "Melody" for the past several months. Fans of these bands can check out
www.thetourofduty.com
for updated tour dates, ticket info, and contests featuring the bands. Look for The Tour of Duty—coming to a town near you this fall! (from
Demus3Entertainment
)
---

Nashville-based Christian music distributor TAG Artist Group has partnered with 3-time Dove Award winner
Clay Crosse
for the September 15th release of the live worship CD and DVD
Eternity with You: Live Worship
. With over 1 million records sold at Christian retail and nine #1 Christian radio hits including "I Surrender All" and "He Walked a Mile," Crosse gathered members of his home church at the historic Ardent Studios in Memphis, Tennessee to record and film this exciting worship experience. It has been more than three years since his last release. During that time, Crosse has served as worship leader at The Love of Christ (TLC) Community Church in Memphis, where the idea for this project was born. States Crosse, "This live worship CD represents the free worship experience we encourage at TLC, and I'm very excited to share it with people." The release of the CD and DVD coincide with the release of Crosse's confessional new book release
I Surrender All: Rebuilding A Marriage Broken by Pornography
, written with his wife Renee. The new book from NavPress will hit stores the same day. "I met Clay a few years ago when I worked his last album internationally for another Distribution Company," says Dan Huisinga, president of TAG. "As a Christian I am excited to see how God has moved in his life and where He has taken Clay's ministry. As A Company, TAG is proud to represent his calling and musical gifts with our partners at Christian Retail." Crosse joins the TAG roster alongside such artists as Bryan Duncan, Phil Keaggy, Leon Patillo, Steve Archer, Chuckie Perez, Kent Bottenfield, Joy Oliver, Chronos, Substance and Bruce Carroll. "After over a decade in Christian music, I understand the importance of having a solid team working hard to achieve significant goals," says Clay Crosse. "I am thrilled to now be teamed with TAG to get my music to the fans." (from
Nashville Publicity
)
---
Josh Bates
, Beach Street/Reunion Records newest signing, hit the radio air waves this week with his song, "Perfect Day" as second most-added on R&R's AC monitored chart. Bates was second only to label mate Casting Crowns and its debut of "Lifesong." "Perfect Day" is the title track to Bates' debut album slated for release Sept 20. Radio stations currently playing the single include AC format stations KLTY/Dallas; KXOJ/Tulsa, Okla.; WFZH/Milwaukee; WAKW/Cincinnati; WPER/Fredricksburg, Va.; WGRC/Williamsport, Pa.; KJTY/Topeka, Kan.; WCVK/Bowling Green, Ky.; INSPO format stations KNLB/Phoenix; WJLZ/Norfolk, Va. and the CHR format station WSCF/Vero Beach, Fla. Singer/songwriter, and Kentucky native, Josh Bates (23) was only 15 years old when he became acquainted with Mark Miller, president and founder of Beach Street Records, an imprint of Reunion Records, which set off a seven year mentoring friendship. A uniquely talented musician, Bates has played mandolin since he was eleven and now plays guitar and piano. He grew up singing in church, influenced by the culture of the Appalachian region. (from
Provident Music Group
)
---
*Wednesday, August 10th, 2005* -- UPDATE
---
It may be somewhat quiet in the
Third Day
camp these days, but that doesn't mean the band has been inactive -- quite the contrary actually. Although details are scarce, the boys from Atlanta are gearing up for a brand new studio album releasing November 1st called
Wherever You Are
! Click on the image below for a Jesusfreakhideout.com exclusive look at the first ad for the album! More info on
Wherever You Are
coming soon!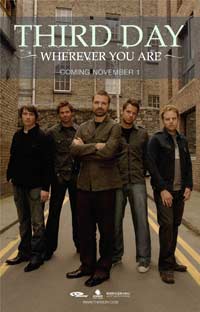 (from
Essential Records
)
---

Building on the success of its previous outings,
See Spot Rock
is excited to announce the next strong rock line-up for its upcoming fall tour. Slated to appear are three-time tour veterans
Pillar
, enthusiastic rockers
Falling Up
, Dove award-winning Day of Fire, the power pop/punk
Stellar Kart
and emo rockers
The Wedding
. The tour kicks off November 4 and runs through December 17, hitting 20 cities across North America. See Spot Rock has quickly become a recognizable brand name in the Christian tour market. The inaugural See Spot Rock tour was listed in Pollstar's Top 50 Grossing Tours for that touring season, and combined, the last two tours played for over 101,000 tickets buyers and grossed over $1.8 million, while the readers of CCM Magazine voted See Spot Rock their "Favorite Live Show of 2003." "Our first two tours with See Spot Rock have branded the name with literally hundreds of youth leaders and thousands of fans. The 2005 line-up is very strong and builds on the tradition of the first two tours in delivering relevant, exciting music and is in fact the most well-rounded true rock tour of the fall," says Steve Thomas, president of Alabaster Arts and creator of See Spot Rock. The first year See Spot Rock hit 42 cities, with many dates selling out, including one in Lancaster, Pa., that left hundreds of fans in line with no ticket. This year tour organizers heard from concert promoters early as they called to book dates long before a line-up was even finalized. To date, this fall's See Spot Rock is scheduled to stop in Dallas, Philadelphia, Minneapolis, Chicago, Toronto, Kansas City, Mo., Tulsa, Okla., and Omaha, Neb. "We couldn't be more pleased with See Spot Rock. The participating bands, the numbers sold and the name recognition of the tour all speak to what a great tour this has become, one that the fans can depend on every year to put out a quality product," says William Morris agent Mark Guynn. Debuting in February 2003, See Spot Rock hit the road to bring together great artists from different popular rock backgrounds in a tour that aimed to celebrate the fact that music can still move the masses for good. For more information on the See Spot Rock tour and tour updates, please log on to
www.SeeSpotRock.com
. (from
Hoganson Media
)
---

Robbie Seay Band
, an established rock worship act newly signed to Sparrow Records, will have the title track from its debut national release,
Better Days
, featured as a free "Discovery Download" at iTunes.com beginning August 16-the same day the Houston foursome's album hits stores nationwide. "Better Days" will receive top placement at the iTunes.com Inspirational page for one week beginning Tuesday, August 16, and will be free for downloading to all registered iTunes users. Learn more at iTunes.com. With four independent albums already under its belt, Robbie Seay Band has built a significant grassroots following among fans of modern worship music. The group also leads worship at Ecclesia, a downtown Houston church. Following the August 16 release of
Better Days
, Robbie Seay Band will join David Crowder*Band on the Collision Tour in September. See concert dates at
RobbieSeayBand.com
. (from
Sparrow Records
)
---
*Wednesday, August 10th, 2005*
---

Nearly every member of the multi-platinum and award-winning band
MercyMe
would tell you that Christmas is their favorite time of year, which is why after selling nearly 4 million units, the band puts their stamp on the holidays with
The Christmas Sessions
, which will release this September 27th. Supported by a national network TV campaign, both INO and SONY/Epic will release the project to both the CBA and general markets respectively. (For a complete track list and album art,
click here
) In order to truly represent the Christmas spirit on this project, MercyMe recorded the majority of
The Christmas Sessions
last Christmas, and wrapped it up this summer. Produced by Brown Bannister, the project features classic titles and contemporary yet recognizable melodies with "Winter Wonderland," the swingin' "Rockin' Around the Christmas Tree," "Silent Night," "White Christmas," and a MercyMe original with the emotional "Joseph's Lullabye." INO and SONY/Epic will partner to service Christmas singles to radio as well. Following three straight hits on mainstream AC, a single will be serviced this fall, and on the heels of their sixth No. 1 song at Christian radio, the single "Joseph's Lullabye" will be serviced to Christian AC, CHR and INSPO formats in late September. MercyMe will also hit the road for a 20+ city major market co-headline Christmas tour with
Steven Curtis Chapman
the day after Thanksgiving. A band favorite is the track "I Heard The Bells on Christmas Day," because, says guitarist Mike Scheuchzer, "The story behind the writing of that song is amazing...the war, and hardships that Longfellow had endured, and to still be able to find hope...that's what Christmas is all about...hope." (from
The M Collective
)
---

It's official...
Kirk Franklin
's brand new album,
Hero
, will be released on October 4, 2005! Kirk has been working hard on the album for several months and the wait is almost over. The first single from the new album, a throwback jam called "Looking For You," is now playing exclusively at
www.KirkFranklin.us
. Visitors to Kirk's website can also pre-order the new album as well as view "Constructing Hero", a series of behind the scenes videos which chronicle the making of the "Hero" album. Currently playing is "episode 1: the photo shoot". Upcoming performance dates in support of the new album include the GMWA in Milwaukee on 8/17, Mt. Zion Baptist Church Youth Rally in Nashville on 8/19, New Birth Baptist Church in Atlanta on 8/21, the About My Father's Business conference in Indianapolis on 8/26, "The Takeover" taping at TBN in Dallas on 8/30 and KISS FM's Night of Healing in New York City on 9/13. Stay tuned to
www.KirkFranklin.us
for all the latest news and updates. (from
Fo Yo Soul
)
---

Grammy Award winning singer
Rebecca St. James
will be a featured performer during Family Research Council's simulcast television program, "Justice Sunday II – God Save the United States and this Honorable Court!" The program is set for Sunday, August 14th at Two Rivers Baptist Church in Nashville , Tennessee and will be broadcast live in churches across the nation in addition to being carried on hundreds of radio stations, via satellite and web-cast on
www.justicesunday.com
. Australian born St. James has throughout the late '90's until present been considered a major defining female voice in contemporary Christian Music. With sales of her music soaring around the globe, her signature blend of modern pop/rock sensibilities and lyrics of unwavering devotion has blazed straight to the heart of an entire generation. Along the road of more than 200 concert dates a year, her path has led to 17 Top 10 singles--#9 of which reached the #1 spot on the charts. Her book on the subject of abstinence, Wait For Me, became a #1 best seller on the Christian book charts in 2003. This month marks the release of her latest book SHE Teen (Tyndale) which seeks to provide biblical answers to the moral and social challenges teen girls are facing in today's culture. St. James has also been an articulate and passionate spokesperson on social and moral issues pertaining to Christianity in America . Her success story in the music industry, in fact, parallels the dream of a fresh start in a new land upon which America was built. She and her family immigated to the U.S. from their native Australia in the early '90's. For more information regarding the "Justice Sunday II -God Save the United States and this Honorable Court" live simulcast, log onto
www.justicesunday.com
or call the FRC Press Office at (202) 393-2100. (from
Morning Star
)
---
Hip-hop collective,
L.A. Symphony
will release the highly-anticipated
Disappear Here
on October 4th on Gotee Records/EMI CMG Distribution. The 15-song project, produced at large by L.A. Symphony, features guest appearances from the legendary Madlib (Stone's Throw), Evidence (Dialated Peoples), Great Jasn (J-beits), Sup the Chemist, and DJ Rhetmattic. The overall theme of the album is perseverance. "I think this is our best album to date," says Cookbook. "Not only do we explore more topics than ever before, but our sound and style has grown as well. I love how the album is broad in the sense that it has the fun stuff, the party stuff, but some deep stuff as well. This time around we took 4 months and shut everything else off, and made this album together. The result is a good blend of the 5 of us, all really contributing on every level. We've been in this for a while, and seen the ups and downs, and we're still here to say never give up on your God-given dreams." L.A. Symphony's
Disappear Here
marks the group's second release on Gotee Records. Their discography includes 2003's
The End Is Now
(Gotee/Basement), as well as the independently- released
The Baloney EP
in 2001, and
Composition #1
(Eartube Empire) in 1999.
Call It What You Want
, was completed and set to release on the now-defunct Squint label in 2000, but was never officially released to retail, although a leaked version made the rounds on the Internet. (from
LB PR
)
---

EMI/Tooth & Nail rock band
Thousand Foot Krutch
's new album,
The Art Of Breaking
- Produced by Arnold Lanni (Our Lady Peace, Finger Eleven, Simple Plan), sold 14,396 and landed at #67 in Billboard's Top 200 in its first week of release (according to SoundScan) and was the #2 most selling release album over all in the CBA marketplace. It is the follow up to their previous release,
Phenomenon
. The first single, "Absolute," is climbing the charts and is already approaching the TOP 10 at Christian Rock radio. The first single at General Market radio "Move", goes for adds at Active and Alternative Rock on August 23rd. Currently, 28 stations have already added including Detroit (top 10 already), Phoenix, Amarillo, and Buffalo. Click
here
for our review of
The Art Of Breaking
. (from
Big Machine Media
)
---

Fervent Records band
Big Daddy Weave
claimed superior positioning at SoundScan this week with the debut of its acclaimed third national album,
What I Was Made For
. Recorded amidst the devastation of 2004's Hurricane Ivan, which destroyed band members Mike and Jay Weaver's family home and memories in Gulf Breeze, FL, Big Daddy Weave this week took retail by storm as
What I Was Made For
debuted in the Top 10 on the Christian SoundScan chart. The band's project additionally debuted in the Top 20 of SoundScan's combined Christian and mainstream chart. The successful launch of
What I Was Made For
was further supported by Big Daddy Weave's strong debut at AC radio with the album's second single, "Just The Way I Am." The song was this week's highest debut on R&R's AC chart and was also listed as one of the "most added" and "most increased" on the chart. The project additionally includes the No. 1 AC hit, "You're Worthy Of My Praise," which features labelmates BarlowGirl. Advancing the release of What I Was Made For, band members Mike and Jay, Jeremy Redmon, Jeff Jones and Joe Shirk embarked on a 10-day promotional tour, appearing on the renowned southeast broadcasted Rick & Bubba Show and further performing during several stops including brown bag concerts in Houston (KSBJ), New Orleans (WBSN) and Birmingham (WDJC). (from
Word Records
)
---

Casting Crowns
celebrates another remarkable week at radio with "Lifesong" breaking into the top 10 on both R&R and CRW charts, after only one week since the song's official add date. This week, "Lifesong" is No. 10 on R&R's AC Monitored chart and moves up an incredible 20 chart positions to reach No. 7 on R&R's AC Indicator chart. At CRW, the song grabs the No. 8 spot on the AC chart, up from No. 20 last week, and climbs 7 positions to No. 10 on R&R's Inspirational chart. Also impacting the CHR format, "Lifesong" doubles its chart position in one week landing at No. 15 on R&R and No. 13 on CRW. Tom Greene, program director for WMHK in Columbia, South Carolina says, "This is one of the best songs I've heard in the last couple of years! It's a great song with a great message coming from one of the hottest groups out there. A definite must-add!" Debuting as the most-added song across all radio formats last week, "Lifesong" is the title track off of Casting Crowns' anticipated sophomore album releasing Aug. 30. (from
Beachstreet
)
---
Rambler Records rock band
The Wedding
had several of their songs featured on recent episodes of MTV's reality show "Pimp My Ride." The July 24 and 31 episodes featured clips from several songs off of their self-titled debut album, including "One Eye Open," "Joyride" and the band's current radio single, "Song for the Broken," according to a recent press release. (from
GMA
)
---
*Friday, August 5th, 2005*
---

It's beginning to look a lot like... Christmas. In Nashville's July heat,
Steven Curtis Chapman
wrapped up recording his new Christmas recording,
All I Really Want For Christmas
. This is Steven's third holiday CD and his 15th studio project. Chapman released
The Music Of Christmas
in 1995, which has sold over 500,000 copies. Then in 2003,
Christmas Is All In The Heart
, offered exclusively at Hallmark Stores nationwide as their well-known national chain's yearly Christmas album, sold 400,000 copies in 10 weeks. In fact, the Hallmark project was no longer available and sold out by December 9th of that year, leaving many Chapman fans "out in the cold" on obtaining the 6 new tracks recorded for the project. Now, in 2005 Steven has just completed work in the studio on 6 newly recorded tracks, along with the 6 tracks that were new for that difficult to find and no longer available Hallmark exclusive album... for the release
All I Really Want For Christmas
. The track list includes: 3 newly written and recorded tracks from Steven, new covers of the Christmas classics "God Rest Ye Merry Gentlemen" and "Angels from the Realms of Glory," and a new '05 re-recorded version of the Steven's well-known "Christmas Is All in the Heart" with a very special guest. Available September 27, the album features the first recorded appearance by Steven and Mary Beth's adopted daughter Shaohannah Hope Chapman. Shaoey also graces the album's cover with her Dad. Shaoey appears on the cover to try to capture the emotion behind the moving song "All I Really Want," written by Steven about a boy with just one Christmas wish, a family. For a full tracklisting and album cover,
click here
! (from
StevenCurtisChapman.com
; gathered by JfH)
---

Rocketown Records recently announced the release of
Ginny Owens
fourth studio album,
Long Way Home
, set to hit stores Oct. 11. For the first time, Owens serves as co-producer on all 10 tracks, along with Monroe Jones (Third Day, Chris Rice), Will Hunt (Shane and Shane, Ryan Cabrera) and Vince Emmett (Paul Colman, Rebecca St. James). "We made music in Los Angeles, Austin, Nashville and New York for Long Way Home," said Owens. "The tracks are as diverse as the cities themselves, and the recording process was unlike any I've ever known. Venturing into the world of production was a wonderfully challenging experience, just as playing in the studio with my band from the road was an absolute joy. I've laughed; I've cried; I've learned much; and I've grown as an artist and writer because of it all. The songs on this project are my attempts at sharing a bit of what I've learned about life, love and faith over the course of my journey here on this planet. I hope and pray they will be a source of encouragement and peace to those who listen." In addition to radio and retail promotion, Owens' fall Street Week will be marked by the build of a Habitat for Humanity house in New Orleans. Owens is sponsoring this build, and the house will be occupied by a family in which both parents are disabled. Owens, who has participated in several Habitat builds, will be on site during the week to assist with the project as part of her ongoing activities with her own non-profit foundation, the Fingerprint Initiative (fingerprintinitiative.org). In addition to crafting what many are already calling the landmark CD of her career in
Long Way Home
, Owens has kept busy in 2005 with the release of a live CD and DVD as well as the launch of Fingerprint, which is focusing its efforts this year on assisting disadvantaged children through a number of outreach programs and partnerships. Owens has also recently contributed vocals to works by Jim Brickman and David Wilcox, and she worked alongside former President Jimmy Carter on a summer Habitat build. Last month, Owens sang the National Anthem for President George W. Bush during a special "T-Ball on the South Lawn" game at the White House. An eight-time Dove Award nominee and 2000 winner of New Artist of the Year, Owens has achieved phenomenal acceptance and acclaim in both the Christian and mainstream music communities over her short career, including appearances at Lilith Fair, Sundance Film Festival, NPR and on multiple TV soundtracks as well as four Top 5 Christian radio singles. Don Donahue, president of Rocketown Records, said, "Ginny Owens is unquestionably one of Christian music's most insightful songwriters, and with Long Way Home, she sets the bar even higher. This project is loaded with great melodies, profound truth and hooks that are bound to please radio programmers and listeners alike. But even more importantly, it's full of heart, a passionate and authentic expression coming from an immensely talented woman who I am privileged to call my friend." (from
Rocketown Records
)
---

The face of revolution has never been more radiant than that of 28 year old Australian rocker
Rebecca St. James
. Her new book,
She Teen
, hits bookstores this month--taking dead aim at a generation of teen girls who find themselves besieged with sexual messages to "just do it" as they grow up in a culture when teen pregnancy is the U.S. is at an all time high. St. James, an Australian born rocker, believes "building self esteem and right moral choices in girls at an early age is the only defense." It's a language she understands. Rolling Stone magazine bannered their June-July cover feature, "The New Virgin Army...Life Among the Young and the Sexless." Inside they recommended her book,
Wait For Me
as must read 'Virginity Lit 101' material on the subject of the abstinence agenda. Christian Music Planet posed her on their most recent cover as a major influence for good in reaching a lost generation. Discovery Channel this week sent a film crew from Canada to Nashville to tape her thoughts on the rising tide of virgins among us for a Sex Files documentary set to air in the fall. Toronto's influential Globe & Mail last month did a major profile feature on her--calling her "an alternative pop music icon--the Other Madonna." Rebecca St. James is indeed a one woman cultural revolution. She noted in a recent interview: "We live in a totally 'if it feels good do it world' fueling kids from every direction including too often their own classrooms with messages like 'condoms work as an alternative' or 'oral sex is not really sex.' As I tell young people, abstinence before marriage is the only guaranteed protection. Inspite of that fact, in researching for my latest book we found that even in the face of the risk of HIV and the more than 15 million new STD infections diagnosed each year, 33% of 8-11 year olds and 49% of 12-15 year olds said that the pressure to have sex is a big problem for them. Teen pregnancies and abortions scar lives with consequences that last a lifetime.Young people discover that sex satisfies only for a short time, while it's consequences, when indulged in outside of marriage, live on." What is working? "What is working is God's way--abstinence until marriage," she notes. The Sydney born rock chick with music and a message of "Just Say No to Sex Before Marriage" is an artist that young people all over the globe are embracing. More than Grammy Awards and international record sales soaring into the millions, she is increasingly becoming in a two word definition: Culturally relevant. This month, St. James, in the midst of creating her latest album of much anticipated new music, takes time out of the studio to launch promotion for the teen edition of
She
.
She Teen
will reach book shelves in an innovative "bookzine" format--a two hundred plus page full color book with all the slick pizazz of a high fashion magazine. It's a book that the author hopes will prove a real resource to girls 11-18 --an age group that Rebecca's music is particularly popular with. Subjects such as dating, boundaries, peer pressures, relationships with parents, real beauty--and of course sexual purity--are addressed in relevant terms that teen girls can understand and adopt as positive reinforcements in overcoming life's challenges. (from
Morning Star
)
---
*Thursday, August 4th, 2005*
---

NewSong
recently experience a close call when their tour bus lost control. "Early Sunday morning, July 31st, we avoided major injury as our bus blew a front tire and our driver lost control," the band announced on their website Monday. "We were on our way to a pre-game concert at the Durham Bulls Athletic Park. The bus was traveling approximately 65 MPH when the tire blew and we headed off the highway and eventually came to rest in a ravine. While a few of the guys were thrown from their bunks, the bus miraculously kept from overturning. It took over six hours for a wrecker service to clear the bus and trailer from the ravine. We are thankful for all of the prayers and concerns you have expressed and apologize to all of the Durham fans who came to the game early to see us. We cherish you all and will see you at a future concert. Blessings, NewSong" (from
NewSongOnline.com
, gathered by JfH; thanks to Justin)
---

MuteMath
's long awaited full length debut has hit more delays. While originally looking at a Summer 2005 release, their first LP has been pushed back to sometime next year! And on top of that, the guys recently had to cancel an international tour... "Yes, it is true. Unfortunately, we had to cancel our Europe trip," frontman Paul Meany announced on the band's Myspace page Tuesday. "This was an extremely difficult decision, but the bottom line was we couldn't afford to go. For a start up band like us, a tour over seas is always a financial loss… We tried everything we could to pull it off, but regretfully fell short. I'm sure to most of you who planned to see us at these events and bought tickets, an apology isn't good enough, and honestly it feels quite inadequate to even offer one. So I won't… I'll just make a promise. My promise is to deliver the greatest ensemble of 12 songs ever captured under one album's title, and this will not include the EP songs. If we do decide however to put EP songs on the album they will only be in addition to the new 12. Also when the show finally does make it to your neck of the woods, expect a life altering experience. We have the highest respect for anyone who considers themselves to be one of our fans, and we will only present to you our absolute best. Regrettably, we will not be able to get our LP out this year, but there is some good news for the meantime. This October, we will launch a new website that will be chock full of tasty treats and what's to come. And now for the infamous Mute Math quote… 'Thank you for your patience'" (from
Myspace.com/MuteMath
, gathered by JfH; thanks to J.Tinker)
---

Flicker Record's hard rock band
Pillar
raked in its fifth No. 1 radio hit last week with a cover of U2's legendary song "Sunday Bloody Sunday." The song, from its May 24 project
Where Do We Go From Here: Limited Edition
, is Pillar's tenth Top 3 single of eleven that have been released to radio. "Sunday Bloody Sunday" takes its place among a growing list of Pillar tunes that have topped the Christian Rock charts, songs like "Open Your Eyes," "Live For Him," "Fireproof," and "Bring Me Down." Additional tracks including "Original Superman," "Echelon," "A Shame," "Further From Myself," and "Hypnotized" also earned favorable positioning in the Top 3. News of the current single's success comes as no surprise to Flicker Records' vice president and general manager, Troy Vest. "Pillar has a kind of timeless quality that makes its music more and more relevant as the years progress," he comments. "Not to mention that rock is 'the' hot format in Christian radio right now. The guys are simply doing what they do best." "Sunday Blood Sunday" is one of two new tracks that were recorded for the limited edition. The project, in all its versions, has collectively sold more than 200,000 units. For more information on the limited edition CD/DVD visit
www.pillarmusic.com
or
www.flickerrecords.com
(from
Savvy Media
)
---

Sharing the title of the film
Dreamer: Inspired by a True Story
, EMI Sparrow Records artist
Bethany Dillon
¹s song "Dreamer" will be featured as the end credit song. Opening nationwide on October 21, the movie
Dreamer
stars Kurt Russell, Dakota Fanning, Kris Kristofferson and Elisabeth Shue in a heartwarming tale of a horse trainer (Russell) and his daughter (Fanning) who nurse an injured horse back to health and, together, strive to achieve a dream against all odds (
www.dreamworks.com/dreamer
). As the end credit song, "Dreamer" is inspired by a story Fanning¹s character tells during the film - a story of a King who gave up everything for his kingdom. The song, like the movie, is about sacrifice and faith, and was co-written by Dillon and Ed Cash, Gospel Music Association Producer of the Year. This month, Dillon and Sparrow Records will partner with DreamWorks to produce a music video for "Dreamer" and begin promoting the song as a single which is set for a September 12 impact date at Hot AC and Triple A radio formats. "Dreamer" is also the opening track to
Imagination
, the follow up to her highly acclaimed eponymous debut. Continuing where the first album left off,
Imagination
showcases Dillon¹s soul-searching spirit and the profoundly simple prose that is the product. The songwriter¹s lyrics accompany listeners on a journey reflective of the conflicting thoughts and emotions that are naturally stirred within us all - there is a song for everyone on
Imagination
. (from
Turning Point
)
---

While
PAX 217
is winding down to their final shows in a few short months, lead singer
David Tosti
has taken a slight turn from his music career. Tosti and his wife Alli are headed to New York City for a taping of The View. Thursday August 4, at 10:00 am (EST/PST), the couple will be part of a segment titled "How Pornography Ruined Our Marriage." Thankfully, the couple will be the exception to the segment's title. For the past few months, David has been working with
XXXCHURCH.COM
in their office as well as speaking at churches, concerts, colleges and festivals. He has been telling his honest story of his struggles with this issue over the years, and how that has effected their marriage. Theirs is a story of grace, forgiveness and mercy, and now the world will get to hear it. PAX 217 is currently doing their farewell shows at festivals across the country, ending with a final concert in their home region of Los Angeles on October 1. (from
Biscuit PR
)
---

Robbie Seay Band
is preparing for the August 16 release of
Better Days
, the group¹s major label debut with Sparrow Records/EMI CMG. Produced by Jay Joyce (Nichole Nordeman, Patty Griffin), Will Hunt and Robbie Seay Band, and primarily mixed by Jacquire King (Modest Mouse, Kings of Leon), Better Days features 11 vertically-focused selections, all written or co-written by the Texas foursome. "When I first heard Robbie's music, the thing that immediately stood out to me was his amazingly unique and soulful voice," relates Sparrow Records Vice President of A&R, Brad O¹Donnell. "As I kept listening, though, I was affected by what he was saying and the way his lyrics dealt with real life, how the divine appears in the most common situations. I was drawn to his perspective on the world, on relationships and on God." Comprised of Dan Hamilton, Ryan Owens, Chase Jenkins and Robbie Seay, the group leads worship at Houston¹s Ecclesia, a downtown community of faith that includes a full-time coffee bar and Hyde Park Studio, where the band recorded several songs on Better Days. In addition to their work within Ecclesia, Robbie Seay Band has recorded four independent projects and developed a significant grassroots following by connecting with fans online via www.robbieseayband.com, selling their albums through online stores and touring. "There is something more than music here, and only one in a million bands can get to this place," said acclaimed author and friend Donald Miller ("Blue Like Jazz"). "They validate the beauty of the material universe by hinting at the mystery beneath it." The album¹s first single, "Faith Of Our Fathers," has been serviced to CHR and Rock radio. "This is a song written out of the realization that my faith was very small and very 21st century-focused," said Seay. "We are not alone. Faith did not just show up yesterday. Here¹s to all who¹ve gone before, all who will go ahead‹the men and the women of faith." The song¹s theme is also the focus of an upcoming book of the same name, written by Seay, his two brothers, father and grandfather, in which the three generations discuss various issues of faith from five unique perspectives. The book is slated for release this fall by Youth Specialties/Zondervan. Robbie Seay Band joins the 30-city
David Crowder*Band
"Collision Tour" this fall, along with
Shane & Shane
. Tour stops include New York City; Los Angeles; Seattle; Salem, Oregon; Tulsa, Oklahoma; San Antonio; Waco, Texas; Orlando, Florida; and Athens, Georgia, among other markets. (from
Turning Point
)
---

A new Web site has launched in association with the
Passion '06
conference to be held January 2 – 5, 2006, in Nashville, Tennessee. Registration for the event, featuring musicians Chris Tomlin, David Crowder Band, and Matt Redman and speakers Louie Giglio, John Piper, and Beth Moore, is now open. Already, Passion '06 organizers are anticipating a larger attendance than Passion '05, which attracted more than 11,000 people from all 50 states and was the setting for the current best-selling concert album,
Passion: How Great Is Our God
. Passion '06 will be based on Isaiah 26:8 and invites attendees to "Come together with your generation. Encounter God. Process truth. Join the movement for His renown." Complete Passion '06 information is now available at
268generation.com
. (from
SparrowRecords.com
, gathered by JfH)
---

Christian radio's mega-hit producing band
Casting Crowns
lands an impressive first week with its new single "Lifesong" earning the 'most added' banner across all formats on both R&R and CRW charts. The single currently sits at No. 15 on R&R's AC Monitored chart, No. 11 on its Indicator chart and debuts at No. 18 on Billboard's Hot Christian Adult Contemporary chart. In addition, the combined charting on the CRW formats already has the hit-bound song reaching more than 5.5 million in audience impressions. Written by Songwriter of the Year and lead singer Mark Hall, "Lifesong" is the title track off the band's anticipated sophomore album releasing Aug. 30. For the JfH PReview of
Lifesong
,
click here
... (from
Providen Music Group
)
---
*Wednesday, August 3rd, 2005*
---

sixstepsrecords/Sparrow Records artist and collegiate favorite
David Crowder Band
prepares to release its first new full-length studio album in two years,
A Collision
, Sept. 27. Following two widely successful, groundbreaking projects, David Crowder Band continues exploring the science behind music and worship. "For the past two years, I have ended most nights in concert with the following statement: 'When our depravity meets his divinity, it is a beautiful collision.' This recording is about that collision," says frontman David Crowder. "It is a rendering of our mortality and eternal life. It is the hope in a rescue that has come, the hope in a rescue that has found us and the relentless hope in a greater rescue that is still coming. This music, broken, improper and inadequate in its response, is rooted in that hope. The Kingdom of Heaven is here and now and coming." As the band's number-one-selling sophomore release Illuminate explored the empirical facts about light, translating them into revelation of God and creation, so the new album stems from the improper depiction of the atom and its elliptical paths around the nucleus. "This is the difficulty with symbols," says Crowder. "They are never quite proper; they are always a bit broken. This inadequate drawing roused both hope of discovery and reminiscence of destruction in me as I thought, 'We are creating broken containers.'" More than 73 minutes over 18 tracks,
A Collision
features the first studio version of the concert favorite, "Here Is Our King," which released to radio this week. The live recording of the song from Passion 05 can also be heard on the No. 1-selling CD,
Passion: How Great Is Our God
. In addition to other new, groundbreaking songs from the David Crowder Band, the album includes a cover of "Everybody Wants to Go to Heaven" by Loretta Lynn, Sufjan Stevens' "O God Where Are You Now? (In Pickerel Lake? Pigeon? Marquette? Mackinaw?)," "The Lark Ascending" by Ralph Vaughn Williams and the band's first-ever take on bluegrass with "I Saw the Light" by Hank Williams, Sr. As the band explored bluegrass music through Williams' song, a fairy tale collision occurred. "We met Marty Stuart at the Dove Awards a year ago. He was backstage wearing a black suit, aglow in rhinestones, sparkling down both sleeves and spanning the back of his jacket in the shape of a very large cross," Crowder recalls. "None of this would have been entirely strange if not for the fact our guitar player had suggested one day prior that we should get Marty Stuart to help us with the bluegrass number." Soon after, David Crowder Band found itself gathered around a microphone in the late Johnny Cash's cabin outside of Nashville with Stuart, recording "I Saw the Light," two of Williams' verses, the one of Cash's and one of Crowder's. The rest of
A Collision
was recorded in Waco, TX in the barn behind Crowder's house. Built in 1885 by then-Waco corner drugstore owner and alchemist Wade Morrison, the barn's color resembles a Dr. Pepper can, whose origins are Mr. Morrison's corner store. The entire recording process was documented online with weblogs and four webcams, which ran 24 hours a day for four weeks. On a whim, Crowder posted an invitation to all fans watching to join the band for a BBQ and group singing on "I Saw the Light." People responded and arrived for the event from several surrounding states and beyond, including California, Tennessee, Georgia and other places. (from
Hoganson Media
)
---

Krystal Meyers
, Essential recording artist, celebrates her 17th birthday this week on the shoot of her new video "Anticonformity." The video is directed by "Otis" who has directed videos for artists including Stellar Cart. Much of the video's footage is being shot on location at New York's famed Coney Island. Krystal began her birthday week in concert Sunday night (7/31) in Columbus, Ohio with Seventh Day Slumber and Day of Fire. Before the show, Krystal met up with TV-U and was surprised with a birthday cake. At the age of 16, Krystal released her self-titled debut album on June 7. She co-wrote all songs on the album but was the sole writer on her song "Sing For Me." The album features Krystal's personal anthem of 'anticonformity' which she describes as, "Becoming the person God wants you to be, instead of the person the world wants you to be." Right now, Jesusfreakhideout.com is giving away autographed music and swag from Meyers (as well as an "iPod Shuffle" in our latest contest!
Click here
for more information... (from
Essential Records
)
---

One of Christian music's most innovative and energizing rock group,
BarlowGirl
, will release its long awaited sophomore project,
Another Journal Entry
, for Fervent Records on September 27, 2005. Produced by Otto Price (GRITS, dcTalk), the album marks a more intimate look at the three sisters, Becca, Alyssa, and Lauren Barlow, as the material came from their personal journals, which outlines their joys and struggles from the last 18 months.
Another Journal Entry
shows the maturity and growth of BarlowGirl as songwriters, musicians, and as spokespeople for teens and young adults in their music ministry. However, BarlowGirl's spiritual message remains true to what it always has been,
Don't Conform, Be Transformed
. They challenge their fans to trust God and not base their values and self-worth on what the world thinks, as that will only lead to unhappiness and missing God's plan for your life. "We are giving kids freedom to not conform and speak out loudly about what they believe," says the middle Barlow, Alyssa. "Our generation is ready to live boldly, free of what everyone thinks of us. We must live, and live with passion!"
Another Journal Entry
is the follow-up to the incredibly successful self-titled debut that made BarlowGirl the breakout act of 2004. Besides the CD being a top-seller, the album produced the hit singles, "Mirror," and "Never Alone," with the latter single now being released into the mainstream market by Warner Bros. Records. The success also led to four Dove nominations that included Best New Artist and a stellar spotlight performance on the GMA Music Awards. "Never Alone" was also named Song of the Year by R&R and Christian Radio Weekly in 2004 and "You're Worthy Of My Praise" (a duet with labelmates, Big Daddy Weave) earned the honor of the fastest rising single in Fervent Records history. One of the perks of stardom that BarlowGirl enjoys the most is connecting with their millions of fans, as they have been touring non-stop throughout the United States and Europe spreading their message of hope, devotion, and acceptance. BarlowGirl can rock as loud as any male dominated rock band but at the same time can wrap their vocals around an emotional and heartfelt ballad to deliver it with strength and power. On
Another Journal Entry
there are eight new songs written by BarlowGirl that spotlight entries from their daily journals that include rockers "Grey," and "Psalm 73 (My God's Enough)" and the fragile "Porcelain Heart." There are also two covers of worship songs, David Crowder's "No One Like You" and Chris Tomlin's "Enough." And as a special treat for BarlowGirl fans there is an acoustic version of the breakout single, "Never Alone." (from
Bozeman Media
)
---

You can pre-order the first ever
Project 86
DVD now for only $15.00 at the band's webstore on Project86.com! The DVD will ship beginning on August 31st. It is a 1 hour documentary about the making of
...And The Rest Will Follow
, it also features the "Spy Hunter" video, brand new photos, brand new music, as well as a $2.00 off coupon for the new album which hits stores on September 27th, 2005 thru Tooth & Nail! Order now by clicking
here
. (from
Project 86
, gathered by JfH)
---

Jars of Clay. Nichole Nordeman. Stacie Orrico. BarlowGirl. Matthew West. Rachael Lampa. Aspiring artists from all over the country have journeyed this week to the Rocky Mountain resort town of Estes Park, Colorado to find out if they might join this notable list of successful gospel music recording artists who launched their careers at the gospel music industry's longest-running talent competition.
GMA's 31st Annual Music in the Rockies
, which continues through August 6th, features six days of educational/professional development seminars and music concerts, but it is the Spotlight 2005 and Song of 2005, the official Gospel Music Association (GMA) talent competition for unsigned artists and songwriters, that draws so many aspiring artists. Competition preliminaries began Monday morning. Spotlight finalists for performance and Song finalists for songwriting will be chosen on Friday for Contemporary Christian, Praise & Worship, Southern Gospel, and Urban Gospel genres with grand prize awards handed out each category. In addition to a package of prizes, those winners will be given a coveted performance slot on the main stage at Friday night's Music in the Rockies' final concert. New to the Music in the Rockies' competitions for 2005 is a partnership between the GMA and Walt Disney World Resort which will send one contestant to perform at Night of Joy at the Magic Kingdom in Orlando, Fla. in September. Judges from Walt Disney World are at the competition this week to make their selection. "There is nothing like Music in the Rockies in all of music," said John Mays, Vice President of A&R for Centricity Records and faculty member for the GMA Academy. "It's a priceless opportunity for those aspiring to join this profession to be mentored by artists and to be seen and heard by key A&R, record label and publishing decision makers. Every year lives are changed, and music careers and ministries are launched at Music in the Rockies." GMA Music in the Rockies started in 1974. That summer, Cam Floria, president of Christian Artists' Corp., launched an event called Christian Artists Music Seminar in the Rockies, designed to bring together experts in the Christian music industry to provide networking and training opportunities for church choir directors and aspiring musicians. In 2000, the GMA acquired Seminar in the Rockies from Christian Artist Corporation. In 2004, GMA changed the name to GMA Music in the Rockies. (from
Spinhouse PR
)
---

Demon Hunter
's forthcoming third album,
The Triptych
, will be available with three different album covers. The band is also recording their first ever cover song on the album. "Snap Your Fingers, Snap Your Neck" was originally released on the 1993 album
Cleansing
by the band Prong, a precursor to much of what is happening in metal today. While failing to stray too far from the band's tried and true identity,
The Triptych
will be Demon Hunter's heaviest, most technical and traditionally metal oriented album thus far. The drums, guitars and vocals will be more diverse and punishing than ever. Get ready... October is only a few months away and will be here before you know it! (from
DemonHunter.net
, gathered by JfH)
---
Music label 3.1 Productions opens its doors in Cool Springs, Tenn. with a commitment to developing today's top new artists. Label home to imprints Selectric and Skytone Records, the company will introduce its debut act,
Monday Morning
, on Aug. 30. Launched by industry veterans John and Dino Elefante in partnership with Greg Weston of Weston Entertainment, 3.1 Productions is founded on a progressive model for multi-layer artist development. Beyond partnering with traditional distribution outlets Provident-Integrity Distribution and a soon-to-be named general market partner, 3.1 Productions will also enlist its own Deep Music Distribution. Deep Music will focus on distributing the label's developing acts in mainstream and general markets. "Having the ability to release an artist on one or all of our triple tier distribution sources is exciting to us" comments company CEO, Dino Elefante. "Independent artist retail exposure through our Deep Music Distribution system, all the way up to our general market partner who will be substantial, is what I feel makes us unique. Our rock imprint, Selectric, will give faith-based artists direct access into the general market. On the rock front, we feel the opportunity for these artists is the strongest it's ever been." 3.1 Productions rock imprint, Selectric Records will introduce the company's debut band, Monday Morning, on Aug. 30. Comprising Derek Stipe (lead vocals), Justin Blythe (guitar), Kevin Stipe (bass) and Kent Rector (drums), the native North Carolinians garnered earlier success with their 2002 independent release,
Blind
. The album earned two Top 5 Rock radio hits as well as guest openings on the 2002 "Summer Jam Tour" and "Winter Jam Tour" hosted by NewSong. Additionally, the band was featured on Stryper's fall 2003 "Reunion Tour." Monday Morning's first national project,
Fool's Paradise
, was produced by Quinlan (Benjamin Gate, Everyday Sunday) in conjunction with Grammy and Dove award-winning producers John and Dino Elefante. It combines a modern melodic rock sound with a relevant message about overcoming the traps of worldly living. (from
Savvy Media
)
---
Reunion Records joined with radio station KLTY to launch new recording artist
Ana Laura
during Celebrate Freedom, the largest free outdoor concert in America, on July 2 in Dallas. Ana Laura hosted the event on camera highlighting many of the attractions and activities throughout the day and then performed on stage in front of 200,000 people. "What a talent!" said Keith Nelson, artist event director and senior account executive Celebrate Freedom. "We have been playing her single for months at KLTY and thought Celebrate Freedom would be a great way to introduce her to the listeners. We designed the 'Ana Laura Cam' as a feature to help convey to the thousands of attendees what was going on at different locations during the event." Between Nichole Nordeman and Casting Crowns' sets, Ana Laura sang "The Star-Spangled Banner." Listeners first heard Ana Laura through her remake of the hit single "Because You Loved Me" which impacted CRW AC radio charts this year peaking at No. 19. "We were very excited to introduce Ana Laura to KLTY's audience at Celebrate Freedom 2005," said Andrew Patton, vice president national promotions, Provident Label Group. "Ana's voice is going to be a welcome sound to AC and Inspirational radio this fall. Ana will also be on an extensive radio promotional tour this fall which will take her to 30+ markets for radio visits, interviews and brown bag opportunities." Ana Laura is slated to release her debut album Dec. 27 this year on Reunion Records. She is also featured on the opening track of the original Christmas album
Come Let Us Adore Him
from the producers of the
City On A Hill
series hitting stores September 27. For more info on Ana, visit
www.analauramusic.com
! (from
Provident Music
)
---

The new
Justin McRoberts
record is almost finished and entitled
Grace Must Wound…
We are hoping for an October release and will take pre-orders as soon as we have a finalized date. Ya-hoo! This album is fantastic and inspiring, and is said to possibly be Justin's best work to date... (from
JustinMcRoberts.com
, gathered by JfH)
---
This month's issue of
Alternative Press
features
Underoath
on the cover! Be sure you pick up a copy of the issue to read the Underoath feature article... and don't miss the Tooth & Nail label profile feature on page 56! The issue is on newstands now.
Click here
for an image of the cover. (from
Tooth & Nail
, gathered by JfH)
---