November, 2003
---
*Wednesday, November 26th, 2003*
---

Michael W. Smith
recently wrapped his highly successful "Celebration Tour" and readies for another concert run that already reports dramatic sales momentum. The "Christmastime Tour" will visit 15 cities throughout Nov. and Dec., launching in Duluth, Ga., and wrapping in Smith's hometown of Nashville, Tenn. The "Christmastime Tour" will usher in the holiday spirit, as Smith performs perennial favorites with special guests
Point of Grace
and
The Katinas
. "I love this time of year, and I especially love Christmas music," comments Smith. "This tour is really special for me. To be on stage with great singers like Point of Grace and The Katinas is overwhelming. Often, during the evening, I stop singing and just listen; I think I enjoy the evening more than anybody else in the building! What a joy to celebrate Christ's birth with these good friends."
---

For the month of February,
Bleach
and
John Reuben
will be joining forces and embarking on a co-headlining tour. John's amazing new record
Professional Rapper
will be in stores on December 2nd! Tour dates will be releasing in the near future, so stay tuned! Also, John informed us he hopes to be taking out a live band on the road with him for the first time for this tour. You won't want to miss it!
---
If you missed it,
Switchfoot
performed on Jimmy Kimmel Live late Monday night. Kimmel announced before their rousing live performance of hit "Meant To Live" that the quartet's recent release
The Beautiful Letdown
has achieved Gold selling status (that's 500,000 units) that day. Congrats guys!
---

This week
Kutless
finished up putting those last minute touches on their new album
Sea of Faces
. "This album is a step above their debut release..." says Kyle (drummer). Their first single "Treason" is heading up the Christian rock charts right now, debuting at #23 on the top 30! If you get a chance, call you local radio station and request "Treason" to spice up your Thanksgiving!
Sea Of Faces
drops February 24th!
---
Seven Places
will be re-issuing their album
Lonely for the Last Time
to include 2 additional songs! This should be in stores the beginning of the year!
---
Word Records artist,
downhere
and The Salvation Army are partnering together for a benefit concert at 7:00pm on Friday, December 5th in Building 8 at The Factory in Franklin, TN. All donations given that evening will go toward the Salvation Army's "Forgotten Angel Fund," and will be used to purchase Christmas presents for the Angel Tree commitments that will not be fulfilled by Christmas Eve. "With God's blessing and the loving support of many Middle Tennesseans, The Salvation Army Angel Tree will lift the spirits of thousands of 'the least of these' this Christmas," states Major Ronnie Raymer, Salvation Army Area Commander. "downhere has a very personal and spiritual affinity for our Christ-centered service ministry. We know that their free concert on December 5 will glorify Christ and up-lift His Angels." downhere band member, Jason Germain adds, "It is a privilege to help make people aware of the Salvation Army's Forgotten Angels program. Each year there are Angel Tree commitments that are not fulfilled, which means there are children who may not receive presents. In doing this special benefit concert, it is our goal to raise enough funding so that there are not any forgotten children on Christmas morning."
---

Here's an updated from Ohio-bred rock band
Sanctus Real
... "Greetings all! Well, we are done with Festival Con Dios. As expected, it was a great time. It was good getting to know some more great bands. We are now at home, in between shows, writing for the new record and chilin' with family and friends. We just got through recording our track for the
VeggieTales Rocks
CD's (not sure of the "official" name). I don't think we ever saw ourselves covering a song by a cucumber or tomato or whatever, but good times! We have a few shows coming up through the end of the year, so if you can come out, come join us. After the new year, we will be going back to the studio to record our sophomore release. We are really excited about the next record and can't wait for you to hear it. Well, that's all for now. Until next time…"
---
Dexterity Sounds, a joint venture with EMI Gospel, has released the latest CD from
Bishop T.D. Jakes
--
T.D. Jakes Presents: Follow The Star
, a new collection of holiday music and reflections. Now, music lovers can prepare for an exhilarating and inspiring evening of television featuring live performances of music from the album, as well as special guests. The Follow The Star Holiday special will feature a stellar line-up of gospel superstars, including Beverly Crawford, MaryMary, Angie Winans, Kirk Whalum, Paul Jackson, Jr., Darwin Hobbs, Aaron Neville, The Blind Boys of Alabama, Donald Lawrence and the Tri-City Singers, and Bishop T.D. Jakes' Potter's House Mass Choir. The event will be hosted by the popular gospel music sensation Smokie Norful and long-time favorite Vickie Winans.
---
Casting Crowns
, the Atlanta-based band who has become the "fastest-selling new artist of 2003," has garnered yet another No. 1 this week. "If We Are The Body," which claimed the No. 1 spot on Radio &Records' Christian AC radio chart for three consecutive weeks, is now the No. 1 single on both the R&R and Christian Radio Weekly Christian Hit Radio Charts. "If We Are The Body" has been creating a frenzy at radio with listeners and program directors alike. Justin Knight, program director for WONU/ Chicago notes, "This song has such powerful lyrics that you can't help but be compelled to examine your life. It's refreshing to have a song like this that really connects with listeners."
---
Jill Paquette
recently performed at a Christmas Open House for Cokesbury's retail outlet in Nashville, Tenn. Sponsored by the Cokesbury retail chain and Christian radio station WNAZ, Paquette performed songs from her self-titled debut. Paquette's self-titled debut recently claimed the No. 6 spot on ChristianityToday.com's Top Albums of 2003. The list, comprised by six editors at Christianity Today International, is based on creativity, talent and broad appeal. Paquette's album was among artists such as Jars of Clay, Switchfoot and Stacie Orrico.
---
A good friend of the Hideout's,
Janine Stange
, a very talented young artist from New York has released her first record! Her debut album,
Lifetime Guarantee
showcases her powerful vocals on this pop effort. Check it out now, as well as her brand new website
http://www.janinestange.com/
!
---
*Friday, November 21th, 2003*
---

In a recent meeting with Word record label family,
Terry Jones
announced her departure as part of premiere vocal group
Point of Grace
. "For sometime now, and after much prayer and counsel, I have felt God calling me to be home and retire from Point of Grace. With three young children and a wonderful husband at home, it has become increasingly more difficult to juggle it all, and my desire is for me to be the mommy and wife I want to be for my family and myself. My husband Chris has always shown me nothing but amazing support for my career and ministry, and now we are in full agreement that God desires for us to simplify things," said Jones. "For over 13 years Heather, Shelley and Denise have been my sisters and our relationships are very strong. I am not leaving my relationship with the girls but will now be supporting them in a different way. Point of Grace will always be a part of my heart and my soul." Jones will continue performing with Point of Grace through March 1st, 2004 including the upcoming Michael W. Smith Christmas tour beginning November 29th. Plans for the next studio recording as well as additional Girls of Grace Conferences are well underway for next year. Upon Terry's exit from Point of Grace, long-time friend
Leigh Cappillino
will step in to fill the fourth spot. "It was important for the four of us to unanimously agree on who would be the perfect person to continue the call that God has for Point of Grace," said Denise Jones. " As we sought God's direction, it became abundantly clear that Leigh was the obvious choice. Heather, Shelley, and I felt it was imperative that Terry be as comfortable and at peace with the decision with the new member as we were. We are so thankful that this is the case with Leigh. She is not only extremely talented, but her integrity, love for people, and heart for the Lord have been incredible for us to watch over the years and we welcome her into our family."
---

"The Christmas Song," the bonus cut on
Tait
's new album,
Lose This Life
, releases to radio this month for the holiday season. Reminiscent of Nat King Cole's musical style, the song was produced by Brown Bannister (Steven Curtis Chapman, Avalon, Warren Barfield) and recorded live to 2-track format with players from the London Symphony Orchestra and the Royal Philharmonic. "'The Christmas Song' is my favorite Nat King Cole track," says
Michael Tait
. "No matter what time of year it is or what the weather is doing outside, I still get that Christmas feeling. When I was growing up, we would play that record every holiday season and I would sing to it, pretending I was Nat King Cole. I was the youngest Nat King Cole fan I knew! Recording this song was a tribute to one of my all-time favorite vocalists." And speaking of the holidays, after returning home from the acclaimed
!HERO
tour, Michael will have a full home as 30 of his family members come to town for Thanksgiving next week!
---

After setting the standard for global worship anthems, celebrated rock group
Delirious?
will release
World Service
on February 10, 2004, which marks a new chapter for Delirious? with a fresh collection of inspired songs created especially for the corporate worship experience. Redefining the meaning of praise and worship, Delirious? has sold more than 2,000,000 albums worldwide and are regarded as the forerunners of the modern worship movement. With landmark international classics like "I Could Sing of Your Love Forever," "Did You Feel the Mountains Tremble," and "Shout To The North," the songs of Delirious? have made a significant impact on the modern worship landscape around the globe.
World Service
, produced by Delirious? and Julian Kindred (Mercy Me, Sonicflood), features 12 new tracks and marks their finest release to date. Serving as an all-embracing experience, Delirious? returns to their roots of progressive and introspective worship tunes and share new worship songs that are destined to become staples within the church. Speaking of new stuff from Delirious?, the band's official newsletter recently made this little announcement... "The big-voiced deal-makers down here at Furious [Records] have just emerged from their soundproofed offices with some pretty tasty news for those of you living in North America. You know how we hate to leave you out of things, right? And you know how we were gutted not to be able to get you copies of our recent DVD release,
Archive:d
- the indispensable guide to all D:visual things. Well, just moments ago the Men With Big Shoulders down at the office lifted the lid on an exciting new development. We've just had clearance from EMI to sell the fantastic
Archive:d
DVD to you direct from our website. This is the first DVD to carry the D: seal of approval, and, at the risk of sounding like some truly awful TV ad, this product will not be available in store. And just to show that we're serious about keeping things nice and fair, we're making you a deal that we've not offered to anyone else in the world: buy yourself a copy of the
Archive:d
DVD and well send you not one but two free copies of a very special two-song cd. Containing spectacular tracks from the forthcoming
World Service
album, 'Majesty (Here I Am)' and 'Rain Down' have already ripped up the mp3.com charts. Sure, you can still download them for free, but sort yourself out with a copy of
Archive:d
and as well as the bonus of having two copies of the cd to hold in your hand, one of them will be personally signed by the band. The only problem for you is deciding which one to give away…"
---
The spring '03
See Spot Rock Tour
featuring
Relient K
,
John Reuben
,
Sanctus Real
,
Supertones
and
Pillar
is now in stores. It features music videos from all artists, live footage, over an hour of behind the scenes footage and a quirky message from
Steve Taylor
. It may be hard to find in stores, so know you can purchase it online by clicking
this link
.
---

The Limited Edition 2 -Disc Digi-Pak Set from
Jennifer Knapp
is in stores this week. Gotee Records sends thanks to everyone who voted online for their favorite songs, and to those that submited personal testimonies about specific songs. Gotee even decided to includes personal testimonies about the top 15 songs instead of lyrics. 33 testimonies were selected and submitted in the 28-page booklet that also includes brand new, never seen before, photos of Jenn. There is also a personal note from Jenn to you the fans, and a special quote from
TobyMac
!
---
CBS will rebroadcast its No. 1 rated 2002 made-for-television holiday movie,
The Christmas Shoes
, Dec. 21, 8 pm EST/ 7 pm CST. The film, based on
NewSong
's No. 1 hit, "The Christmas Shoes," will impact Top 40, Adult Top 40 and Christian radio formats this season as well. "The Christmas Shoes" song, followed by a New York Times best-selling novella, garnered attention of CBS executives who, touched by its universal message of hope, created a made-for-TV movie.
The Christmas Shoes
, which first aired in 2002, drew 17 million viewers making it the most watched and highest-rated original movie of the season. "We're ecstatic to see how this song has touched so many lives," noted Eddie Carswell, co-founder of NewSong. "We're thrilled to see the movie rebroadcast on CBS and we're reminded daily that this is completely a 'God thing;' that a simple story of giving would amount to this high-profile attention. We're very excited to be a part of bringing a message of hope this holiday season."
---

BEC Recordings artist
Jeremy Camp
is slated to release an album that comes highly requested by his fans,
Carried Me: The Worship Project
on February 10th. Currently writing for his sophomore release projected to hit stores fall 2004, BEC releases
Carried Me
in answer to numerous requests for Camp to share an essential and favorite part of his live show - worship. Performing worship is not something new for him, nor is it a recently added segment to his concert play list. In the mid 1990's Camp was leading worship and playing shows across the Southern California area. A few years later as he sat in the hospital room next to his dying wife he first sang the song "Revive Me" – a song that will be included on
Carried Me
. The compilation of songs in this project provides an outline of the faith that has carried Camp through life's highs and lows. The track listing includes other original songs such as "Longing Heart" as well as reworked standards, "Trust In You". "The songs are ones that have meant so much to me in my life," comments Camp. "Each of them has a special place in my heart because I remember singing them at different times, good times and hard times," Camp explains." "Jeremy Camp has been an inspiration to thousands and is he to me as well," stated Brandon Ebel, President of BEC Recordings. "We feel blessed to be working with a godly artist who has such a high level of integrity.
Carried Me
is the perfect companion record to
Stay
, and will tide people over for the amazing new album he will put out in the fall of 2004."
---
*Wednesday, November 19th, 2003*
---

Sparrow Records' artist
Steven Curtis Chapman
was awarded the American Music Award for Favorite Artist in Contemporary Inspirational Music at Sunday's show held live in Los Angeles at the Shrine Auditorium. The American Music Awards were broadcast nationwide on ABC. This is Chapman's second time to be nominated and his first win in this category, a category that has only been recognized for the last three years in the 31 years of American Music Awards broadcast. Thrilled by the win, Chapman comments, "It's great to know we have a home at this awards show. Because of this genre still be new to the AMA's, along with fellow nominees Third Day and MercyMe I feel this is more of a group win than the winner and a wonderful way to represent Christian music." Chapman was also a presenter for the evening, co-presenting with Sara Rue (ABC's "Less Than Perfect") as they introduced The Bomb Squad, an unsigned band that won the Coca-Cola New Music Award Competition and the opportunity to perform on the AMA's.
---

Speaking of the AMA's, Third Day attended the American Music Awards this past weekend as a nominee for Favorite Artist in the Contemporary Inspirational Music category. The band walked through red carpet interviews with outlets including ABC (AMA pre-show broadcast), Access Hollywood, E!, Extra and Entertainment Tonight. The 31st annual American Music Awards aired live from the Shrine Auditorium during a three-hour special on the ABC Television Network. Third Day received this nod after a GRAMMY win in February for
Come Together
in the Best Rock/Gospel Album category and a Song of the Year ASCAP award in April. Headed to the studio with producer Paul Ebersold (Skillet, 3 Doors Down, Jane's Addiction, Sister Hazel) to record a 2004 release, Third Day is already planning its spring and fall touring runs, visiting more than 80 cities next year. More information on its new music and the highly anticipated 2004 tour will follow in coming weeks.
---
Provident Music Distribution announces today the Recording Industry Association of America (RIAA) platinum certification of
WOW Worship
(Yellow). This certification marks the fourth platinum record for the
WOW Worship
series and the 14th for the WOW brand. Released on March 18,
WOW Worship
(Yellow), debuted at the No.1 spot on the Nielsen SoundScan Praise & Worship chart and again reclaims the top-selling position this week for the 27th time since release. Don Noes, sr. vp of Provident Music Distribution states, "Once again, the platinum success of
WOW Worship
(Yellow) demonstrates the viability of this brand in the marketplace. Provident is proud to be a partner in the
WOW
series and its ongoing mission of delivering relevant products to the Christian music consumer."
---

The current issue of
Rolling Stone
magazine (w/ Jessica Simpson on the cover) features
John Reuben
in regards to performing at a new Christian rock club called Club Three Degrees. The article briefly mentions Reuben among a few other artists who have performed at the club. However, giving a more negative angle to the story, the author doesn't hesitate to point out that
MxPx
refuses to play the club because the owners apparently demand the artists preach from the stage. MxPx's frontman Mike Herrara go as far as comparing the club owners to communists. It's an interesting read needless to say...
---

Jeremy Camp
has been working hard to put the finishing touching on his fresh new worship album,
Carry Me
. It features many new song, but also some very familiar tunes. Jeremy will be heading to Nashville the first part of December to record the final two songs "Beautiful One" (written by Tim Hughes who wrote the smash hit "Here I Am to Worship") and also covering "Wonderful Savior" by Chris Tomlin. This album is sure going to be one to pick up to start the year off right! Also the
Adoration: A Worship Tour
is excited to announce that Jeremy will be opening that tour as it heads across the states- headlining that tour is
The Newsboys
and
Rebecca St. James
.
---

Kutless
is in Seattle, WA this week working hard to meet the February 24th release date of their upcoming new album
Sea of Faces
. The guys just returned from Nashville where they filmed their first video for the title cut on this album. The video for the single "Sea of Faces" should be up on the BEC site in the coming weeks. Stay turned for that announcement. Their first single, "Treason", is already begin to blaze up the charts on radio, so pick up your phone and request "Treason" at your local Christian radio station. Kutless recently announced the line-up on their spring '04 tour. X 2004 present the "Sea of Faces Tour" with Kutless,
Thousand Foot Krutch
,
FM Static
,
Falling Up
and youth speaker
Ryan Dobson
.
---
For 5 weeks now,
KJ-52
's new album
It's Pronounced Five Two
has been at the top of the Christian music sales charts and continues to stand his ground as the newest mainstay in Christian hip-hop. KJ's single "Dear Slim Pt. 2" is also #1 this week on R&R's hip-hop Christian radio charts.
---
Essential Records' latest signing, rootsy pop-rockers
Silers Bald
, continues to spread the news of its Sept. 30 debut label release,
Real Life
. The band will be teaming up with its alma mater, University of South Carolina, on an assignment for students enrolled in the school's journalism program. This partnership arrives on the heels of a month-long promotional tour. Keen to the group's rising acclaim, USC's school of Journalism and Mass Communication recently extended a homecoming invitation to its distinguished alumni. Silers Bald will serve as the subject of a final project required by journalism 364, a course intended to teach visual communication to aspiring advertising, public relations and journalism students. "Silers Bald offers a very rich lyrical and musical content that my students have not been exposed to up to this point," comments assistant professor Scott Farrand. "The goal of this assignment is to put theory and skill to practice, and since bringing the band in for its initial meeting with my class, I've already seen the students' work reach a higher level. Silers Bald is the fourth group to participate, last year's was Hootie and the Blowfish, and we have been so impressed with Silers' ability to connect with the kids musically and personally." Participants will be asked to review
Real Life
, interview Silers Bald, and translate their experience into a visual concept in the form of a CD cover design. This exercise affords students the opportunity to create something for a "real client," while offering the band a look into listeners' perceptions.
---
Click on the link below for a feature article on
P.O.D.
in
USA TODAY
(in PDF format). The article also mentions little blurbs on other artists, like P.O.D. who say "we're Christians, but not Christian music"...
http://www.payableondeath.com/files/usa_today_11-2003.pdf
---
*Saturday, November 15th, 2003*
---

A new website for a new album. This is
Blindside
's philosophy. The band reports, "For those of us who have heard this album it is hard to contain the excitement. Most bands take a step or two between albums. Blindside takes giant leaps. Lyrically and musical it is beyond what you can imagine." But what's the hype all about? Well, Blindside's forthcoming release
About A Burning Fire
is in progress, but the band wants you to download the title cut -- for free! For a limited time you will be able to download the exclusive track. "It's our way of saying thank you to all of you for your support," says Blindside in their newsletter yesterday. "Plus we just really wanted you to hear it." The boys from Sweden also recently announced a special guest on the new record... "As most of probably have already heard by now
Billy Corgan
(ex Smashing Pumpkins, Zwan) was a guest on the new Blindside record. Billy was gracious enough to play on a track called 'Hooray, It's L.A.'" Nice!
---

Multi-platinum, multi-Grammy and Dove Award-winning band,
Jars of Clay
tops Neilson SoundScan's Christian Retail Albums Chart this week with the debut of their sixth studio album,
Who We Are Instead
. The record came in at No. 4 on the Neilson SoundScan Contemporary Christian sales charts. Simultaneously, the record's first single, "Show You Love," is getting love at CHR radio, heading towards #1. The single sits at #7 on Radio & Records' CHR chart this week and at #5 on Christian Radio Weekly's CHR chart. The song is also gaining at AC radio, climbing to #15 at R&R and #33 at CRW. The latest release from Jars of Clay also saw tremendous digital sales. Apple's iTunes Music Store had Jars in the top five on its most downloaded playlist this week. Outselling artists like Sting, P.O.D. OutKast and Clay Aiken, the album Who We Are Instead proved to be as popular online as it was in brick-and-mortar stores. Additionally, "Show you Love" saw an increase in paid digital downloads as radio continues to drive fans to purchase the song.
---
Radio & Records Magazine (R&R), the weekly trade magazine featuring some of the most updated news in the music industry as well as radio airplay charts in all music genres, has tapped BEC Recordings' artist
Jeremy Camp
as the Top Act for 2003 in their New Artist of the Year Survey. The survey also touted BEC Recordings, tying with Sparrow Records, as the top record label for introducing new artists as well as showing major promise in releasing successful new acts in the future. These results were announced in the November 7, 2003 issue, on newsstands now. The New Artist Survey was sent to all Christian radio programmers and consisted of various questions about new artists, their successes and their labels within this past year. A massive 66% of the programmers voted Camp as the top new artist of 2003, while BEC Recordings and Sparrow shared 20% as the top labels.
Stay
, Camp's first studio release with BEC, was also one of the two most significant projects to release from a new artist this year.
Stay
, released in September of 2002, continues with strong sales, staying in the top 20 of Christian Soundscan and scanning at least 3000 units each week. As he prepares for his sophomore studio release in the fall of 2004, Camp offers
Carried Me: The Worship Project
on BEC February 10th.
Carried Me
features well-known worship songs such as "Enough" and "Wonderful Maker" and songs penned by Camp as well as Tim Hughes.
Carried Me
is sure to offer Camp's fans what they've been asking for as they anticipate his fall release.
---
Here's some tragic news from the boys of
Stereo Motion
... "[On November 12th], on the way to the next show on the Beautiful Glow Tour, Stereo Motion hit a patch of ice in Wyoming, causing their trailer to jackknife and the van to flip. This also caused another car to swerve and flip. Good news: everyone is alright. The bad news is Stereo Motion has suffered a huge financial loss. The trailer with their equipment obviously was damaged along with their van. The guys need your prayers and support now more than ever. If you would like to help them out financially send it to the following address: (Make checks payable to Stereo Motion)
Stereo Motion
P.O Box 5168
Highpoint, NC 27262
Thank you guys for everything and remember to keep the guys in prayer. Hopefully they will be rocking again soon."
---

Don't forget to watch
Steven Curtis Chapman
this Sunday on the live broadcast of the American Music Awards as he is up for Favorite Artist – Contemporary Inspirational Music! SCC will also be presenting an award that evening! The even airs On ABC - 7pmCST / 8pmEST. And before you head to church in the morning, turn on MSNBC to catch Chapman in a live interview with co-host Alexandra Witt! 10:30amCST / 11:30amEST
---

Michael W. Smith
wrapped "The Celebration Tour" in his home state of W. Va. recently with a sold-out performance at Big Sandy Superstore Arena in Huntington. Just prior to taking the stage, Smith was presented with the Distinguished West Virginian Award by state Sen. Steve Harrison. "He's known the world over for his inspirational music, and I thought 'This is certainly something he's deserving of,'" said state Sen. Harrison, who bestowed the honor. "He said it wasn't necessary, but I told him I thought it was long overdue." Commemorating Smith's unprecedented career in Christian music, "The Celebration Tour" offered fans an evening of hits. The 19-date tour visited arenas nationwide and was seen by a cumulative audience exceeding 140,000. Having grossed more than 3.5 million and selling out 17 venues, this is Smith's most successful tour to date. Michael W. Smith concerts have long been recognized as key events in major markets across the country. This run was no exception. "This concert tour was one of the highlights of the fall season. We promoted four dates and each one not only met, but surpassed our expectations," says Roy Morgan of Premier Productions. On the heels of "The Celebration Tour," Smith embarks on the 15-date "Christmastime Tour" with special guests
Point of Grace
and
The Katinas
. Launching Nov. 28 in Duluth, Ga., the tour has already reported ticket sales reflecting sold-out venues in multiple markets.
---

Here's an amazing opportunity to be a part of
Switchfoot
's performance on the
Jimmy Kimmel Live
show on Monday, November 24th. Liota Productions is looking for diehard fans to be a part of this performance. The show will take place in a secret location in Los Angeles. If you are one of the lucky fans we ultimately and exclusively invite, know that you are an integral part of the performance! If you are interested in being a part of the show, please visit www.1iota.com and click the Switchfoot event link. Then follow the simple registration directions. They will respond back to you via email with a confirmation letter that will have all the necessary information that you will need to attend this special event!
---

Here's the latest from
Five Iron Frenzy
... "We are now less than 2 weeks from the end.... The tour has been incredible and has proven to all that you guys are the best fans in the world. There are a couple of changes to the tour that we want everyone to know about and need your help getting the word out... We moved the show in Lincoln, NE from Thur 11/20 to Wed 11/19. We also had to change venues and will now be playing at the A&R Skate Center (710 Hill St Lincoln, NE 68502 info 402-476-5588). We need a lot of help in the Lincoln area to let everyone know the show is now on Wed. There are still tickets available to the Lincoln show www.itickets.com has more info And since the final show in Denver sold out so fast we have added a show in Boulder, CO on Friday 11/21 at the Flatiron Theatre. There are only 400 tickets left for this show and they are available at www.itickets.com This show will definitely sell out, so you should get your tickets fast if you want to go. In closing I want to let you know that we are grateful for all your support and love. The tour has been an amazing ending to an amazing band. We are currently working out the final details on our special good bye present to you. We will be making an announcement soon."
---

L.A.'s famed nightspot Club Lush was the scene of a book release party for a new book that explores the growing link between spirituality and rock music entitled,
Faith, God & Rock 'n' Roll
by L.A. based author
Mark Joseph
and published by Baker Book House/Sanctuary Publishing. The party included live performances by Dex Alexander, formally of the group
Altogether Separate
, Seattle rockers
MxPx
and former Extreme and Van Halen frontman
Gary Cherone
. Also in attendance on the day of the release of their newest album
Payable On Death
, were the four members of
P.O.D.
, Megadeth frontman
Dave Mustaine
who wrote the foreword to
Faith, God & Rock 'n' Roll
and Jon Micah Sumrall, frontman of Seattle rock edge band
Kutless
. Partygoers celebrated P.O.D.'s big day with a premiere showing of the band's latest video for the song 'Will You'. Five lucky members of the band's street team, The Warrior Klan, won a contest to attend the party and meet the members of P.O.D. and Joseph. "It was really an honor to be in the book. I read our chapter and it's really cool," added MxPx's Mike Herrera who flew in from Seattle to perform. In
Faith, God & Rock 'n' Roll
, Joseph examines the current crop of bands and artists with a spiritual message, looking at the challenges they face in reconciling their rock 'n' roll lifestyles with deep rooted r eligious convictions. Featuring profiles and analyses of artists like U2, P.O.D., Creed, Lifehouse, Lenny Kravitz, Alice Cooper, Sixpence None The Richer and many others, the book is released at a time when faith and spirituality have begun to play a central role in media culture, especially in the music scene. For More information on Author, Mark Joseph, and his newest release
Faith, God & Rock 'n' Roll
visit www.rockrebel.com.
---
Gotee Records newcomer
Sarah Kelly
was recently in the studio with
tobyMac
recording her guest vocals on his song "Mysterious Ways" that will be on the upcoming album titled
In The Name of Love: Artists United for Africa
. The album is being done as a call to action by U2 frontman Bono and includes hits made popular by his world-renowned rock band. The album will be released by Sparrow Records on January 27, 2004. Kelly's debut Gotee Records album will be released on February 24, 2004. For more information visit www.gotee.com.
---
New Rocketown Records artist
George Rowe
recently enjoyed a few days off after wrapping up his stint as a background vocalist for
Michael W. Smith
on the recent Michael W. Smith/Mercy Me "Celebration" tour. But he wasn't home for long as he left Thursday to join
Chris Rice
in Chicago for Moody's Friday Sing before jetting off to Wisconsin to join labelmates
Shaun Groves
,
Ginny Owens
and
Christine Dente
for the last "Night in Rocketown" tour date in Milwaukee. Rowe, whose web site georgerowe.com launched this week, releases his debut
Think About That
CD on Dec. 2. The first single from the album, "Everlasting," is already at No. 11 with a bullet on Inspirational radio.
---

The web is seeing the debut of some fancy new official artist sites! Highlights include the new RSJames.com from
Rebecca St. James
. A new site was desperately needed for the artist who has had virtually the same layout for several years. Skillet.org also got a fancy revamping in time for
Skillet
's new release
Collide
this coming Tuesday. Other new sites include
Tait
's Taitband.com and
Jars Of Clay
's Jarsofclay.com!
---
CeCe Winans
will be performing at a tribute event for her good friend
Oprah Winfrey
on Tuesday, November 18th at 8 pm EST. Hosted by Diane Sawyer, the event will also include performances by the Philadelphia Orchestra, guest conductor Quincy Jones, Kathleen Battle, and Lionel Richie. Winans will also perform along side brother
BeBe Winans
for the concert's finale. The event will be held at Philadelphia, PA's Kimmel Center for the Performing Arts.
---
Casting Crowns
celebrated a No. 1 debut on the Christian SoundScan sales chart just five weeks ago. Last week the band garnered its first No.1 on the Radio & Records Christian Adult Contemporary chart, making it the first debut artist to achieve this feat in more than two years. This week "If We Are The Body" maintained it's top spot at radio while the band's sales numbers spiked. This unprecedented momentum at radio and retail has made Casting Crowns the fastest-selling new artist of 2003. Casting Crowns also climbed Billboard's Top Heatseekers chart to No. 11 this week. The Heatseekers chart lists the best-selling albums by new and developing artists, defined as those who have never appeared in the Top 100 of the Billboard 200. The album sustained its position in the Top 5 at the No. 3 spot this week on the Christian SoundScan Sales chart after only 6 weeks out. Adding to the fervor at radio and retail is the demand for Casting Crowns performances. Jeff Roberts, president of Jeff Roberts and Associates, noted, "We're thrilled to represent Casting Crowns and the response we're experiencing from the church buyers, festivals, and promoters is incredible! I believe Casting Crowns is indeed the breakout new artist of 2003. My staff and I are grateful and more than excited about the future of this band."
---
Christian Records artist
Jill Parr,
a proven Contemporary Christian pop vocalist with previous top-ten chart action, will perform as the opening act for
NewSong
's eight-city Christmas Shoes tour this year. "The NewSong Christmas tour is going to be a major family night out this season," says George King, President of Christian Records and the Butterfly Group. "We are extremely proud to have Jill join with Nicole C. Mullen and NewSong for this one of a kind evening of celebration." Parr has been heralded by Billboard magazine as an artist with a "strong supple voice…(bringing) a confessional, vulnerability to each vocal performance." "I'm ecstatic to be a part of this tour," offers Parr. "There's not another season or holiday that I love more than Christmas, and I'm looking forward to sharing it with Nicole, NewSong and so many music lovers that share my passion for Christmas time!"
---
Grassroots Music Distribution and
Enter The Worship Circle
release
Enter the Worship Circle: Third Circle
, the third installment of the highly successful Enter The Worship Circle series, which has sold more than 100,000 copies. Following the momentum of the first two projects, Enter the Worship Circle, possibly the best-selling indie worship album ever, and
Enter The Worship Circle: Second Circle
,
Third Circle
released Nov. 4 and has already become the current best-selling album for Grassroots Music.
Enter The Worship Circle
released in 1999, featuring the songwriting and performing talents of Ben and Robin Pasley, 100 Portraits, and Don and Lori Chaffer, and Christina Graves, Waterdeep. Since that time the songs have been re-recorded and published by hundreds of other artists. Third Day recorded "You Are So Good To Me," which rocketed to No. 1 on the CHR charts in May of 2003. The song "I Will Not Forget You," has also been heard by literally hundreds-of-thousands as a featured song on recent projects by John Tesh, Salvador and Paul Baloche, among others. The song was also featured on WoW Worship 2000 as one of the best worship songs of the year. Kingsway Music in Europe released the album in the summer of 2002 sending it to No. 1 on the European worship album charts in less than three months. Worship Leader magazine has also featured several songs from
Enter The Worship Circle
and
Second Circle
.
---
*Thursday, November 6th, 2003*
---

Bleach
has been tearing up the charts at mp3.com! The band has the #5 song on the Top 40 charts yesterday with the song topping the Rock charts on Tuesday at number one (the song fell only one spot to number 2 yesterday)! The boys were featured on the site's front page next to Nelly Furtado. Way to go guys! Head on over to
http://artists.mp3s.com/artists/259/bleach.html
to download the song now and support the guys! Speaking of mp3.com, the
Delirious?
boys even have a hit on the pop rock charts! Their brand new song "Majesty [Here I Am]" can be found at #18!
---

The "studio" came to
Rebecca St. James
on the closing notes of her just completed tour. On October 26th, her concert in Temple, Texas was set-up for live recording of RSJ performances that will be packaged for early release in '04. The as yet to be titled release will include a new song written by Rebecca, as well as her performances of "Here I Am To Worship," "Blessed Be Your Name," and live versions of material from her
Worship God
CD project. Jim Dineen engineered on the road. Stay tuned for release details! Also, be sure to check out her newly revamped
RSJames.com
!
---

P.O.D.
's highly anticipated release,
Payable On Death
, hits store shelves Tuesday. The band made a television appearance on "The Tonight Show With Jay Leno" last night, with more appearances on "Jimmy Kimmel Live" on November 7th, and "Last Call With Carson Daly" on the 11th as well as an "MTV Total Request Live" performance on November 13th! Speaking of the band's new release, some copies of the album will include limited edition art cards! Renown artist, Daniel Martin Diaz, created the 3 card series exclusively for
Payable On Death
. The art cards are limited to the first shipment of 1 million and will go up in value... Some have even been hand signed by the band! Sonny, Wuv, Traa, and Truby signed several thousand art cards after the video shoot for their new hit single "Will You".
---

Sparrow Records recording artist
Steven Curtis Chapman
has partnered with Family Christian Stores during this holiday season to promote two similar and benevolent operations - Family Christian Store's The James Fund and Chapman's Shaohannah's Hope Foundation. The James Fund, a non-profit organization founded by Family Christian Stores, was created to meet the needs of orphans and widows in the communities that Family Christian serves. The James Fund promotion, benefiting those orphans and widows in need, will be held in all Family Christian Stores locations nationwide as well as at FamilyChristian.com, will run in two variations for customers to help this holiday season. With the purchase of Chapman's current Sparrow Records' release,
All About Love
, or by visiting any Family Christian Stores and adopting a Christmas Barnabas Bear for $5.00, proceeds from all donations will be distributed to The James Fund and Shaohannah's Hope. The Barnabas Bears will then be given to orphans of the local community they were adopted in, and personally delivered by Family Christian Stores along with Bethany Christian Services. This promotion will run throughout November and December. Chapman is very excited about this partnership. He affirms, "I am so thankful that Family Christian Stores is engaging in caring for widows and orphans. It's something God is inviting us to do together. When Family approached me with the idea to tie Shaohannah's Hope and The James Fund together, I was so encouraged and jumped at the chance." Chapman released his second DVD,
Steven Curtis Chapman Live
, on Tuesday, November 4. This first-ever live DVD will feature performances from this touring pioneer, filmed from the hugely successful "Live Out Loud Tour," a tour experienced by over 200,000 people.
Steven Curtis Chapman Live
is marketed for both the fans who caught the "Live Out Loud Tour" as well as those who were not able to see the show in their area. Live encompasses the energy and passion of behind the scenes footage of the Tour, including never-before seen b-roll of Chapman backstage and everyone on his tour, as well as the poignant "Beyond The Gates of Splendor" segment.
---

Earthsuit's final album is out! Here's what the band had to say... "The new Earthsuit CD
The Rise of Modern Simulation
has arrived and is now ready for purchase: We have set up a simple method of payment for all you who are interested in buying this CD. It will be sold exclusively at
mathmusic.com
and can be purchased with any major credit card through "paypal". Simply go to mathmusic.com and follow the instructions. We will not be accepting checks so please do not send any... debit and credit cards only. And for all of your patience since we weren't able to release in October, we've thrown in an extra track called "Outro Medley" (which is a practice session recording we did in preparation for the Distortion Tour) and there is a hidden track by Ben Hurr for those of you who know about the
Kaleidoscope Superior
release party. This is a very eventful CD that we're all very proud of and hope you all enjoy." Pick up the album now for only $15! (not including shipping)
---
Mike Yaconelli
, owner and co-founder of
Youth Specialties
, was involved in a fatal car accident late last Wednesday night, October 29, outside his hometown of Yreka, in northern California. He passed away early Thursday morning, October 30. In addition to founding Youth Specialties, an organization dedicated to equipping and training youth workers through events and resources, Mike was the founder and general editor of The Door (formerly The Wittenberg Door) and the author of numerous books, including Dangerous Wonder and Messy Spirituality. Mike was also a contributing columnist to Youthworker journal. "Mike was the incarnation of his book titles,
Dangerous Wonder
and
Messy Spirituality
. He lived a life of wonder and amazement at God's grace. He never claimed to be perfect; he just lived as he was — a man after God's own heart," said Tic Long, president of events at Youth Specialties. For the full article on the loss of Mike, please visit
http://www.youthspecialties.com/about/news/2003/yaconelli.php
Please keep his family and loved ones in prayer at this difficult time in their lives.
---

Pillar
's
Broken Down EP
will hit Christian stores in two weeks- Tuesday, November 18. The band offered the following details in a recent newsletter... "Remember we are giving all our hardcore fans a early chance to pick up the record by going to a Christian music/book store.
Broken Down
won't hit the rest of the world, mainstream stores, until December 2, 2003. Many stores are expecting to sell out so be sure to pick one up on November 18 or soon after. ...it features an exclusive all new, hard rock Pillar song called "Bring Me Down". It also has 5 acoustic recordings of Pillar songs. Four of these acoustic songs were recorded live with Tyler Burkum (from Audio A.) and Brandon Estelle (Lester's brother) sitting in with us. But wait, there's more! The EP is enhanced- you get to see cool stuff when you put it in a computer. The enhanced part of the EP features- "Further From Myself" music video, extensive picture gallery (stuff you haven't seen before), and a interview with Rob Beckley where he explains the meaning of each song on the EP. What more can you ask for? How about a price of $7.99 or LESS. That's right! Here at Pillar we are all about quality and pleasing the customer- You!"
---

Delirious?
has a new song available! The band announced, "Looks like there's a storm brewing. We told you it was coming too, and here it is: the most truly Delirious track to get the D: stamp for years. "Rain Down" has it all: the riff, the crowd, the euphoria, the eternal perspective. One listen and you can feel the intoxication. And you want to know the best thing? It's going to be available to all of you fine storm troopers for free. You can download your very own full and final copy of the track, complete with single artwork and music score from www.mp3.com and www.delirious.co.uk. Store it, burn it, give it away… whatever you like: this is the type of rain cloud we all want to get under." The band's new release,
World Service
releases to the UK on December 15 and the U.S. on February 10th.
---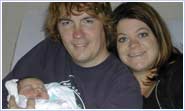 The
Third Day
family is growing! Congratulations to Mark and Stephanie Lee who welcomed their first child, daughter Abigail Madden Lee, into the world on October 28. Abigail, a healthy 9 lbs 2 ounces, and mom are healthy and happy. According to a journal bassist Tai Anderson on ThirdDay.com, guitarist Brad Avery is on baby watch with his third child on the way!
---
Critics love it, fans adore it and now it's your chance to see it live!
Beloved
's latest release,
Failure On
, is in stores now and garnering critical acclaim all across the country. After the band finishes the Solid State tour they will join
Further Seems Forever
and
ZAO
on a run up the west coast and will continue on with just ZAO after that back to the east coast. In other exciting Beloved news, the band's video for "Aimless Endeavor", featured on the
This is Solid State #4
compilation, was accepted to MTV! Watch M2's Extreme Rock and Headbanger's Ball for the video!
---
Grammy nominated and Dove Award winning Christian artist,
Margaret Becker
, is the first recipient to receive the prestigious "Lumiere du Monde" award from the Convocation of Episcopal Churches in Europe. The award, which means "Light Of The World" in English, is taken from the passage of Matthew 5:14 when Jesus says to His followers, "You are the light of the world." This award grew out of a fellowship of EU diplomats, NATO personnel, executives, lawyers, students, homemakers, and retirees --- all Christians eager to impact their world outside of the church. They studied the late Bob Briner's book Roaring Lambs together and challenged each other to be "lambs in the midst of wolves." Briner was a self-confessed admirer of Becker. He once said, "this extraordinary woman is must see, must hear, and a must read. Anyone who does not know her yet, ought to." Bishop Whalon, who presented Becker with her award in Europe, is the Bishop in Charge of the Convocation of Episcopal Churches in Europe. Whalon heralds Becker "as an artist who takes precedence with spirituality in her music ministry in spite of working in such a market-driven industry." He goes on to call her a "lightning rod"…."that sings about Christ's inclusive love and our need for repentance." Bishop Whalon also praised Becker for her years of volunteer work for worthwhile causes that include being a tireless spokesperson for World Vision that works to help Africa's AIDS orphans and feed the world's hungry, mobilizing thousands to end the injustice and indignity of substandard housing by donating proceeds from her concerts to Habitat For Humanity, and speaking out against apartheid in South Africa and the violence in Northern Ireland. In Bishop Whalon's words, "she has toured the world with the message of muscular Christianity." Congrats Margaret!
---

This month
Switchfoot
features in the American music industry's popular publication
Rolling Stone
magazine. Tipped as one of the 'new faces' to look out for we can all sit back a little smugly and say, 'yeah, we knew you'd catch on eventually'. And then there's Orange in Holland. The mobile phone giant has been so impressed with the 'foots track "Learning To Breathe" that they made it the main focus of their advertising campaign. The national radio and TV ads are stirring things up a little, pulling in hundreds of calls each day from the eager Dutch keen to find out just who this mystery band is. Finally, there are one or two other treats freshly landed on their mat: "Meant to Live" is currently at number 18 on Billboard's Modern Rock/Alternative charts. The band also won Best Pop Album and Artist of the year at the San Diego Music Awards. Who knows where things will go next?
---

Kutless
is finishing up work on their next release
Sea of Faces
(In Stores Feb. 24, 2004)! Their first single "Treason" will be premiering on the AirOne Radio Network on November 7th! Make sure you have that station tuned in to find out more. If you don't get AirOne in your part of the country, start listening and requesting "Treason" on November 10th at your local Christian rock station!
---
Jeremy Camp
's new release
Carried Me: The Worship Project
is set to hit stores on February 10, 2004. This is a collection of new and known worship songs and will d eliver something new for his fans while he begins work on his sophomore release scheduled to be in stores Fall of 2004. Jeremy will also be heading out on the road with the Newsboys and Rebecca St. James this Feb-April. Jeremy will also be tying the knot with fiance Adrienne Liesching of The Benjamin Gate this December! We wish him as his new bride many blessings!
---
The Cross Movement
has been super busy this month hitting the road hard and playing tons of dates. Also March 9, 2004 CM will be releasing the "Holy Culture Live" DVD. This was filmed at their album release show and includes live performances from all their albums and a look at hip-hops history- not to mention some special guests!
---
StarSong Entertainment is proud to announce the debut album of independent artist,
J-Remy
. The November 25th release,
Rebirth of Hip-Hop
which is produced by Grammy nominated emcee, Teron "Bonafide" Carter (GRITS) and industry veteran, Kene "Ghost" Bell (Toby Mac, Out of Eden, GRITS, Katinas) is rumored to be one of the hottest independent albums to drop this year. The Picayune, MS native is now accepting orders for his debut album. For more info regarding
Rebirth of Hip-Hop
or more info on J-Remy contact Jremy601@yahoo.com or contact StarSong Entertainment at starsongentertainment@hotmail.com
---
On Sunday Nov. 9th, 3 Chord Records will release 4 "final mix" sound clips from their Christian all-star project
Welcome To The Revolution
from the band
Liberty n' Justice
. The sound clips are from Michael Sweet (Stryper), Ken Tamplin (Shout), Scott Wenzel (White Cross),and Mitch Malloy (ex-Van Halen). There will also be news for their March 20th record release party in Peoria,IL. Stop by the website for all the sounds and news
www.3chordrecords.net
---
Word recording artist
Kristy Starling
will join renowned pianist
Jim Brickman
on a 30-city Christmas tour this holiday season, as well as being included on the Jim Brickman Peace Christmas album. "Sending You A Little Christmas," a song penned by Brickman along with Billy Mann and Victoria Shaw, features Brickman on piano with Starling as the showcased vocalist. Billy Mann, who also worked on Kristy's debut album release earlier this year, produced the song. On the Christian radio front, "Sending You A Little Christmas" will be serviced to the AC format. Arista Records, the parent company to Brickman's Windham Hill home label, will work the song on the mainstream radio side. "After hearing Kristy's amazing voice on the Today Show, I instantly fell in love with her sound," says Brickman. "Having had the opportunity to work with her on my new holiday single, 'Sending You A Little Christmas' she continues to amaze me. She has a tremendous voice, a wonderful spirit and is easily one of the best singers I have worked with. I can't wait to perform with her every night on my Holiday Tour."
---
With outstanding presence at retail since its self-titled debut project released at No. 1 on Sept. 30,
Casting Crowns
is experiencing strong momentum at radio. Out 14 weeks, "If We Are The Body" climbed to No. 7 on the Billboard Hot Christian Adult Contemporary Chart and the Billboard Hot Christian Singles & Tracks Chart while creating waves on the Radio & Records radio charts as the second most-added song on both the Adult Contemporary and Christian Hits Radio charts this week. The single is currently No. 3 at AC and No. 5 at CHR. Andrew Patton, vp of national promotions, Provident Label Group, commented, "This is the first time I can remember working a song 14 weeks after it hit the station desk, that remains in the top two most-added slots at radio. The consistent response I've seen from stations is that 'If We Are The Body' is the biggest song they have on the air today. It's exciting to see a new artist finally break big this year at radio and retail." "It's been wild to see this song gaining so much attention," noted Mark Hall, lead singer of Casting Crowns. "I wrote this song years ago for my first youth group and honestly thought I was just writing it for that church at the time. Little did I know that I would use it at all my churches or that it would be a Top 10 song at Christian radio. We appreciate all that Christian Radio has done to help communicate an important message through its airwaves."
---
Justin McRoberts
' brand new independent release is available now!
Intersections
, his fifth studio release, can be purchased from his site here:
http://www.justinmcroberts.com/store
---
downhere
recently received two Covenant Awards for both "Modern Rock Song" (What It's Like) and "Modern Rock Album Of The Year" (So Much For Substitutes). The industry award show, presented by the Canadian Gospel Music Association, features the finest Canadian Christian music artists.
---