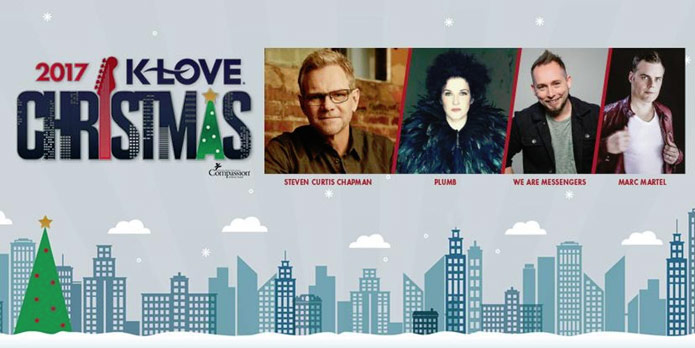 K-LOVE Christmas
Steven Curtis Chapman, Plumb, We Are Messengers, Marc Martel
12/16/17, at Tower Theater in Upper Darby, PA
Christmas tours are a special thing. I remember being taken to a few Christmas productions as a kid - even The Rockettes in New York City one time; it felt like an extension of the holiday festivities and magical air of the season. As an adult, I've loved attending the occasional CCM Christmas tour -- whether it be hosted by Family Force 5, Jars of Clay, or TobyMac -- where there's a great marriage of CCM style pop and rock and that delightful Christmassy feeling that only happens this time of year. For 2017, K-LOVE radio's Christmas Tour rolled into the Philadelphia area, bringing with it headliner Steven Curtis Chapman, pop rock talent Plumb, worship band We Are Messengers and solo talent extraordinaire, Marc Martel -- and the Christmas season was only enhanced by it.
The tour included the option for a VIP experience which guaranteed seating in the first 3 rows, a photo with the artists, a signed poster, access to a premium lounge area with refreshments, and a goodie bag with a t-shirt and tour themed mug. I'd never been to the historic Tower Theater before, but I was really impressed with the classic vibe it gave off. And there was something about that vibe that only aided that Christmassy feeling.
K-LOVE peppered the night with little cinematic vignettes that played on a screen behind the artists between songs. I think we missed the first one, so I wasn't sure of the context, but it appeared to show different examples of how Christmas Eve is celebrated through the decades, with someone often injecting the truth of the Gospel in a (mostly) natural way. Former Downhere frontman--and Queen Extravaganza Tour vocalist--Marc Martel led off the night, opening with a simple piano rendition of "The First Noel." Martel's beautiful falsetto seems effortless, and the Christmas carols he sang have seldom sounded so good. He then picked up an acoustic to perform "Mary Did You Know," but sadly experienced technical issues when the battery in his acoustic died. Martel played off the technical mishap beautifully, but it was tough not to feel bad for him. He eventually moved on to "It's Beginning to Look A Lot Like Christmas," for which We Are Messengers provided full band support for, and then Plumb joined him to sing along (just like Martel's recorded version on his latest Christmas EP). Plumb and the band then left, leaving Martel alone once again. He grabbed a functioning acoustic and, after talking briefly about his time with Downhere and Queen, performed the Downhere Christmas song, "How Many Kings." I wouldn't have minded if his set were a little longer; his performance was a highlight of the night.
Once Marc left the stage, the first cinematic video we saw displayed on the backdrop. It featured a few soldiers huddled around a campfire in Germany in 1943 during WWII. They reminisced about Christmas back home and then one of them read a passage of scripture. The production value was impressive, and the video seemed fitting, but it also felt a little too long. Some of the videos that followed seemed a lot shorter, but these little interludes, while sometimes lending to the overall "event" feel of the evening, seemed slightly excessive. However, admittedly, it's a minor gripe and it didn't hinder the evening's experience. I do recall feeling like this segment was awkwardly long, though--especially during the moments where the soldiers weren't talking and the sound of a crackling fire filled the Tower Theater auditorium.
Following the video, worship band We Are Messengers took the stage. I've never seen these guys live, so I was looking forward to checking them out. I have to say I was pleasantly surprised. The guys opened with "From Heaven To Earth (Joy To The World)," from their Christmas EP, God With Us, and then followed it with the EP's title track. "Point To You," from their debut album was next, and then the band's charming frontman, Darren Mulligan, addressed the audience (in a thick Irish accent) before continuing with "Magnify." Mulligan then shared his testimony of coming to Christ and being saved from living a life of sin. "Flesh and Bone" followed, and then Darren encouraged the audience to all hold hands with one another (even if you didn't know the person next to you) and raise them high while we sang John Mark McMillan's "How He Loves" to close out We Are Messenger's set.
Another video interlude followed, this time from within a barbershop where a customer and his barber talk about Christmas, and then the barber read a passage from the Bible. Once the video finished, the stage illuminated to reveal Plumb's band, and Tiffany soon emerged to belt out an absolutely gorgeous and stunning rendition of "O Holy Night." She then picked up the energy for her new single, "God Help Me," from her new EP and new studio album that will release in 2018. After the song, she prefaced the next one by saying how serious and meaningful the next Christmas song was to her, and then launched passionately into the beautifully silly, "I Want a Hippopotamus for Christmas," much to the amusement of the audience. At one point, someone dressed in a full Santa costume ran out on stage, danced around a bit, presented her with a plush hippopotamus, and then ran off the stage again (Our best guess was it was actually Marc Martel). Plumb then got serious for real this time to talk about her husband Jeremy and the struggles that almost lead to divorce several years ago. She talked about how that affected her view of Christmas at the time, and how God's restoration of their marriage renewed her feelings toward the cherished holiday. She then performed "Behold," followed by "Lord, I'm Ready Now" and her hit song, "Need You Now." To close, she performed "Silent Night" and encouraged the audience to get their phones out and put the flashlight on and hold them high.
Right before intermission, solo artist Shaun Groves stepped out on stage to talk about Compassion International. He shared his personal experiences and then invited the audience to join him in sponsoring a child. A lengthy intermission followed (about 15 to 20 minutes), before headliner Steven Curtis Chapman took the stage as the main event. He opened festively with "Hark the Herald Angels Sing" and blended it into his own original, "The Music of Christmas." The upbeat and fun "Love Take Me Over" from his album The Glorious Unfolding followed, and then he swung back into holiday songs with another original (and one of my favorites of his Christmas originals), "Christmas Time Again." Steven then performed a series of SCC hits with a Christmas spin on them, leading with "The Sleigh Adventure (The Great Adventure)," continuing with "Dive In (The Snowdrift Edition) (Dive)", and closing with "Santa Was Here (I Will Be Here)." Each song was brilliantly done and a great deal of fun. Honestly, I'd love to have an acoustic EP of these renditions to listen to around the holidays each year. They were one of the highlights of the entire night. (So Steven, if you read this, that's our Christmas wish! :) ) Steven then talked about his first Christmas with Mary Beth and got serious again for "Christmas Is All In The Heart," for which Plumb came out on stage to sing along with Steven. Another interlude video then followed, which seemed like an odd choice to play in the middle of SCC's set, and this time it featured a mother getting stressed out about holiday preparations and stopping to read a story about the real meaning of Christmas to her young daughter. Lights illuminated the stage again and Steven lead the audience in "O Come O Come Emmanuel," followed by his Christmas original, "Our God Is With Us." Steven followed the song with a talk about hope, and then invited all of the artists from the evening to join him in singing "Angels We Have Heard On High." Everyone stayed on stage to finish the night, singing together "O Come Let Us Adore Him," Steven's song "Live Out Loud," and closing with "Go Tell It On The Mountain." The artists then took a bow together and waved goodnight.
There's a lot to love about what the K-LOVE Christmas Tour brought to the stage -- from Christmas spirit to worship to compassion and paying it forward, this show was a gift that keeps on giving. Our tour stop was the second to last date on the tour, but chances are K-LOVE will put a similar tour together next year -- and I'm sure it'll be one not to miss!
--
John DiBiase
, 12/22/17
K-LOVE Christmas 2017 Photo Gallery
click on an image for a bigger size
**vertical images cropped for thumbnails**
Marc Martel
We Are Messengers
Plumb
Steven Curtis Chapman
*all photos by John DiBiase and are the property of the photographer and Jesusfreakhideout.com