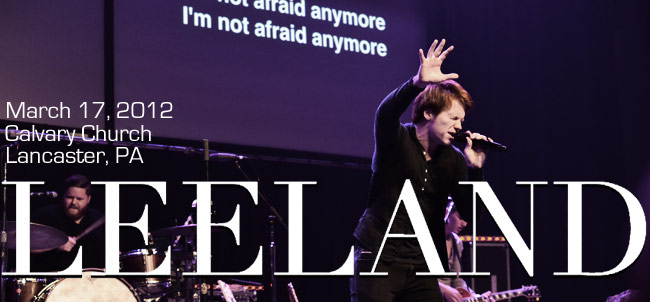 Leeland
3/17/12, at Calvary Church in Lancaster, PA
As part of a special youth conference weekend in Lancaster, PA, CMI Productions brought in modern worship act Leeland to lead the young audience in worship on a sunny March Saturday. The evening began with a set from local pop rock band Reilly and placed an emphasis on missions before giving the spotlight over to the night's main event.
It's been exciting to watch Leeland grow as a group and individuals over the years. We first were introduced to the guys after they'd signed with Provident Music Group and although the Texas-based fellas have seldom come to our neck of the woods, PA, we've still managed to catch their live show a time or two elsewhere (including once at Rock The Universe and another time at Night Of Joy, both in Orlando, FL). This, however, was our first time seeing them since Night of Joy in 2009, and they've since experienced another member change as original bass player Jake Holtz had stepped out, allowing Leeland and Jack Mooring's little sister Shelley to join the band. With a new album having released in the fall, titled The Great Awakening, the band has been spending much of 2012 touring one-off shows and leading worship across North America, playing new songs and planting seeds of revival along the way.
With a fifth, touring member, Casey Moore, on lead guitar, the quintet took the stage, opening with one of their most recognizable songs, "Reaching," from their debut album Sound of Melodies. Youth and those with hearts ready to worship gathered in front of the stage in the Calvary Church sanctuary, packing in close. After "Reaching," frontman Leeland Mooring took a moment to greet the Lancaster audience and practiced saying the city's name correctly (something the locals are very passionate about), before training the crowd to sing along to the next song, "Not Afraid Anymore," a new one from their latest record, The Great Awakening. They followed it with the familiar worship anthem "You Are Good," and then moved into "Yes You Have" from Sound of Melodies. Leeland then paused between songs to talk on Jesus' love and how love is not a feeling or an action but a person and how His presence was among us. His passion and enthusiasm for Jesus was infectious and it was difficult for our attention not to be arrested by his words. This all lead into their performance of "I Can See Your Love" (another new song) which featured a video on display behind them with clips from the band's recent visit to Peru. "Follow You," from Love Is On The Move, appropriately followed, and Leeland shared from his heart again encouraging the Lancaster audience to follow Him. He also reflected on Christ's cross, which made a nice lead-in to "I Wonder," an acoustic-based ballad with beautiful lyrics about being in awe of Jesus' love and sacrifice. A few choruses of "He's calling your name" were sung as the song wrapped up, and an even more fired-up Leeland began sharing about revival and how a two-hundred-year-old, once forgotten poem had inspired the title and title track of their latest record, "The Great Awakening," which was an encouraging story of just a few passionate believers being able to make a difference in their community. "While We Sing" was a nice set addition, which followed, before bringing out "Sound Of Melodies" stirred up the audience with their familiarity of it. Leeland then introduced the band members and shared a story of how his, Jack's and Shelley's mother had come to know the Lord. It was an impactful story, too, as his mother had come from a home where her parents were alcoholics to the point of neglecting their children. The then-five-year-old little girl had been taken under the wing of her parents' landlord who took her to church and witnessed to her. And it was that compassion and personal ministry that has affected the Mooring family on down to the great ministry of this very band. It's an encouragement to see the faithfulness of God working through believers who heed His calling. With that, the band closed with the rousing anthem, "Count Me In," which served as an appropriate send-off for the Lancaster audience. After the show, the guys (and gal) stuck around to sign and meet and greet, which was a nice gesture given that the night had already grown rather late.
I've only ever seen Leeland perform at festivals, showcases or as part of a tour and it was refreshing to see a full set from the Texas foursome. They've got an infectious passion for Jesus and a worship style that breaks out of the box just enough to appeal to worship music diehards and those looking for something that stretches the self-made boundaries of the genre. If you have a chance to see them--alone or as part of a tour--definitely catch them live. And if you're looking for an artist to lead worship for an event, there are few better to choose than Leeland.
--
John DiBiase
, 3/20/12
Leeland Photo Gallery
click on an image for a bigger size
**vertical images cropped for thumbnails**
Leeland
*all photos by John DiBiase and are the property of Jesusfreakhideout.com