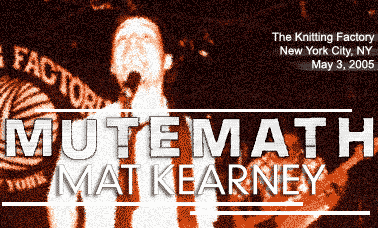 MuteMath, Mat Kearney
5/3/05, The Knitting Factory, New York City, NY
Should it surprise anyone that one of the most energetic live bands, upon breaking up, would spawn a new act that surpasses the original act in every way? Well if you know I'm referring to Earthsuit and MuteMath, and may even have been lucky enough to have seen both entities live at some point, then you'll understand what I'm talking about indeed.
My two experiences with Earthsuit's live show were both at Creation East Festivals where I witnessed the band's reggae-influenced synth-glazed rock frenzy. Upon hearing of the band's demise, I knew a void would be left in the CCM community. But, alas, several members formed a little synth-pop/rock band named MuteMath and last year saw the release of the brilliant Reset EP. So we know even better things can come from great things, so how about that live show?
New York City isn't exactly a hop, skip, and a jump from Bethlehem, PA -- like most locations of shows we travel to. And since we're talking about a mid-week event as well, it may not seem like the wisest way to spend a Tuesday evening. However, when two of the most talented new artists in the Christian music industry are touring together and come within two hours of your dwelling place, you better get your tail out to see them. With that said, we filed into The Knitting Factory in New York City (accidentally stumbling upon the Hook & Ladder 8 fire station on our way there, which, if you know anything about your 80's movies, you'll know what that's from... and why I'd be excited to finally see it for real, in the brick), and waited in a small line for the doors to the Tap Bar to open...
Perched in front of a dimly lit stage in an even dimmer little bar, we anxiously awaited Eugene, Oregon native Mat Kearney's opening set. Clad in a hat and blazer, alone on stage with just his guitar, Kearney began belting out his opening song, "Girl America." Kearney released his debut Bullet on InPop records in the Fall and was soon after signed by mainstream label Columbia Records. Kearney recently recorded five brand new cuts for a future mainstream rerelease of Bullet, and following the incredible "Renaissance," introduced the catchy new "Nothing Left To Lose" to the eager audience. The modest crowd received every strum and note of Mat's performance warmly, which only encouraged him to follow up his delectable hit "Bullet" with the new "Chicago," and later "Where We Gonna Go." Kearney's creative mixture of hip-hop elements with acoustic, Cold Play-esque melodies was a perfect evening opener. The headliner, MuteMath, gave us high expectations, but I hadn't really expected for them to be exceeded...
After a brief intermission (that included watching MuteMath's drummer extraordinaire duck-tape a pair of headphones to his head), MuteMath opened with a previously unreleased song "Chaos" (which can only be found on their website as a live video), immediately securing the audience's attention. Moving into the familiar "Plan B," and following it up with a new song entitled "Stare Into The Sun," the rock quartet possessed a sort of unbridled energy that made them intriguing to watch at all times. If drummer Darren King wasn't creating intricate and nontraditional drum beats with a sense of ease, vocalist/keyboardist Paul Meany was tearing the cover off of his organ and playing with the machine's guts to produce a unique sound. And we didn't know what Meany would do next. No one knew when he'd stand on top of the organ, slapping the life out of his keytar or would nearly take off an audience member's head (usually mine) while dancing around in front of the stage. But it's the inventive nature of MuteMath that is their charm. They're sort of the mad scientists of electronic-enhanced rock. Their set progressed nicely to include several other new cuts, including familiars like "Peculiar People" and the show-stopping instrumental "Reset," and finishing with their hit "Control." A fired-up New York crowd was left wanting more, so the guys graciously came back out for the energetic finale "We All Break The Same."
In neither sets did the artists get preachy about their faith for a moment. Kearney's passion for Christ was honest and real, and closing with "Undeniable" was enhanced by an ad-libbed bridge about the evening and his faith. MuteMath's love for God was found in its, at times, worshipful lyrics. It was clear this wasn't your typical set at the Tap Bar in NYC's Knitting Factory. Jesus was in attendance as well.
Those down on the "unoriginality" and "rehashed" nature of a lot of new Christian music would do themselves a great disservice if they miss out on this special tour. Two of the industries most promising new talents together on one tour is a gift from above. Those jaded towards what the Christian industry has been producing lately should educate themselves with MuteMath and Mat Kearney's Spring 2005 tour, and those eager for stuff fresh and new need not look any further.
--
John DiBiase
, 5/3/05
MuteMath Spring Tour 2005 Photo Gallery
click on an image for a bigger size
Mat Kearney
MuteMath
*all photos by
John DiBiase
and are the property of the photographer and
Jesusfreakhideout.com