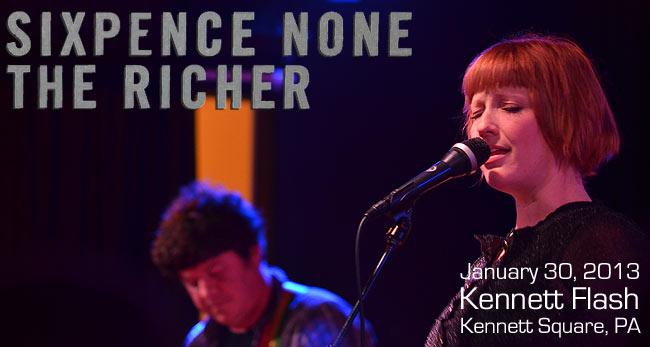 Sixpence None The Richer
1/30/13, at Kennett Flash in Kennett Square, PA
Last August, we had the pleasure of attending the album release show of Sixpence None The Richer's latest record, Lost In Transition, in New York City. At that show, the band debuted the new album and performed a thirteen-song set that mixed classic Sixpence songs with new ones, a few covers, and even a couple of lead vocalist Leigh Nash's own solo stuff that she recorded during the band's hiatus years ago. It was a unique and eclectic mix of music, and it left me curious as to what future shows could bring from a Sixpence live show (especially following a promise Nash made that night that they would be playing more fan favorite songs in the future).
Fast forward to winter 2013. On a freakishly warm January day in eastern Pennsylvania, the Sixpence None The Richer foursome gathered on a small stage in the intimate Kennett Flash to play to a packed venue. Kennett Flash is one of the more unique venues I've been to in recent years. It's located inside what looks like an office building of sorts, right off the main stretch in Kennett Square (in fact, I drove past it a couple of times thinking it couldn't possibly be it). As best described from the venue's website (albeit a little wordy), Kennett Flash "is a project of Historic Kennett Square, a non-profit 501(C)3, whose mission it is to actively support and enrich community vitality and pride, to help preserve the historic district and small town atmosphere, to promote economic and positive, productive relationships within Kennett Square and the surrounding townships." They offer food and beverages for purchase before or during the show, and it does support a BYOB atmosphere. If you're hoping to go there and get an up-close-and-personal experience with the artist, this is the right venue for that.
Folk artist Kevin Killen opened the night at 8pm, playing a forty minute set for the Kennett Square audience. His style was pretty minimalistic (after all, it was just him and his guitar), while he sang in rather unique ways -- manipulating his voice to add emphasis to his often melancholic and pensive lyrics. It didn't always work, however, which made his unusually long set time for an opener feel that much longer, but it still wasn't an entirely bad fit for the audience and setting. After Killen left the stage, there was an intermission of sorts until around 9pm, when the main act of the night was handed the reins.
As they opened with a cover of Leonard Cohen's "Famous Blue Raincoat," my excitement for a new set list of old and new favorites was a bit threatened. At the same time, I was still just feeling grateful for being able to see this band live once again. This current tour is a longer stretch of time on the road for them together than last fall, and it was immediately evidenced by the tighter, more experimental musicianship. While there may have also been a sense of road weariness about them, these seasoned musical vets still really emptied themselves into their performance. The biggest musical difference between the August set and this one was the absence of the band's manager Ashley Wilcoxson, who had also provided back up vocals to support Nash (and was merely sitting this tour out). Wilcoxson's voice blended beautifully with Leigh's, and with many of the Sixpence songs utilizing layered vocals in the studio, Ashley's presence gave the songs a fuller, more complete feel. Without her, the songs relied exclusively on Leigh's voice alone (no one else in the band sang backup), but the songs (and their lead vocalist) still sounded great nonetheless. If there's a vocalist who is up to the challenge of singing alone, it's Leigh Nash.
The Cohen cover was followed by Nash's Blue On Blue solo effort, "Between The Lines," incidentally one of my personal favorites from that album. Since that song had followed "Blue Raincoat" in August, I realized this would indeed be the same set. "Kiss Me" still followed, along with the first new one, "Safety Line" and then their new single, "Radio," and then "Sooner Than Later." The set ended up being exactly the same when it came to song selection. Nash still paused between songs here and there to comment on the weather they've seen on this tour or to reflect on a song (including joking that "Kiss Me" was a new one). Their contribution to Sing Along With Los Straitjackets, a cover of Skeeter Davis's "End of the World," was also included, and their famous cover of The La's "There She Goes" still lead into what I assumed was their finale (again), "A Million Parachutes." But this was when the show really began to stand out from before. What is one of my all-time favorite songs, "A Million Parachutes" was the emotional and beautiful closer to their 2002 album, Divine Discontent. As a song that was born out of guitar player, and chief songwriter, Matt Slocum's own sentimental reflections, this six-minute song on the album was extended to about eight minutes, with a moment that featured Slocum seemingly emoting through his guitar playing. The spontaneous riffing sent chills up my spine, and it proved to be my favorite moment of their set.


Sixpence None The Richer performing "A Million Parachutes" at Kennett Flash on January 30, 2013
Video credit: JesusfreakHideout.com
To my delight, the evening did not end there this time. Nash announced that they had a couple more songs to play and "Lines of My Earth," from their 1997 self-titled, career-defining album followed. It's a melancholy tune (like many of their songs, actually), but the guys in the band took the opportunity to just have some spontaneous rocking out together--for which Leigh left the stage briefly. Leigh soon returned and they offered up "Tension is a Passing Note," also from Divine Discontent, as a gorgeous addition to the set list. This was used as their set closer this time around, and the quartet waved to the audience and escaped through a curtain backstage. The audience cheered for more and thankfully the band returned for one last song, "Love" from their self-titled album. As more of a rocker than most of their tunes, the guys again took the opportunity to just let loose, with Slocum shredding on the guitar with the bass and drums following suit. Slocum is an incredible guitarist and it was moments like these that only reinforced that. When the song finished, the band waved goodbye again and exited.
While Sixpence None The Richer may not be in the spotlight as much as they had been a decade or so ago, they seem to be more in their element playing intimate venues for those fans who never forgot the songs that touched them in the late 90's and early 00's. Personally, I loved hearing some of their classics as well as their new ones, showcasing a fair mix of the past and present -- where they've been and where they're going, musically speaking. Check out SixpenceHQ.com for the latest info and tour dates on the band; you won't want to miss seeing them live.
--
John DiBiase
, 2/2/13
Sixpence None The Richer Set List

01. Famous Blue Raincoat
02. Between The Lines
03. Kiss Me
04. Safety Line
05. Radio
06. Sooner Than Later
07. Melody of You
08. When You Call Me
09. Be OK
10. End of the World
11. Ocean Size Love
12. There She Goes
13. A Million Parachutes
14. Lines of My Earth
15. Tension Is A Passing Note
ENCORE:
16. Love
Sixpence None The Richer
click on an image for a bigger size
**vertical images cropped for thumbnails**
Sixpence None The Richer:
*all photos by John DiBiase and are the property of Jesusfreakhideout.com