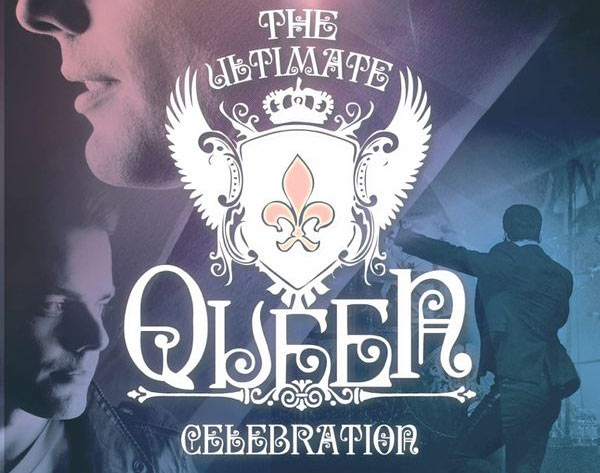 The Ultimate Queen Celebration Fall Tour
The Ultimate Queen Celebration Starring Marc Martel
10/13/18, at The Beacon Theatre in Hopewell, VA
I still remember watching Downhere's music video for "The More" in 2006 and thinking lead singer, Marc Martel, sounds a lot like Freddie Mercury from Queen. Downhere's bass player, Glenn Lavender, evidently thought the same thing since he introduced Marc to Queen's music - specifically Freddie's singing.
Fast-forward to 2011 when Queen drummer Roger Taylor announced a search for musicians to form Queen's official tribute band, The Ultimate Queen Celebration. Marc sang "Somebody to Love" for his audition and he won the spot. To be chosen by the members of Queen to replicate Freddie Mercury's singing is a testimony to what a truly talented singer Martel really is. Since then, Marc has been bringing the music of Queen back to the masses.
At around 8:00 PM, The Ultimate Queen Celebration launched into "Tie Your Mother Down" and "Don't Stop Me Now." Though Martel wasn't using a broken microphone stand, nor sporting a thick mustache, he certainly had Freddie's moves to match the voice. He is an excellent showman and he commanded the stage much like Freddie had. Between every few songs, Marc would share a fact about a song or comment on his personal connection to the song.
The first set included such classics as "Killer Queen," "Under Pressure," and two of my personal favorites: "Love of My Life" and "Play the Game." Song after song, I did not cease to be amazed by Marc's ability to capture almost note-for-note the recorded versions of Queen's songs. "Bohemian Rhapsody" closed the first set to thunderous applause. As if being able to sing like Freddie Mercury isn't enough, Marc Martel is also an excellent piano player. He handled Freddie's piano parts with the same excellence as he handles Freddie's vocal parts.
Marc opened the second set with a beautiful opera. To my shame, I did not recognize the opera, but much like when Freddie sang with Montserrat Caballé, Martel showed how versatile and gifted he is. The band came back on and played "I Want to Break Free" and "Hammer to Fall." "Crazy Little Thing Called Love" was followed by an amazing performance of "I Want It All." Guitarist Tristian Avakian was then given the stage to perform an excellent guitar solo that was reminiscent of Brian May's "Brighton Rock." Though I was primarily there to see Martel, both Avakian and the rest of the band were impressive and provided a sonically perfect Queen experience. The band would go on to play "Another One Bites the Dust," "The Show Must Go On," "Radio Ga Ga," and "Somebody to Love" before closing with the iconic "We Will Rock You/We Are the Champions."
If you are a fan of Queen or Marc Martel, do not miss seeing this band live! Great musicianship, exceptional performance, and legendary music made for a wonderful live music experience. For Marc Martel's music, be sure to check out his Queen covers EP, Thunderbolt and Lightning (2018), and the excellent Downhere albums: Wide-Eyed and Mystified (2006) and Ending Is Beginning (2008). If you're looking for a good place to start with Queen, I recommend picking up their 1975 classic, A Night at the Opera or Greatest Hits, Vols. 1 & 2.
To find tour dates and other information, go to https://www.marcmartelmusic.com
--
Jack Glasheen
, 10/28/18
Queen Set List

01. Tie Your Mother Down
02. Don't Stop Me Now
03. You're My Best Friend
04. Killer Queen
05. Now I'm Here
06. Save Me
07. Under Pressure
08. Love of My Life
09. Play the Game
10. Ave Maria
11. Bohemian Rhapsody
(Break)
12. (untitled opera)
13. I Want to Break Free
14. Hammer to Fall
15. Fat-Bottomed Girls
16. Crazy Little Thing Called Love
17. I Want It All
18. Guitar Solo (Brighton Rock?)
19. Another One Bites the Dust
20. The Show Must Go On
21. Radio Ga-Ga
22. Somebody to Love
23. We Will Rock You / We Are the Champions
The Ultimate Queen Celebration Fall Tour 2018 Photo Gallery
click on an image for a bigger size
**vertical images cropped for thumbnails**
The Ultimate Queen Celebration Fall Tour
*all photos by Jack Glasheen and are the property of the photographer and Jesusfreakhideout.com