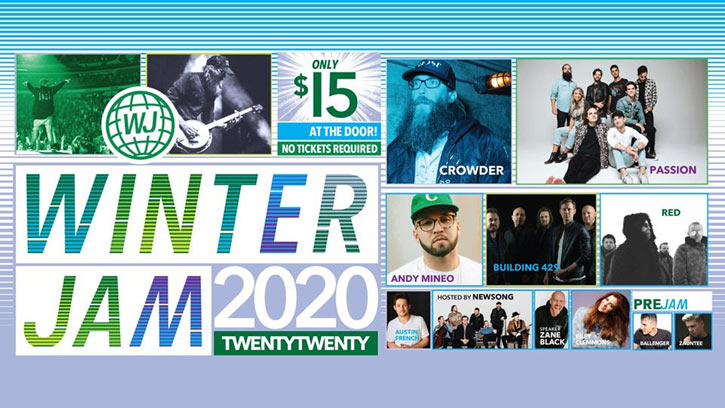 Winter Jam Tour 2020
1/17/20, at PPG Paints Arena in Pittsburgh, PA
I've had a few weeks to think about what I should write about this year's Winter Jam. What immediately came to me after the show, and the sentiment that still seems most accurate to me weeks later is this: there is beauty in simplicity.
Last year brought the "Tour 360" gimmick that was a unique idea, but one that I ultimately felt affected my enjoyment of the show. This year felt like a return to form. One traditional stage, front and center. One large video wall behind said stage. This is the simplest staging setup I can remember in the six years I've covered the tour and, like I said earlier, there's beauty in simplicity. I've never felt more invested in the show. It felt intimate, despite being held in a massive arena. The video wall provided a beautiful backdrop, and functional purpose in displaying the lyrics of many songs. Everything seemed to click: beauty in simplicity.
The one thing I've mentioned in every review over the years is that Winter Jam is the greatest value in all of music. I continue to hold true to that sentiment. For a nominal donation, you get to experience a special atmosphere full of great and diverse music. One could expound on the fact that the diversity of the genres presented may be Winter Jam's greatest asset, and one of the easiest entry points for Christians to bring non-believing family and friends to a night full of the gospel message.
I won't go through every performer like in years past. By now, everyone knows the structure of the show. With so many acts featured and truncated set times, most performers are playing "the hits." I did jot a few random notes into my iPhone during the show that I wanted to present, however.
- Jam house DJ. As far as I know, this is a first. A great idea to keep the audience entertained during the downtime between sets. The DJ got the audience hyped with sing and dance-a-longs including "The Macarena," "We Will Rock You" and "Let It Go" (yes, from Frozen).
- Red made great use of the Baby Yoda meme leading into one of their songs.
- There is a Christian film musical coming soon featuring some interesting mashups. The one that really caught my ear was a mashup of Rich Mullins' "Awesome God" and for KING & COUNTRY's "God Only Knows." There were live performances of these from the cast of the upcoming film.
- JJ Weeks showed up for a beautiful performance of "Let Them See You."
- Andy Mineo's performance of "Shame" was breathtaking in its brutal honesty.
- Building 429 was joined by a female singer named Brooke Deleary for the entirety of the set. I really enjoyed this dynamic, and it breathed some new life into these songs. Also really enjoyed the cover of "Don't You Forget About Me."
- There's no one better at setting an atmosphere than Crowder and his band.
There are still a number of dates left on Winter Jam, and I'd encourage everyone to seek it out. Invite a non-believing friend or family member, and just soak in the specialness of being there with so many believers, worshipping with wonderful music. At the price point, it's a no-brainer. I also feel that it's important to support what they are doing, as they could charge so much more and it would still be a great value. Support good music, support good people, and prepare for a wonderful night.
P.S. Unfortunately, Louie Giglio and Hillsong Young & Free didn't make the Pittsburgh stop this year. In my six years of Christian concert photography, Louie Giglio continues to elude me!
--
B.J. Smith
, 2/5/20 [Instagram: @BJSmithPhoto]
Winter Jam Tour 2020 Photo Gallery
click on an image for a bigger size
**vertical images cropped for thumbnails**
Ballenger
Riley Clemmons
Zauntee
JJ Weeks
Austin French
NewSong
Andy Mineo
Passion
RED
Building 429
Crowder
*all photos by BJ Smith and are the property of the photographer and Jesusfreakhideout.com