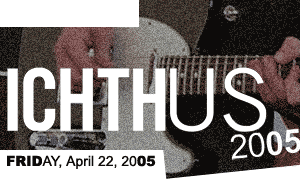 John Reuben, TFK, Gretchen, Hawk Nelson, Relient K
4/22/05, Wilmore, KY at the Ichthus Farm.
John Reuben - Main stage: 11:00AM
I have been a John Reuben fan since he released his first album, Are We There Yet? in 2000. Since then, I have seen him perform many times and have always enjoyed his shows. At Ichthus, Reuben had a band playing with him which was a nice change. However, DJ Manuel, who usually performs with Reuben, was not there which was a bit of a disappointment. Reuben performed both old and new songs, as well as material that will appear on his next album. As usual, he was very energetic and all over the stage. He also engaged the audience by having them sing along with him and by throwing out free t-shirts. The show was good but predictable. Reuben told his usual jokes and was his usual wacky self, although there were some serious moments. I was not disappointed with Reuben, but I was not overly impressed either. I have seen the same show many times before and was hoping for something fresh. Reuben's new material sounded promising and I greatly anticipate his new album, The Boy Vs. The Cynic, which will hit stores June 21.
Thousand Foot Krutch - Main stage: 12:10PM
Last year at Ichthus, Thousand Foot Krutch's show got rained out, so I was happy to see them return to the main stage this year. The band did a great job of getting the crowd excited and performed very well. They played some older songs such as "Puppet" and "Unbelievable," as well songs from Phenomenon. They also led the crowd in worship with the song "This is a Call." I was impressed with lead vocalist Trevor McNeven because he took time to talk about his faith, something many bands neglect to do at festivals. Overall, TFK put on a great show. I predict good things from this band in the future and expect them to make some waves in mainstream radio sometime soon.
Gretchen - The Edge stage: 3:15PM
I recently promoted a show with Gretchen, so I was happy to see them again and was excited about their performance. Original drummer Stephen Robinson recently left the band and was replaced by LeVell McClintock. McClintock blended in with the rest of the band and did a great job. Gretchen's set was short, but their performance was worthy of the main stage. Lead vocalist Mia sounded great and her husband Dave rocked out on the guitar. The band played their singles as well as other songs from Mouth Full of Nails and In the Mean Time. The crowd seemed receotive to the music and was large for a show on the Edge stage. Gretchen is an extremely talented band that deserves more recognition than they have received. I thoroughly enjoyed their set and hope to see them on a bigger stage at Ichthus next year.
Hawk Nelson - Deep End stage: 6:45PM
Although Hawk Nelson is a relatively new band, they have acquired a large following. They opened up with their popular song, "California," and the energy and excitement continued to build throughout the set. Hawk Nelson played as if they were seasoned performers and the large crowd enjoyed every minute. Lead singer Jason Dunn jumped into the crowd several times and the security guards had to work hard to keep things under control. Hawk Nelson put on a great performance. They seem to be following in the steps of Relient K and will undoubtedly be performing on the main stage at Ichthus very soon.
Relient K - Main stage: 7:15PM
I remember when Relient K was a virtually unknown band playing on the Deep End stage at Ichthus several years ago. Now, they are a pop punk phenomenon and have some of the most loyal fans in Christian music. I have seen Relient K perform many times and have never been disappointed. Their Ichthus performance was no exception. The band played mostly newer songs and was as lively as ever. The crowd went wild and Relient K left them wanting more. The band seems to improve with each album, and their performances never get old.
--
Laura Nunnery
, 5/5/05
Ichthus 2005: Friday Photo Gallery
click on an image for a bigger size
John Reuben -- 11:00am Main Stage
Thousand Foot Krutch -- 12:10pm Main Stage
Gretchen -- 3:15pm The Edge Stage
Hawk Nelson -- 9:05pm Deep End Stage

Relient K -- 7:15pm Main Stage

*all photos by Laura Nunnery, and are the property of Jesusfreakhideout.com


Ichthus Festival 2005 Review: Main | Thursday | Friday | Saturday