Growing up with a love and appreciation for the Christian rock scene, the members of Southern California rock band
Hopeful.
are now trying their hands at participating in it. With only a couple of singles to their name since forming in 2021, they're now set to release an EP, while also dropping some new singles along the way. The first of said singles is called "Shipwrecked," an upbeat, radio-ready alternative pop track that is likely to hook more than a few ears, with similarities to bands like Switchfoot and Gable Price & Friends. Of course, the latter makes a lot of sense, considering Gable Price himself is not only the band's producer, but he also played some guitar, bass, and synth for them. And his fingerprints are all over it; the drum beat, high-pitched guitars in the chorus, and various melodies all remind me of "I Need You" from the
If I'm Being Honest
EP. The message of the song is twofold: while the verses are full of rather vague cliches about holding on and not giving up ("
Life ain't easy but it's simple / one day born and one day die / just be careful how you live it / the in-between is what defines / but don't lose heart and don't lose faith / just keep waiting for the storm to break
"), the lyrics in the chorus feel a bit more purposeful. The singer describes the human condition and our inability to save ourselves, singing, "
You don't close your eyes if you wanna see / or hold your breath when you need to breathe / look for hope in every hopeless memory / chewin' rocks trying to fix my teeth / summer shorts under the autumn leaves / unaware till I was shipwrecked on the beach / where You discovered me
." Overall, "Shipwrecked" is a solid introduction to Hopeful. I would like to hear the band find a bit more of their own personality stylistically, as well as more connection between the lyrics in the verses and chorus, but I'm not going to write them off this early; they have all the makings for becoming a mainstay. - Review date: 2/15/23, written by
Scott Fryberger
of Jesusfreakhideout.com

Record Label:
None

Album length:
1 track: 3 minutes, 34 seconds

Street Date:
January 20, 2023

Buy It:
iTunes

Buy It:
Amazon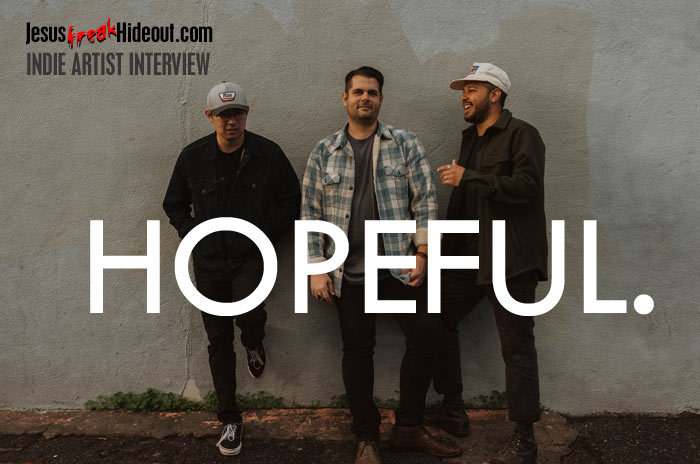 Jesus freak Hideout (Scott Fryberger): I'm always curious about the creative process behind band names. Where did Hopeful. come from and what does it mean to you as the name of the band?
Randy Taylor: We get this question a lot and sometimes people might think it's a bit hokey, but the real answer is a rebellious stance against hopelessness and depression, hence why it's "Hopeful." The "period" is essential to the statement. In today's age, many of us struggle with anxiety and depression and coming out of the pandemic, I (Randy) was really struggling with finding my identity and wrestling depression, when it ultimately hit me. Jesus!! He's our hope. So there's no other option, but to remain Hopeful. The rest of the band was able to identify with this statement and of course we still battle momentary anxiety, but it's easier to remember to remain hopeful having each other to remind us to keep our eyes fixed on Christ. So we sing and write about a lot of these struggles and try to do it in the most honest and raw way possible.
JFH (Scott): Who are some of the band's musical influences? And what would you say is your favorite album of all time?
Randy: We have a fairly eclectic taste in music, so it's a fairly wide variety. Here's a collective few of the artists we love and pull influence from in various ways; The Killers, Kings of Leon, Colony House, COIN, Switchfoot, Marcus Mumford, Gang of Youths, The War on Drugs, Gable Price & Friends and John Mark McMillan.

Favorite Album of all time is a TOUGH question that would differ between every band member and depends on the day; Randy - How will you know if you never try (COIN), Hunter - Sob Rock (John Mayer), Bryce - Nothing is sound (Switchfoot), Eddie - The Boy with no name (Travis)
JFH (Scott): The band's website lists Gable Price as a producer and contributor to the songs. How did you connect with him?
Randy: We originally connected with Gable on instagram just interacting with his stories. He was incredibly approachable and accessible and just down right cool! Eventually we did a songwriters workshop with him, he hosted us and a few friends. It was after about a year of off and on interactions that I (Randy) had the AUDACITY to send him a demo and ask if he would be willing to produce. Much to our surprise he said YES! The rest is history. Our band/producer relationship has awesome chemistry, I think we are all in agreement on that.
JFH (Scott): "Shipwrecked" has been out for a few weeks. How has the response been thus far?
Randy: "Shipwrecked" has been far and wide our best received song thus far, considering its been out for about a month and a half! It's doing incredibly well. I think "Shipwrecked" is really the beginning of us finally honing our sound. Our first 2 releases were a great experience, but ultimately wasn't quite the direction we were thinking for our long term sound, but they will always be special to us. We're even more excited about are next single than "Shipwrecked!"
JFH (Scott): What was the inspiration behind the song?
Randy: Well, I (Randy) had written a song in a completely different style about 6-7 years ago and we borrowed the theme and a couple basic lyrical ideas, and co-wrote the song with Gable Price and Adam Elizarraraz. Essentially the song is talking about how I often get stuck in unhealthy patterns which can be extremely hard to break and can be extremely depressing and frustrating. The song is just as much a wake up call for me as it is an encouragement to those who are stuck, or feeling broken. The main point of the song is to hold on to hope and to never give up, because even though the storms of life can be scary, the storm will break and brighter days will come. We have the ultimate promise of hope embodied in the man that is Jesus Christ.
JFH (Scott): You've got a few singles coming out before the full EP is released. Do you already have scheduled release dates?
Randy: So "Shipwrecked" is song 1 off the EP, "Pressure" is song 2, and then songs 3-6 are to be announced. Our strategy, as of right now, is to give each song a good 60-90 days of breathing room for the first 3 maybe 4 of the 6 songs. This is called a waterfall release strategy. So when we drop song 4 or 5 we will drop the whole EP and our previously released singles from the EP will be wrapped in.
JFH (Scott): What are you hoping to accomplish with the songs and EP?
Randy: We hope that we reach the audience we believe needs to hear this music! We want people to be able to connect with our music both lyrically and sonically. We also hope that we can build enough traction with this EP that our fans will demand a full-length record!
JFH (Scott): What's the best way for listeners to connect with you?
Randy: We are trying to keep it simple with mostly instagram and Spotify... However we are trickling over to TikTok and Youtube (we hope to be releasing a music video with each of the singles!!) our social media ID is @hopeful.theband
JFH (Scott): Is there anything else you'd like to add?
Randy: Why, yes! We're glad you asked! We just made a music video, it was our very first! It was a blast. We have an amazing friend and producer named Josh Faila. Would you be willing to checkout our newest (and first ever) music video!!?